6 Images
The ultimate bachelor pad
Michael Reilley entertains friends and family at a dinner party at his home. This is the view looking back into the home from the rear deck. He has has painstalkingly recreated the one bedroom bachelor pad that midcentury architect Don Hensman of the firm Buff Hensman built for himself atop Mulholland Drive in Los Angeles.
(Bryan Chan / LAT)
Rielly, seated far left, and friends gather in the living area, with its low travertine table. At the room's far end are the dining table and softly illuminated kitchen.
(Bryan Chan / LAT)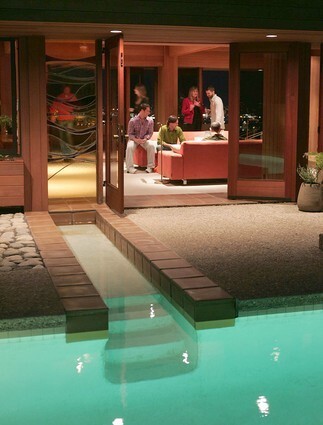 Redwood and glass doors open to the 50-foot pool at the front of Domus Solaris.
(Bryan Chan / LAT)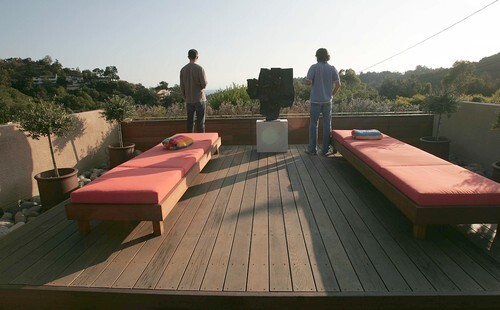 Rielly, right, and friend Brian Garrett take in the view from the redwood terrace above the garage, furnished with custom-made chaises and a free-form sculpture. Rielly served as general contractor for the overall project and worked with about 50 vendors.
(Bryan Chan / LAT)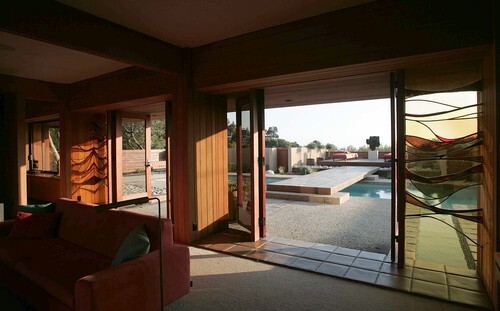 A paved bridge over the pool leads to the 1,658-square-foot house, built by the late architect Donald Hensman in 1975. The tile work and stained glass windows flanking the front doors reflect the home's 1970s flavor.
(Bryan Chan / LAT)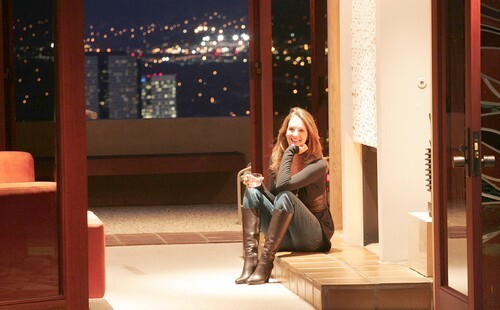 Party guest Lauren Gurvich sits by the lighted backdrop of the San Fernando Valley.
(Bryan Chan / LAT)