Backyard whimsy
Antiques dealer Richard Shapiro based his Greco-Roman portico on the principles of an Italian architect he admired, Andrea Palladio. "Folly is defined as a nonsensical creation or activity," he says. "I not only qualify, I take that as a compliment."
(Myung J. Chun / LAT)
Labyrinth
Richard Shapiro walks through his boxwood labyrinth botanical folly. Shapiro says he wanted the European-styled follies to be juxtaposed with his Mediterranean home.
(Myung J. Chun / LAT)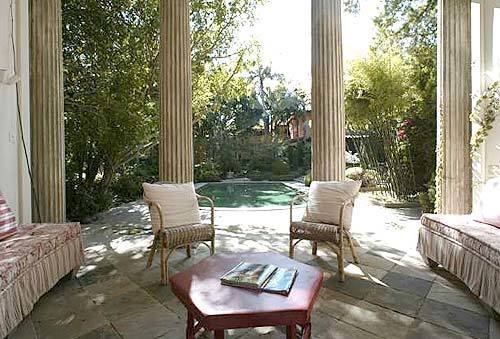 Studied descrepitude
Two daybeds covered in faded damask linen, wicker chairs and a repainted junk-store table fill the portico. Shapiro covered the 275 square feet of interior space with "the cheapest, junkiest stone you can buy," and laid it in a diamond pattern
(Myung J. Chun / LAT)
Neoclassical touch
A statue graces the edge of the fireplace inside the portico.
(Myung J. Chun / LAT)