The city of Laguna Beach recently finished a $35-million restoration of the hillside above Bluebird Canyon, where 12 houses were destroyed in a landslide on June 1, 2005. In the largest public works project in the city's history, workers excavated and repacked a million cubic yards of fill dirt, installed steel anchors into the bedrock, added retaining walls, built new gas lines and sewer mains, and rebuilt Flamingo Road, which had been destroyed. On Dec. 15, city officials held a ribbon-cutting in which they effectively returned the lots to their exiled owners, who can now decide whether to rebuild.
(Marc Martin / Los Angeles Times)
Bluebird Canyon was a surreal scene of destruction after the landslide, which not only destroyed a dozen homes but damaged eight others in a pandemonium of exploding fire hydrants, ripping power lines, splintering floors and fleeing people. Remarkably, no one died or was seriously injured.
(Mark Boster / Los Angeles Times)
Flamingo Road and the houses on it were a cracked and twisted mess after the landslide. Although the homeowners are free to return now that the hillside has been restored, the question, for many, is whether it makes any sense to try. Nobody had landslide insurance, and the disaster left people paying mortgages on vanished homes while struggling to find temporary shelter. Now they face the cost of rebuilding.
(Mark Boster / Los Angeles Times)
Tim Saunders and his companion, Sherry Way, share a laugh in front of his property on Flamingo Road. The city has finished reconstructing the hillside, leaving a steep slope on which to rebuild his house. A 5-foot strip that parallels the road is the only level piece of the property. Saunders, 66. the retired owner of a pest control company, had lived on Flamingo Road for about nine years when the slide claimed his two-story house. He said it slid down the hill "like a ship leaving a dock." He plans to rebuild using his retirement fund, but says it was not an easy choice.
(Marc Martin / Los Angeles Times)
Sandbags line drainage channels on the newly reshaped hillside above Bluebird Canyon, where, 2 1/2 years after the slide, work has been completed on turning it into what city officials say is a strong, stable slope capable of supporting new homes.
(Marc Martin / Los Angeles Times)
A heavily damaged house at the end of Madison Place still sits in disrepair 2 1/2 years after the landslide. Many residents who lost their homes have shuttled their families from place to place, often sleeping on borrowed beds while they waited for the hill to rise again. Displaced canyon residents paying rent on top of a mortgage that didn't go away are sensitive about the notion that they couldn't be suffering all that much given the million-dollar plus appraisal values of their wrecked homes. "They were either working families or retired," one resident says.
(Marc Martin / Los Angeles Times)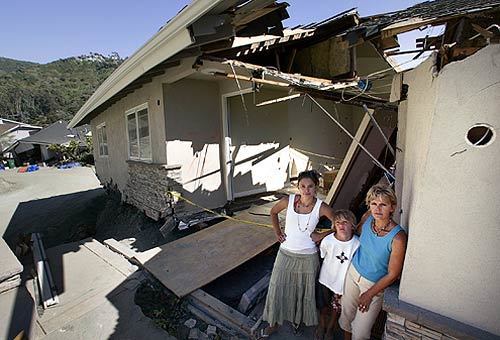 Homeowner Diane Stevens, right, with her children Haley, 14, left, and Luc, 11, stand in front of their Flamingo Road home a month after the landslide. She and her husband, John, plan to rebuild their cottage, expanding the garage and adding a family room. The family has been living in a rent-free trailer nearby since the slide. "If you think about this too long, you'll never get out of bed. You either deal with it or it will get you," said Diane Stevens, who works as a creative director in marketing for the Irvine Co. "Part of our lives is totally normal. We have two kids, we go to work, they go to school. But then there's this whole other part, where we're trying to put the pieces together."
(Allen J. Schaben / Los Angeles Times)
Tim Saunders and his companion, Sherry Way, watch as the sun begins to set in front of his property on Flamingo Road. He is staying in a second home in Laguna Hills and plans to rebuild, but says it was not an easy choice. "I think I made the decision a thousand times," he says. "It depends on the time of the day, and the day of the week, as to whether it's a go or no-go." To celebrate the reopening of his Laguna Beach neighborhood, he recently set up a picnic table and two plastic chairs at the curb by his restored lot. Saunders and Way each had a glass of wine, made a toast to perseverance and watched the sun sink into the horizon. "It was another reminder of what we enjoyed while we lived there," he says, "and why we'd like to live there again."
(Marc Martin / Los Angeles Times)