Glass wall has birders seeing red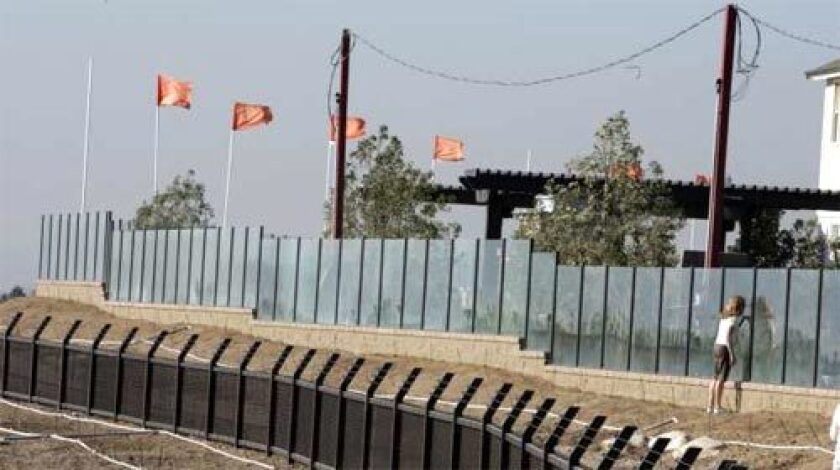 Los Angeles Times Staff Writer
Conservationists are calling for a developer to take down a nearly mile-long glass wall built around a new housing development near the Bolsa Chica Ecological Reserve in Huntington Beach after they say at least a dozen birds, including several birds of prey, died when they flew into the structure.
In recent weeks, two harrier hawks, a mourning dove, a yellow rumped warbler and a hummingbird, are among those that have died after flying into the see-through wall, conservationists said.
"You could not build a better passive bird killer in a better spot than they did here," said Scott Thomas, conservation director for Sea & Sage Audubon, an Orange County chapter of the Audubon Society. He is offering walking tours of what conservationists have dubbed "the wall of death."
Hearthside Homes, which is building 350 homes on a mesa overlooking the wetlands, has no plans to take down the wall that the company was given permission to build in 2005, said Senior Vice President Ed Mountford.
Mountford said the wall was built to mark the boundary between the backyards of future residents and the public open space below. Glass was used to preserve views of the wetlands.
A more open design that would have let birds fly through, such as wrought iron, was ruled out because it would have let wildlife such as skunks and snakes crawl and slither into backyards.
While acknowledging at least half a dozen birds had been found along the wall, Mountford said the problem was being "blown out of proportion." The developer has erected a temporary chain-link fence adorned with yellow construction tape behind most of the wall as a warning to birds. The developer also is patrolling the fence three times daily to log new deaths, but none have been recorded since the chain-link fence was put up last week, Mountford said.
He said that in the next two days workers would put up a brown windscreen on the fence to further deter birds from smacking into the glass.
When the homes are built, Mountford said, they will provide a backdrop that should solve the problem.
Birders disagree, saying construction of the homes won't make a difference.
The reflection of nearby trees on the glass, not its transparency, is most likely what is confusing the birds, said Gary Langham, director of bird conservation for Audubon California. "It's a mirage, basically, because birds think they're flying into the reflection. They think they're going to a safe haven, and they're just slamming into this wall."
Langham suggested etching designs in the glass, frosting it, or dangling metal spinners or netting from it to make the glass less reflective.
After building several model homes on the 68-acre property in August, Hearthside put up the wall, which winds for 4,400 feet atop masonry bricks and a dirt berm. Walkers and nature photographers first noticed the dead birds this month along a path on the public side of the wall.
Conservationists said the wall was too close to eucalyptus trees on the lower Bolsa Chica Mesa, where birds of prey, such as hawks, roost.
"This place is loaded with life. It's tragic to create an environment to protect these birds, only to build a wall that is killing them," said Carrie Thomas, a board member of the Bolsa Chica Land Trust, which has fought against development near the wetlands.
The marsh is a marine area protected by the state Department of Fish and Game.
Fatal encounters with glass, such as office building windows, are a recurring problem for birds, and the number of deaths are underreported because predators often make off with the carcasses before humans find them, Langham said.
Between 100 million and 1 billion birds die each year from hitting glass, according to Daniel Klem Jr., an ornithologist at the Muhlenberg College in Allentown, Penn.
"Short of habitat destruction, this is the most significant source of bird fatalities in the country," he said.
Hearthside Homes won approval of a scaled-back version of the housing project in 2005, ending most of a decades-long battle over the development of the salt marsh and the mesas above.
Concern over Bolsa Chica's wildlife has reignited the debate.
"We're not going to accept a temporary fix," Thomas said.
---
The stories shaping California
Get up to speed with our Essential California newsletter, sent six days a week.
You may occasionally receive promotional content from the Los Angeles Times.