Carona trial to offer starkly different portraits of former sheriff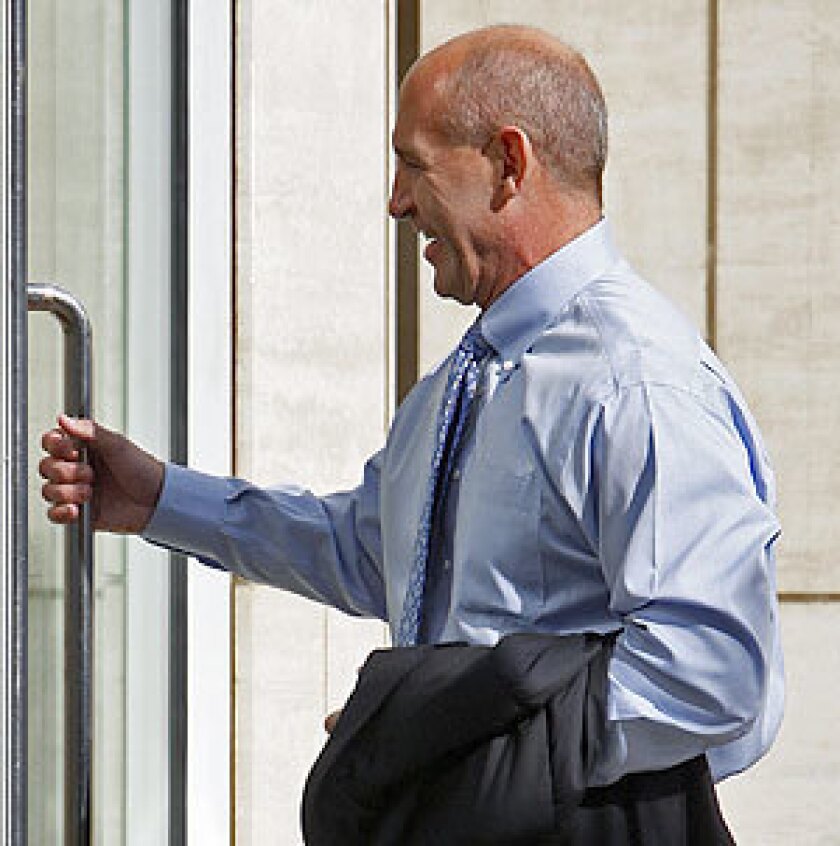 During nearly a decade as Orange County's sheriff, Michael S. Carona strove to maintain a polished image as a family-oriented, conservative and charismatic crime-fighter who could comfort victims and captivate crowds with his thoughtful words and reverent manner.
Behind the scenes, prosecutors allege, he was a graft-taking womanizer who prostituted his office even before he won it, trading political favors for hundreds of thousands in cash and gifts for himself and others, ranging from vacations to World Series tickets to Mont Blanc pens.
When the ex-sheriff's corruption trial opens this week, jurors are likely to be introduced to two vastly different Mike Caronas.
Carona is the highest-ranking law enforcement official to be prosecuted in Orange County. The case has been years in the making, and the trial promises to be full of made-for-television moments -- stories of greed, infidelity and corrupted friendships. The government witness list of more than 100 people is expected to be a virtual who's who of local power circles. Testimony could last up to two months.
Carona faces prison time if convicted on charges that he misused the powers of his office in a broad conspiracy to enrich himself and others, including his wife, Deborah, and a longtime mistress, Debra Hoffman. Carona and Hoffman are being tried together. His wife is awaiting a separate trial.
Defense attorneys Brian A. Sun and Jeffrey Rawitz are expected to attack the credibility of two key witnesses: Donald Haidl and George Jaramillo, both former assistant sheriffs who are expected to testify against their old boss. Both have pleaded guilty to felony tax charges and await sentencing. The attorneys, white-collar specialists from the prestigious Jones Day law firm, also argue that Carona reimbursed most of those who gave him gifts.
Sun and Rawitz are donating their services to Carona -- a gift that likely exceeds $1 million. They have not explained why.
In the 12 months since the indictment, both sides have papered the court with legal motions, including efforts to move the trial outside the county and bids to tossing out evidence.
One of the most contentious duels has been over the secretly recorded conversations between Carona and Haidl. On the tapes, Carona uses racist and sexist slurs, and boasts that the benefits of public office included hobnobbing with billionaires and getting "phenomenal" sex. They will also show, prosecutors say, Carona plotting to cover up a stream of illicit payments and trying to get Haidl to lie under oath to protect him.
The recordings, legal experts say, are probably the biggest threat to the defense.
"If all you had was Haidl's word against Carona's word, you wouldn't have much of a case," said Laurie Levenson, a Loyola Law School professor. "Jurors want corroboration as much as possible, and that's what the tapes are going to give them: words right out of Carona's mouth that can be used against him."
The allegations date back to Carona's first campaign for sheriff in 1998.
Throughout his nine years in the post, Carona presented himself as a deeply Christian public servant uninterested in the perks of elected office. He has lived in a gated, though relatively modest, neighborhood in Orange since the 1980s, and worked his way up through the ranks of the obscure and now defunct county Marshal's Department before becoming Orange County's top cop.
Friends say he has always spoken lovingly of his wife of 28 years and brightens at any mention of their teenage son. He has received awards and other accolades for his efforts to bridge religious and ethnic divides in the county, and for promoting philanthropy.
In 2002, he won national acclaim when he led the hunt for the kidnapper and killer of 5-year-old Samantha Runnion, warning the suspect in a camera-grabbing performance not to eat or sleep because they were coming after him. That equally steely and heart-tugging promise led CNN's Larry King to dub him "America's sheriff." Nearly overnight, Carona became a rising star in national Republican circles. His campaign for a second term was uncontested, and he was groomed as a prospective candidate for lieutenant governor or even U.S. senator.
During the trial, the government plans to show that away from the limelight, Carona was driven by money and the trappings of power.
Haidl, a self-made millionaire who became part of Carona's inner circle, is a chief witness for the government. The Newport Beach businessman made his fortune auctioning surplus police cars and assets seized by law enforcement agencies. He is the admitted source of most of the alleged payments to Carona and agreed to cooperate after striking a deal that spared him serious criminal charges.
Haidl told authorities that, with Carona's knowledge, he secretly reimbursed donors to Carona's 1998 campaign -- a scheme that allowed him to exceed Orange County laws that limited contributions to $1,000 per individual.
In the years that followed, Haidl said, he helped pay for a trip to Lake Tahoe for Carona and his wife, and gave the sheriff $42,000 in cash and a Sea Ray boat worth $5,150.
At Carona's request, money also went to Hoffman, according to the indictment. She received more than $170,000, which came in the form of a $110,000 loan, paid with a cashier's check made out to her law firm, and $65,000 in a series of checks ranging from $5,000 to $10,000.
Prosecutors say Deborah Carona got much less -- a $15,000 Cartier watch and a $1,500 suit by St. John Knits.
What Haidl bought himself, according to prosecutors, was a prestigious, if ceremonial, job in the Sheriff's Department and a virtual "get out of jail free card" from Carona.
The alleged favors included Carona's lobbying of county supervisors to change the rules so he could make Haidl an assistant sheriff. The job gave Haidl full access to the resources and powers of the department, and allowed relatives, friends and business associates -- many of them campaign contributors -- to be appointed reserve deputies. They were issued badges and in some cases guns.
Carona also helped Haidl's son get preferential treatment in a drug case, prosecutors say, and exerted his influence -- though unsuccessfully -- to have him tried as a juvenile in a high-profile gang rape case.
Haidl resigned from the department in 2002 to focus on his son's criminal trial. Gregory Haidl was eventually convicted and sentenced to prison.
Early last year, Donald Haidl pleaded guilty to federal tax charges and began cooperating with prosecutors, secretly recording three conversations with Carona.
During one exchange at the Bayside Restaurant in Newport Beach, according to transcripts of the tapes, Haidl explains to Carona that money he gave him came from a private safe and was untraceable.
"Well, on my end of it, completely untraceable, completely untraceable," Carona responds.
At another point, Carona says he will deny receiving money from Haidl.
"Unless there was a pinhole in your ceiling that evening, it never . . . happened," Carona says. Prosecutors said "pinhole" referred to a hidden camera.
Carona's defense lawyers portray things differently. They say Carona never took cash from Haidl and sent reimbursement checks for the gifts. They also say that Carona was not involved in efforts to reimburse campaign contributors and that federal agents knew he discouraged and disapproved of such a plan.
Defense attorneys have criticized the government for relying on Haidl and Jaramillo, who they say have character flaws that will undermine their testimony. And the attorneys downplayed the potential damage of the tapes, noting that Carona tells Haidl several times that they've done nothing wrong.
Levenson said the tapes are especially important to the prosecution because people who accept cash bribes typically try not to create paper trails, so it is often rare to have bank statements as evidence. She said that although Carona might have made exculpatory statements, they don't necessarily negate the damage.
"The prosecution doesn't have to have it all bad," she said. Carona "can have 99% of it good, but if on 1% he said, 'Change your statements' and 'I hope I'm not getting caught by a pinhole camera,' then that's still bad for him."
Hanley and Pfeifer are Times staff writers.
---
The perils of parenting through a pandemic
What's going on with school? What do kids need? Get 8 to 3, a newsletter dedicated to the questions that keep California families up at night.
You may occasionally receive promotional content from the Los Angeles Times.