Bayou crayfish restaurants crack Little Saigon market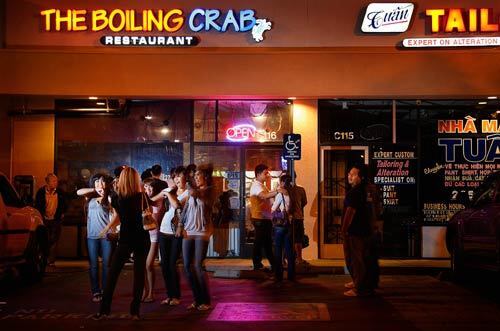 The wait at Boiling Crab can be more than two hours. Sometimes people are turned away when they arrive too close to closing time.
(Rick Loomis / Los Angeles Times)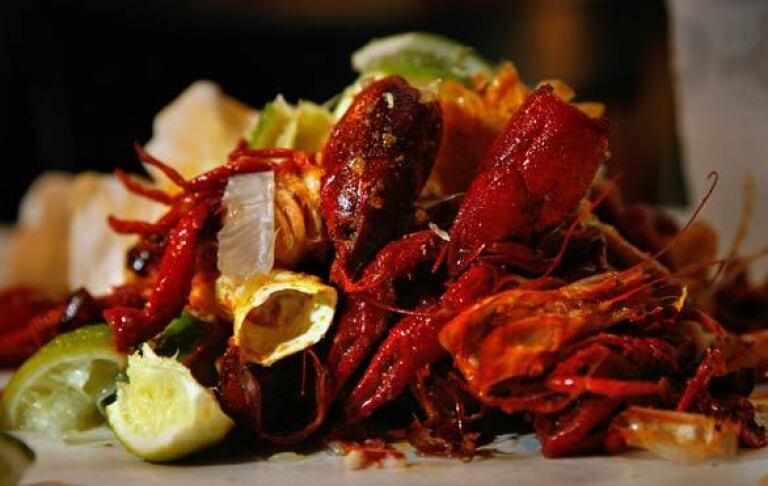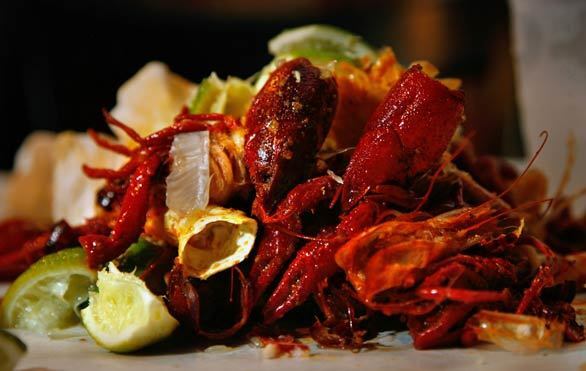 Cracked and shredded shells pile up in front of diners.
(Rick Loomis / Los Angeles Times)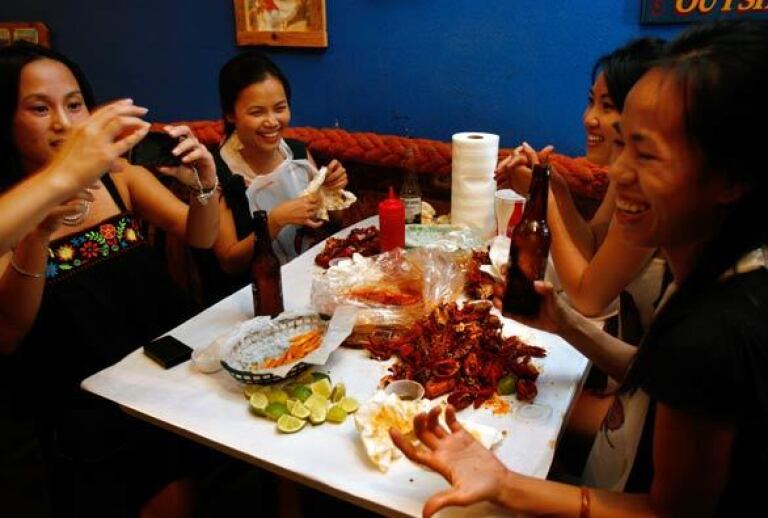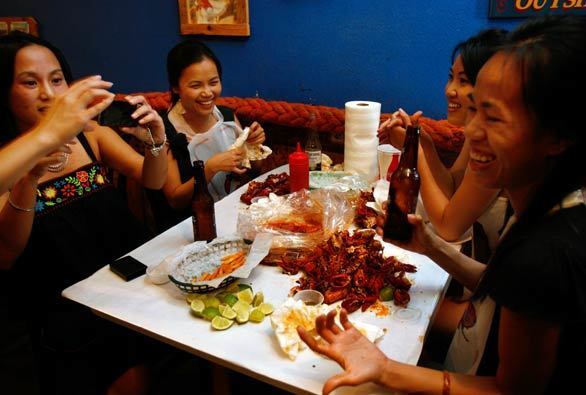 Cindy Huynh, 27, Buc Nguyen, 26, Kim Nguyen, 26, and Nancy Nguyen, who was celebrating her 26th birthday, dine at the Boiling Crab in Little Saigon.
(Rick Loomis / Los Angeles Times)
Baochan Tran, left, and Lisa Doan eat Cajun-style crayfish at the Boiling Crab restaurant in Westminster's Little Saigon. The lobster-like dish that at first intimidated local diners has become a craze.
(Lori Shepler / Los Angeles Times)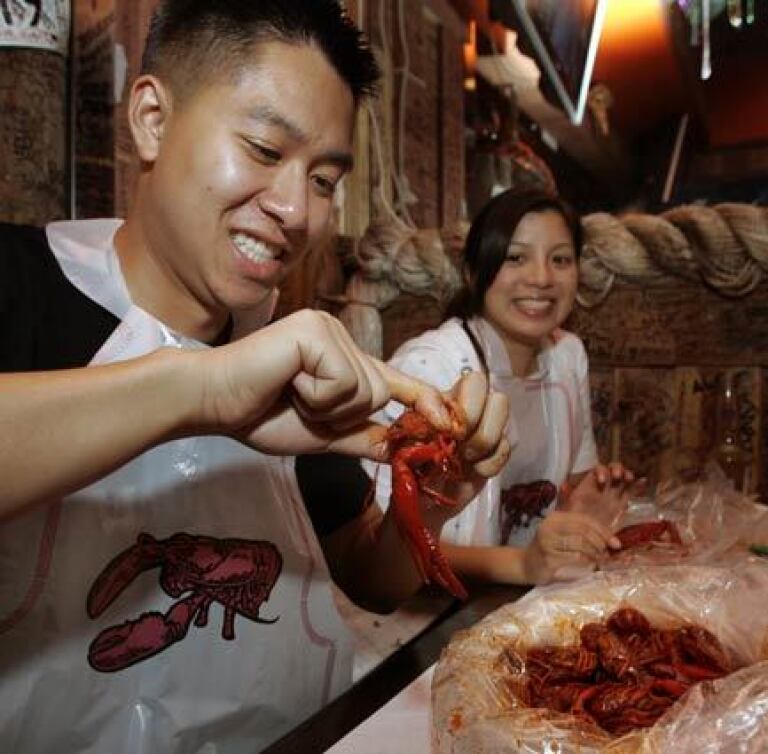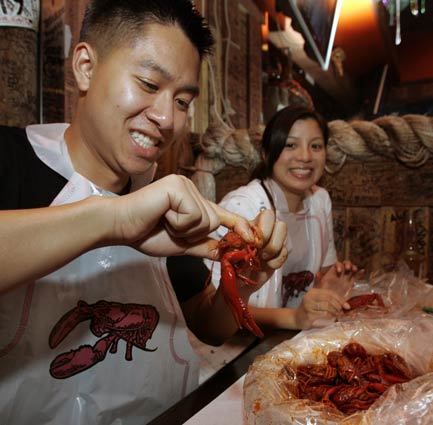 Tony Nguyen and Anne Vo try their hands at the crustaceans served in steaming plastic bags and then dumped on the tabletop. The Boiling Crab has lines out the door nearly every night, and about a dozen imitators have popped up in storefronts nearby.
(Lori Shepler / Los Angeles Times)
A steaming bag of Cajun-style crayfish, sausage and corn is popular fare in the Gulf Coast, where Boiling Crab owner Dada Ngo lived before opening the restaurant in Orange County.
(Lori Shepler / Los Angeles Times)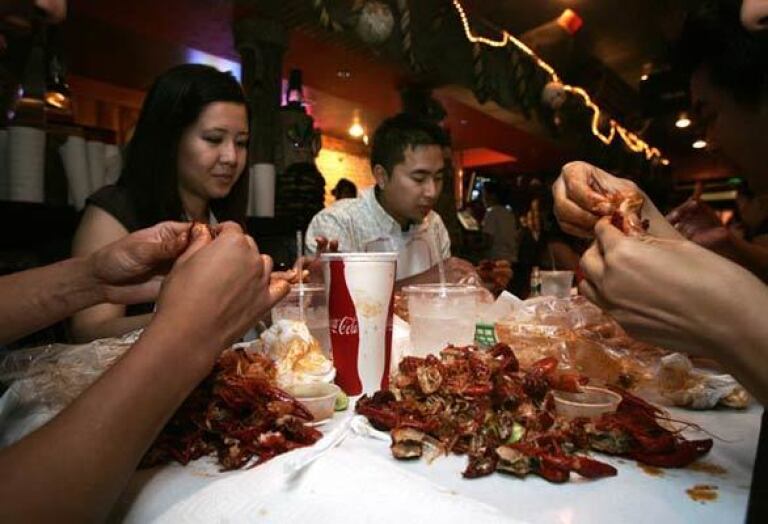 Shells pile up as a group enjoys a meal. "We thought it would be fun to bring to California what we really liked in the Midwest and South," Ngo said.
(Lori Shepler / Los Angeles Times)
Los Angeles Times Staff Writer
When Dada Ngo opened a Cajun-style crayfish restaurant in the heart of Orange County's Vietnamese enclave, she worried whether it would survive. Crayfish was popular fare along the Gulf Coast where she had lived, but the red-clawed crustaceans were alien to most West Coast Vietnamese diners.
Some thought crayfish were fish. They were intimidated when what looked like tiny lobsters were brought from the kitchen in steaming plastic bags and dumped on the table. Diners did not know how to rip off the little heads or crack the hard shells with their fingers and they complained that it took too much work for no more than a pinkie-toe-sized morsel of meat.
But the crustaceans quickly became a craze in Little Saigon, home to the largest population of Vietnamese in the country. In a place better known for its hundreds of pho noodle restaurants and banh mi sandwich shops, Cajun seafood has found a niche hundreds of miles from the bayou.
Now, the Boiling Crab has lines out the door nearly every night. And the crayfish craze has spawned nearly a dozen imitators, mostly within a four-square-mile radius -- the Rockin' Crayfish, the Red Claw and the Cajun Corner. Vietnamese entrepreneurs have even exported the idea to enclaves in San Jose, Houston, San Francisco and San Diego.
It's the classic story of conducting business in Little Saigon, an insular enclave glutted with thousands of similar shops and restaurants catering to Vietnamese tastes, where success is readily duplicated.
Restaurants and businesses fiercely compete for the same Vietnamese customers, leaving the market saturated and prices stagnating. There are dozens of pho noodle restaurants with virtually the same menu. Lee's Sandwiches, a popular Vietnamese chain, has copycats in the area. Pinkberry yogurt knockoffs have come to town.
Crayfish has become the latest fad. "It's great that it's catching on, and it's flattering that people have copied," said Ngo, 33. "But on the other hand, it's kind of a bummer. Grabbing on to someone's concept makes it redundant and reduces quality and the essence of it. You can end up killing each other."
When Ngo and her now-husband, Sinh Nguyen, 37, lived in Arlington, Texas, they loved boiling crayfish for casual cookouts that were popular near the bayou and Gulf Coast cities. Ngo's friends and family could easily consume 30 pounds in a single afternoon.
When Ngo moved to Orange County to take a human resources management job, she searched the neighborhood restaurants for crayfish. The only place she could find it was Cafe Artist in Little Saigon, where it was served with other appetizers. In response, Ngo and her husband decided to open a restaurant that served crayfish and crab, Louisiana-style, with hot links and corn. Hardly typical Vietnamese fare.
"We thought it would be fun to bring to California what we really liked in the Midwest and South," Ngo said. "We knew that culturally-wise, Asians like seafood."
She toiled for hours in the kitchen to find an addicting seasoning of garlic, butter, lemon and Cajun spices to pour on the crayfish, a twist on Louisiana's dry-spices style.
The restaurant opened in 2004 in a Garden Grove strip mall. They painted the walls blue, put up kitschy fake anchors and fishing nets and lined the walls with photos of her husband's family, who were crabbers and shrimpers for generations in Vietnam.
Diners get plastic bibs and sit at tables covered with butcher paper. The crayfish -- which are shipped from Louisiana most of the year -- are ordered by the pound and served at market price, which averages $7.99 a pound. There is also blue crab, king crab, shrimp and fried catfish. There are no plates. Hip hop music blares from speakers.
On a recent night, Greg Larson and nine friends grabbed at piles of crayfish and crab, flinging the hollowed-out shells, heads and claws on the table. "I had crayfish in the South, but I didn't know they had anything like this in Southern California," said Larson, 31, of Anaheim as he carefully wiggled out the crayfish meat, his fingers glistening with butter sauce. He said he eats crayfish about once a month.
Eating crayfish -- also known as crawdads and mud bugs -- is not for the squeamish. The more adventurous suck the juices from the head. Piles of cracked and shredded shells pile up in front of diners. The seafood smell hangs on customers' clothing. But customers keep returning, and out-of-town visitors even buy pounds of crayfish to bring home.
By the end of 2005, a smattering of other crayfish restaurants had popped up. One was the Cajun Corner, two miles away. "Everybody and their mom was trying to open crayfish restaurants and just crossing their fingers," said Paul Tran, one of the Cajun Corner's owners.
Tran, fresh out of college with a marketing degree, had his first taste of crayfish after his aunt and uncle -- who had fled New Orleans during Hurricane Katrina -- put on a crayfish boil when they arrived in Orange County.
Seeing the Boiling Crab's success, Tran and two friends put money together to open their own crayfish restaurant. "We were taking a risk," said Tran, 26. "We didn't know if the Boiling Crab could be duplicated."
Tran, who grew up near Little Saigon, knew that his friends were getting tired of "the whole typical noodle Asian-style food" and was banking that others wanted something different.
Today, the Cajun Corner serves about 1,500 pounds of crayfish, crab, clams and shrimp a week, Tran said.
Other copycats weren't so lucky and had to toss in the towel.
At the same time, companies in Little Saigon began to specialize in selling live crayfish wholesale to cater to the many restaurants.
Today there are about a dozen area restaurants serving crayfish, each protective of its own secret sauce.
The competition has kept prices steady. "The only way to differentiate yourself is the menu, Tran said. "People in Little Saigon are price-conscious."
Ngo acknowledges that other crayfish restaurants have made her business stronger. They have now opened a second restaurant in Garden Grove and have ventured outside the area with a restaurant in Alhambra, catering to the Chinese community.
Half a mile away from that location is another crayfish restaurant, Boat House.
Other imitators catering to Chinese Americans have popped up in neighboring Los Angeles suburbs like Rosemead and San Gabriel, where two crayfish joints have opened in the same mall.
Ngo even brought Cajun crayfish back to where it came from, with a restaurant in Houston's Vietnamese section and another in Dallas this year. A San Jose eatery is scheduled to open this month.
In the meantime, Vietnamese entrepreneurs in San Jose, San Francisco and San Diego were noticing what was happening in Little Saigon.
A chain of restaurants in San Jose even adopted practically the same name: "Boiling Crab." Ngo recently settled a lawsuit with its owners. "I think competition only makes a business better," Ngo said. "There cannot be a McDonald's without a Burger King."
my-thuan.tran @latimes.com
---
Life is stressful. Our weekly mental wellness newsletter can help.
You may occasionally receive promotional content from the Los Angeles Times.