8 Images
Changing face of Surf City
Huntington Beach is undergoing a wave of construction downtown that in the next few years will bring three luxury hotels, dozens of shops, restaurants and offices, and hundreds of upper-end homes. At Huntington Street and Pacific Coast Highway, a bronze sculpture of a surfer on a wave by artist Edmond Schumpert sits across the street from the 31-acre Pacific City resort development under construction.
(Mark Boster / Los Angeles Times)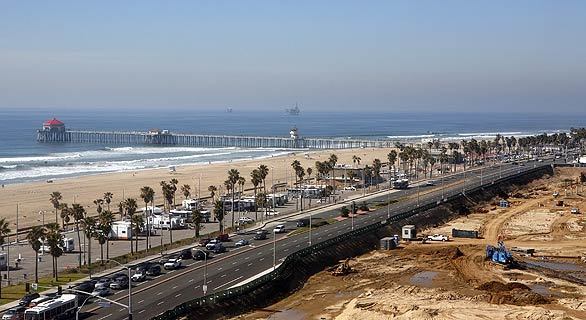 The historic Huntington Beach Pier juts out along the beach looking north as Pacific Coast Highway slices through "Surf City USA," with the new Pacific City resort development breaking ground at right.
(Mark Boster / Los Angeles Times)
A surfer studies the waves south of the pier at sundown, with the Hilton Waterfront Beach Resort behind him. The Hilton was the first of the city's beachfront resorts, followed by the Hyatt and three new resorts that are under construction. The city is banking on tourism as its next big industry.
(Mark Boster / Los Angeles Times)
Outdoor dining along Main Street is part of the Huntington Beach lifestyle. Some longtime residents lament the gradual loss of the modest cottages and mom-and-pop restaurants, bars and drug stores that once lined the city's downtown. They say the city's long series of face-lifts have chipped away at its middle-class identity, which for decades set Huntington Beach apart from places like Newport Beach or Laguna Beach.
(Mark Boster / Los Angeles Times)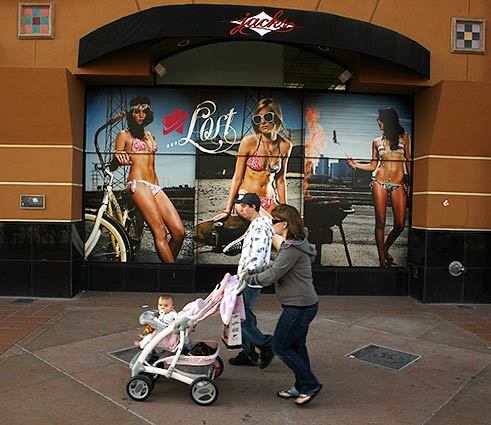 Visitors stroll past bikini billboards in the windows of Jack's Surfboards on Main Street. "We're in transition from a middle-class community to something else," says Joe Shaw, a planning commissioner who writes the blog Greetings from Huntington Beach. Although he welcomes the new development, he does so with a tinge of nostalgia: "It's an old way of life that's being gentrified."
(Mark Boster / Los Angeles Times)
Traffic streams along Pacific Coast Highway past the rebuilt Main Street area and the Oceanview Promenade made famous by the surf lifestyle shop, Jack's. One block to the north (at left in photo), The Strand, a hotel, restaurant and shopping development, is under construction. In the 1980s, many of the brick buildings downtown were demolished and replaced with stucco, Mediterranean-inspired storefronts that city historian Jerry Person disdainfully calls fine examples of the "Taco Bell school of architecture."
(Mark Boster / Los Angeles Times)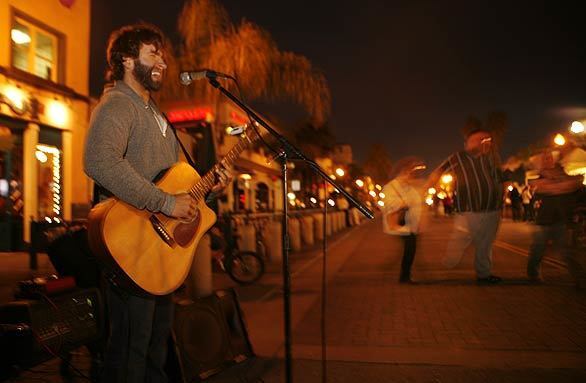 Singer-guitarist Eric Kufs performs on Main Street during the Surf City Nights Street Fair held on Tuesday nights. Proposals to change the downtown area have met fierce resistance from store owners and restaurateurs. After trying for several years to turn Main Street into a pedestrian mall, city officials reached a compromise with business owners last year to close off two blocks one night a week for the street fair.
(Mark Boster / Los Angeles Times)
A couple takes a quiet walk on the beach at sunset, framed by the Huntington Beach Pier. Although the city draws more than 16 million visitors a year, most are on summer day trips to its 8 1/2 miles of wide, undeveloped beach. Business waxes and wanes with the seasons. City officials hope to transform Huntington Beach into a destination for overnight visitors. "We're going back to our roots," says Doug Traub, president of the city's Conference and Visitors Bureau, "It was always supposed to be a fun beach town."
(Mark Boster / Los Angeles Times)