How a gringo found his mariachi groove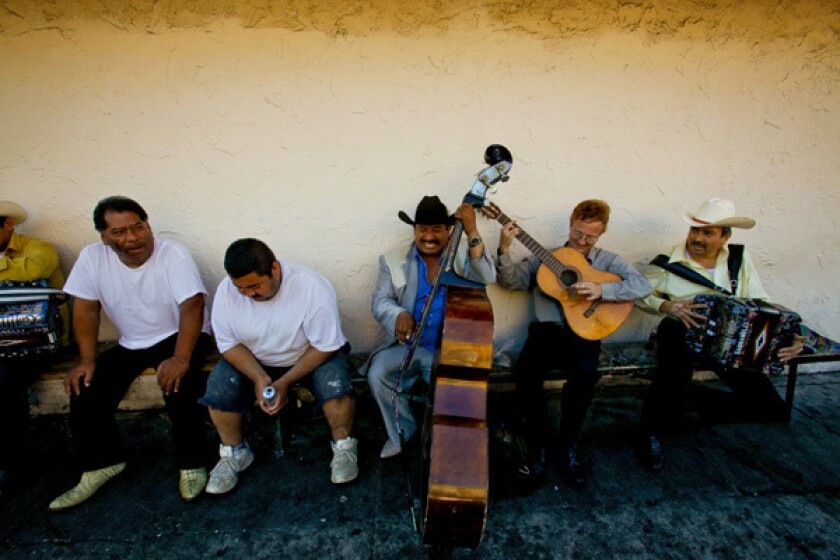 Standing in the middle of a bustling Mexican restaurant in La Puente with a worn acoustic guitar propped high on his chest, Matthew Stoneman looks nothing like the other mariachis working this night.
There's no 10-gallon hat or silver-studded charro outfit. Instead, Stoneman is all strawberry blond hair and milky skin on a scrawny frame.
But the moment he begins to sing, Matthew becomes Mateo, the Spanish tenor.
He croons the lyrics to a Venezuelan love song: "Cuando la tarde languidece, renacen las sombras. . . ."
"When the afternoon languishes, the shadows are reborn. . . ."
For eight years, the 45-year-old New Hampshire native has pursued his musical dream on the streets of L.A., cooing Spanish love songs to a mostly immigrant audience. He performs at weddings, anniversaries, funerals and other special occasions.
He's even appeared on the Spanish-language version of "American Idol," called "Cuanto Cuesta El Show," whose audience seemed to enjoy the novelty of his act. His first record, self-released in 2002, was simply called "El Gringo Mariachi."
But life as a working musician can be tough, especially for one performing in a foreign language. He has struggled financially and has had to endure whispers from puzzled customers, snickers from nasty waitresses and laughs from macho troubadours.
"Trying to sing is like being naked," he said. "It's like exposing yourself."
Then there are those nights when it's all worth it, when Stoneman hits the right notes and sets the right mood, and the women swoon. It's enough to keep his dream alive. "I am trying to push myself through to the next level," he said, "by making it so good that it's not up to chance."
So how did Matthew from New Hampshire become Mateo from Boyle Heights? It's something the musician doesn't like to talk about. He speaks broadly of his love of Latin American culture and refers obliquely to a Mexican woman he was infatuated with.
But to really get to the heart of the answer, you need to go to a place Mateo isn't anxious to revisit -- even in song.
A musical family
Stoneman always had a love for music. His father taught general music classes and his mother was a piano instructor. Growing up, he played various instruments, sang in the high school choir and then performed in a rock band shortly after graduation.
He was 19 when he decided to move from a small town in New Hampshire to California in 1983. He worked a number of odd jobs, including one as a waiter and another as a part-time piano player at the West Hollywood Hyatt hotel.
But Stoneman struggled to make a living in the big city, and it wasn't long before he was getting into trouble. In 1997, he was convicted of robbery in Los Angeles and served four years in prison.
"My plan was to keep doing robberies," said Stoneman, who was convicted of stealing equipment from a recording studio and a music store. "I was out of my mind."
Prison was a wake-up call. Never close to his family, he knew his life had to change, and so it was there that he rediscovered music. But this time with a twist.
Stoneman had always had an affinity for Latino culture. He was intrigued by the mariachi music he heard flowing through the streets of L.A.'s Eastside. He realized his soft, delicate voice was perfect for boleros, slow romantic songs. Some inmates offered to translate his songs into Spanish. Another taught him basic guitar chords.
"It's like a painter that tries sculpting," he said about singing in Spanish. "It brings out a different type of emotion."
Stoneman took to walking around the prison yard, guitar in hand, singing for staff members and fellow inmates. He did covers of Trio Los Panchos and Pedro Infante, whom Stoneman calls the "Mexican Elvis."
In prison, he began writing his own songs. He also had time to reflect on his life. But it is painful for him to talk about this period because he still thinks about the people he hurt with his crimes.
"I put my intelligence to better use these days," he said.
He was released Aug. 13, 2001. Two days later, guitar in hand, Stoneman dropped a hat on Olvera Street. He was determined to find an audience, anyone who would listen.
When Stoneman strolled into Barragan's Mexican Restaurant in Echo Park in 2007, manager Michael Barragan took one look at the performer and made his decision.
"I said we don't allow people to sing in our restaurant, which we do," Barragan said. "I didn't think he would be a good singer." The next time he saw Stoneman was a year later when he was hired to perform at a private party at the restaurant.
Barragan was impressed. He purchased some of the "Mateo" CDs that Stoneman had released in 2004 and invited the performer to sing at his parent's house Christmas Day. Stoneman also occasionally performs at the restaurant
"Once I heard him, it taught me a valuable lesson: that I should never stereotype anyone for the way they look," Barragan said. "I stereotyped him because he's a gringo singing Spanish music."
But Stoneman is more than just another troubadour.
When he was in prison, he saw the Oscar-nominated documentary "Buena Vista Social Club," featuring a group of elderly Cuban musicians who became international stars in the 1990s through exposure from the film.
He was so impressed that he set out to record with members of the band. He contacted a producer who had worked with the group and in 2003 traveled to Cuba to make a self-financed record with bassist Orlando "Cachaíto" López.
"It was deja vu," Stoneman said of the experience, referring to the time he first saw Lopez in the film.
It was one of the highlights of his life. He has managed to scratch out a living, but just barely. In a good week, he can earn up to $600. But lately he's been working seven days a week with little return.
On a recent day at a La Puente restaurant, after belting out a few songs, Stoneman switched from singer to salesman. He asked politely if anyone would like to buy his CD.
He left with less than $5 in tips. For the next four hours, Stoneman drove from Echo Park to Boyle Heights and back again, crashing Mexican restaurants, looking for work. On some weekends, he can drive up to 150 miles.
'He has a gift'
Any money Stoneman earns goes right back into his music. He lives in a cramped one-room apartment in Boyle Heights, filled with compositions, old guitars and books. He doesn't even sleep on a bed.
The back seat of his 1981 gray Mercedes is littered with empty Naked Juice bottles filled with water, and he carries cereal with him in case he gets hungry.
Sandi Romero, who owns a restaurant across the street from MacArthur Park, has been a fan ever since she first heard Stoneman sing "Dos Dolares" at a local restaurant two years ago. Romero said she admired his work ethic.
"I know the struggles," said the former musician. "I can see sometimes, his little face looks tired."
But Romero believes in his talent. "He has a gift," she said. "His voice is so sweet yet strong."
On a recent workday, Stoneman parked in a loading zone and sneaked into La Parrilla in Boyle Heights. He was hurrying to beat out his competition: a group of mariachis assembled across the street.
As Stoneman began to sing, an elderly man listened intently and smiled. Later, he purchased Stoneman's CD.
At the last stop of the night at La Parrilla on Wilshire Boulevard, Stoneman spotted Melanie Morningstar at a table nearby. She is a loyal fan.
Morningstar appeared to be in a trance as Stoneman sang "Besame Mucho," her lips moving in sync with his.
Afterward, a man with $10 in hand approached Stoneman and asked if he could sing some songs for his daughter, who was celebrating her college graduation. The singer followed him to a table in back filled with family and friends.
Stoneman, obviously tired, strummed his guitar and began to sing. "Someday when I'm awfully low, when the world is cold . . . I will feel a glow, just thinking of you . . . and the way you look tonight. . . ."
At first, the table was silent. Then the guest of honor started to cry. Suddenly, Stoneman was flooded with requests. He played "La Bamba" as they clapped and cheered.
On this night, in this place, he had found what he was looking for. He had found his audience.
---
Life is stressful. Our weekly mental wellness newsletter can help.
You may occasionally receive promotional content from the Los Angeles Times.