12 Images
Rain hits Southern California
Southern California's long dry spell ended Friday, with an unexpectedly strong rainstorm leading to evacuations in the Orange County canyon communities scarred by October's brush fires. Marcus Lynch, above, takes a break from shoveling mud in front of the house of Gene Corona of Modjeska Canyon, one of the areas susceptible to debris flows because of the rain.
(Glenn Koenig / Los Angeles Times)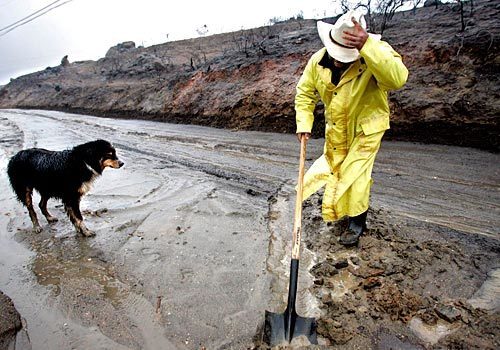 Aureo Olea Navarete scrapes rain-soaked ash that has washed down from a denuded hill above Caesar Drive in Ramona in San Diego County. Several houses were lost on the rural road during the Witch fire. As of nightfall Friday, no major slides were reported in the area.
(Don Bartletti / Los Angeles Times)
Leonard Deguay and Dave Boris of Modjeska Canyon come to the aid of a fellow resident who was stuck in the mud on Modjeska Canyon Road. The Orange County community was one of several hit by October's fires that are dealing with slides and other problems resulting from Friday's rain.
(Mark Boster / Los Angeles Times)
On a day marked by snarled morning commutes across the region and evacuations because of the threat of mudslides, there were less serious repercussions as well, as for this golfer playing a wet Griffith Park course.
(Brian Vander Brug / Los Angeles Times)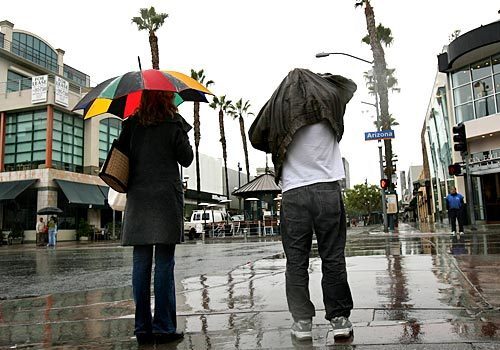 Friday's rainstorm forced Southern Californians to seek cover as they could, as with these pedestrians in Santa Monica. The storm dropped somewhere between half an inch and 1 inch of rain in downtown Los Angeles and more in canyon and mountain areas.
(Ann Johansson / For The Times)
Umbrellas came out of storage Friday with the arrival of the first rain in November and the first sizable storm in months. Here a woman crosses 2nd Street, between puddles, in Santa Monica.
(Ann Johansson / For The Times)
Wipeout! A car streaks through a flooded intersection Friday on Riverside Drive in Toluca Lake. Coming after a long dry spell, the rain added an unwanted degree of difficulty to the day's commute.
(Carlos Chavez / Los Angeles Times)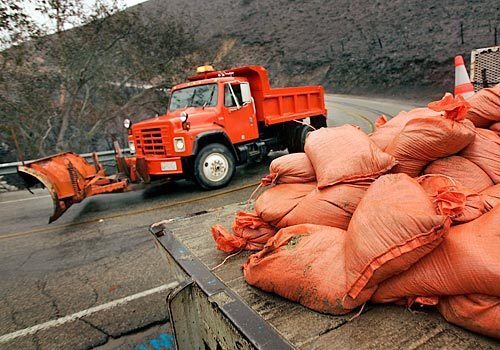 A plow truck trolls for debris on Latigo Canyon Road in Malibu after hillsides charred by the recent Corral fire became unsteady during Friday's rainfall. Sandbags sit at the ready as needed.
(Al Seib / Los Angeles Times)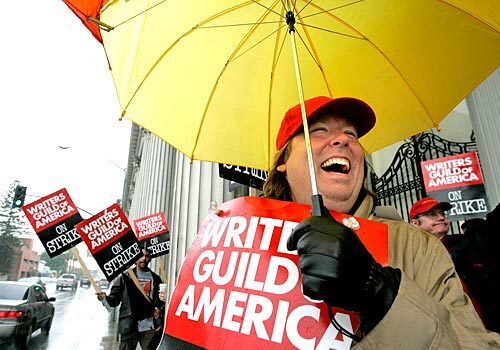 The rain dampened picket lines, if not spirits, as John Matta and compatriots from the Writers Guild of America walked outside Sony Pictures in Culver City on Friday morning.
(Brian Vander Brug / Los Angeles Times)
Alec Gomez, 3, helps his mother, Deysi, hold on to an umbrella as they get ready to head home to Castaic after a trip to Wal-Mart in Stevenson Ranch on Friday afternoon.
(Mel Melcon / Los Angeles Times)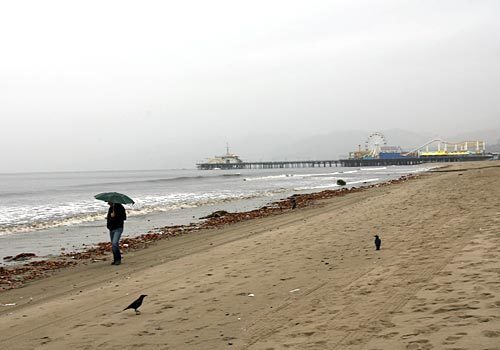 Kenneth Allison walks in the rain along the beach in Santa Monica on Friday.
(Ann Johansson / For The Times)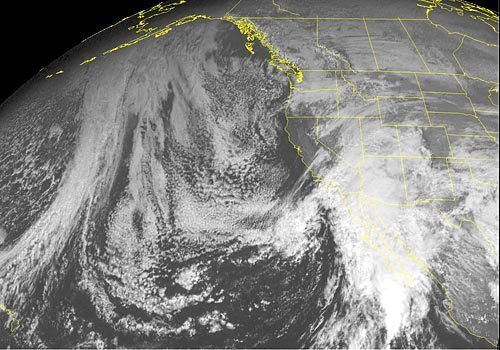 This satellite image taken Friday at 11:30 a.m. PST shows a large mass of clouds streaming into the Southwest.
(NOAA / Weather Underground via AP)