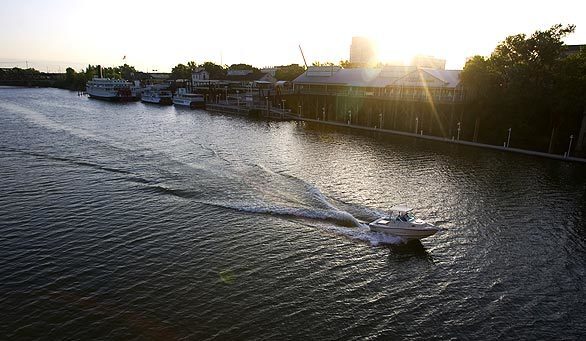 7 Images
Sacramento at risk for massive flooding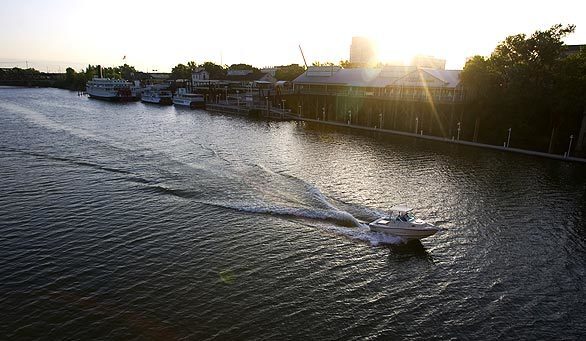 A small boat makes its way south on the Sacramento River with the city's skyline in the background. Sacramento is at risk for massive flooding that likely would cost lives, destroy homes and upset municipal and state government operations.
(Robert Durell / Los Angeles Times)
California's capital city sits on an expansive flood plain and is flanked by two rivers, the Sacramento and the American, that are naturally prone to regular flooding. If not for the vast system of levees and dams built over the last 100 years, the Natomas Basin could be under 23 feet of water today.
(Robert Durell / Los Angeles Times)
The Capitol Building sits at the east end of the mall while the golden Tower Bridge spans the west end over the Sacramento River. After New Orleans, Sacramento is the most flood-threatened urban area in the United States.
(Robert Durell / Los Angeles Times)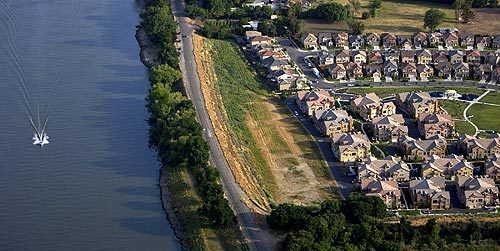 Federal and state government agencies are pushing major initiatives to bolster Sacramento's flood readiness. For example, the flood walls surrounding the Natomas Basin, and other levees throughout the Central Valley, are being reinforced to meet tougher post-Katrina federal standards.
(Robert Durell / Los Angeles Times)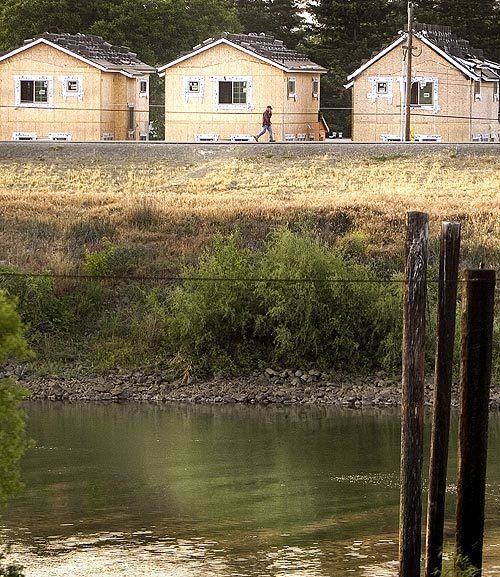 Residents of Sacramento have been dealing with flood conditions since the first settlers came looking for gold and built Sutter's Fort. In the flood of 1862, Gov. Leland Stanford had to be transported to his inauguration in a rowboat.
(Robert Durell / Los Angeles Times)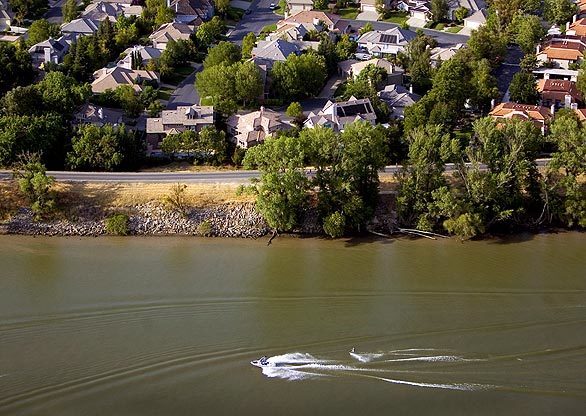 A recent state report predicts that if certain weather conditions occur, Sacramento could be buried under more than 20 feet of water. The worst-case scenario projects 500 dead, 102 square miles flooded, 300,000 residents displaced and a cost of $25 billion.
(Robert Durell / Los Angeles Times)
Gov. Arnold Schwarzenegger in 2006 signed an executive order mandating that all state agencies draft contingency plans to maintain operations amid a major disaster. If the Capitol Building closes down, state governance will temporarily move to Fresno; if more than 20% of state legislators perish, the governor will appoint replacements; and critical agencies such as the Office of Emergency Services and the state's flood operations center are located away from City Center, on higher, flood-safe ground.
(Robert Durell / Los Angeles Times)