5 Images
Msgr. Sammon Memorial
Msgr. John Sammon, Orange County's oldest priest and a former fire and police chaplain for more than 60 years, was eulogized Thursday during a memorial service in Garden Grove.
(LAT)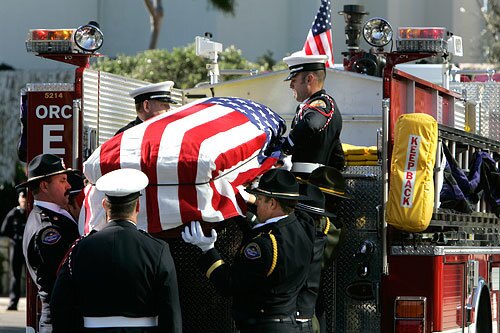 The casket of Msgr. Sammon arrives at the Crystal Cathedral on Engine 55. The fire engine was driven by grandnephew Mike Tooley, an engineer for the Orange County Fire Authority.
(Allen J. Schaben / LAT)
Orange County Sheriff and police officers bow their heads in prayer during the memorial service for Sammon.
(Allen J. Schaben / LAT)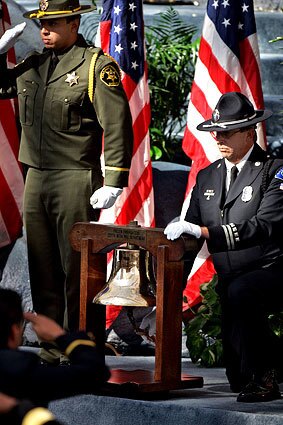 Officers salute during the tradition of the ringing of the bell, which is three sets of three rings to signal the end of an emergency and return to quarters.
(Allen J. Schaben / LAT)
Fire Captain Steve King, of the Orange Co. Fire Authority, holds Sammon's Chaplain's helmet.
(Allen J. Schaben / LAT)