Watching the smoke signals in San Diego County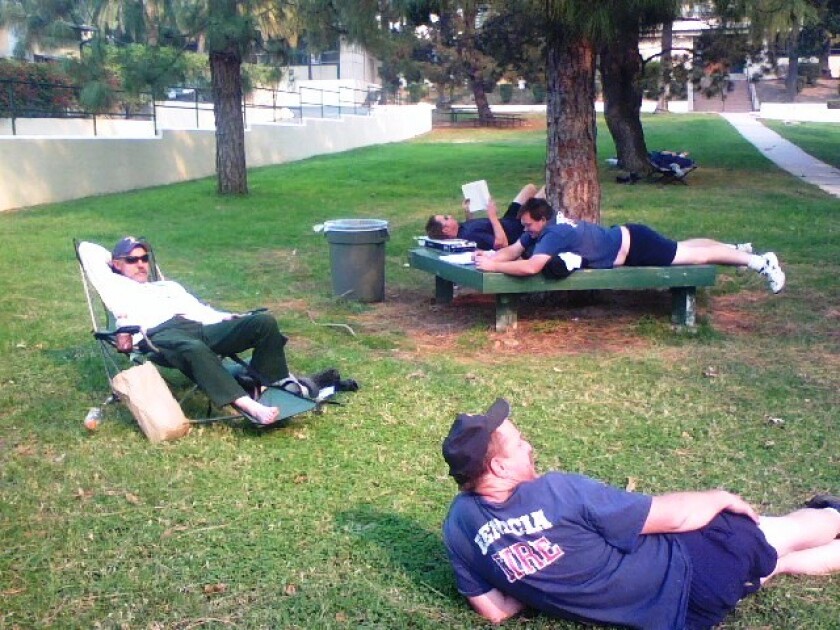 When firefighters from Benicia finally came off the line this morning, they were too tired to sleep.
(Steve Lopez / Los Angeles Times)
Mission accomplished: Wave Weapon escapes the fire.
(Steve Lopez / Los Angeles Times)
A southwest Escondido neighborhood was still largely intact, but threatened.
(Steve Lopez / Los Angeles Times)
Residents of this southwest Escondido neighborhood were waiting and hoping.
(Steve Lopez / Los Angeles Times)
One of five homes destroyed in a rural Fallbrook neighborhood.
(Steve Lopez / Los Angeles Times)
Steve Lopez is in San Diego County reporting from the fires. He will file updates throughout the day.
5:00 p.m., Red Mountain Lane, Fallbrook
I'm standing on the front porch of a house that no longer exists.
The windows are gone. The front door is gone. And I can see through the house to the back door, which is also gone.
At my feet, is a doorknob that has fallen into the ashes of what used to be the door.
Walking on the scorched front lawn, I can hear crunching under my feet, and little clouds of black dust spring up with each step. A vinyl fence between this house and the next has flopped over like taffy.
The only thing that survived the fire is a putting green with a sand trap.
I hear water running and walk around to what must have been the kitchen entrance.
Inside, ceiling sprinklers are still spraying the room, but it's clear they weren't up to the task of saving the house. The water is falling onto a pile of charred rubble.
The plastic door handle on the refrigerator is melted like a burned candle. The microwave oven is warped and a ceiling fan is upside down on the floor. The frame that used to hold up the ceiling sags into the room, looking like the ribcage of a dinosaur.
I look into what must have been a sitting room, and there is nothing but ash and debris. Some wires may once have been the innards of a piano.
In a bedroom, nothing is identifiable but the springs of what used to be chairs or beds. The bathtub faucet is running, and the tub is filled with debris from what used to be the house's slate roof.
A young man walks up to the house and introduces himself as Allen Yun. He asks me if I am the insurance man.
Yun, 27, works as the night manager of a Wall-Mart, and his dad lives next door where he operates a nursery.
He tells me about the fire that came roaring over the ridge a few hundred yards to the east about 11 last night and rolled through the neighborhood.
He and his dad tried to save the fruit trees and plants at the nursery but lost about half of them.
"The embers were flying in right here and right there, like this and like that," he says. "We were trying to put them out with a hose. But it was like a bonfire times a million. The heat was so intense."
The Yuns finally had to evacuate, hoping for the best. They returned this morning to find that their house was not damaged.
"It's amazing, because five houses were lost" in the neighborhood, Yun says.
I ask him to point out the other houses that burned, and he points toward the ridge. There's nothing there.
"They're gone," he says. "Completely gone."
He points out a twisted pile of metal in the driveway and tells me it used to be a Porsche. Smoke still rises from a pile of ash beside to the car. Next to the Porsche is what looks like it must have been a small power boat.
An office or exercise room next to the driveway is still smoldering. A barbell, a stack of weights and a metal cabinet are about all that remain inside.
We walk up the street, and at the top of a rise,Yun points out where the other houses used to be.
Not even the frames are left. Near what was once a garage, smoke is still rising from the ash and rubble. I can make out a washing machine and dryer.
Next door, what's left of a garage beam bursts back into flames as I watch. It's about the only thing left to burn.
A dead rat that didn't make it out of the fire's path lies in the driveway.
It feels strange to trespass in these places where people lived and worked and raised their families and dreaded ever seeing a day like this.
I hope they're all safe and able to put their lives back together, here or wherever they choose.
3 p.m., downtown Fallbrook:
For the most part, this town is abandoned.
There's a Mexican restaurant that seems to be open and a liquor store, but everything else is locked up tight. The streets are empty except for one guy walking along barefoot. He says he doesn't know anything about an evacuation order, but everyone else seems to have gotten the message.
In a downtown park, across the street from the fire station, 20 firefighters from all over the state are sprawled on cots or just on the grass, trying to catch some badly needed rest.
One guy is snoring under a palm tree, and it's worth noting that no one else is within 30 feet of him.
Four firefighters from Benicia in the San Francisco Bay Area seem to be the only ones awake. Capt. Joe Thurin is in a lawn chair. Greg Nelson is lying on the grass. And Mike Brown and Jed Matcham are on benches that surround a tree.
So why aren't they asleep like everyone else?
Brown says they're in that state where you're so tired you can't sleep. The crew started its regular shift at 8 a.m. Sunday in Benicia, then left for the Ramona fire at 11 p.m. They traveled through the night, and it was so cold in their open firetruck that they couldn't sleep.
"They redirected us off the Ramona fire to Fallbrook," says Thurin, "and we went to work the minute we got here at about 8 a.m. Monday."
They worked through the day and night and were finally given a break at 7 a.m. today.
They say they caught three or four hours after they were pulled off the lines, and this evening they hope to get a full night's sleep in the gymnasium of a local junior high.
At 7 tomorrow morning, they'll be back on the fire lines with no idea how long they'll be out there this time.
Thurin tells me this is the fourth time this year he's traveled out of Benicia to fight someone else's fire. But in California, there's no way around it: Departments have to lend each other a hand.
10:45 a.m., intersection of Via Loma Vista and Via Rancho Parkway, Escondido:
Eight or 10 people are gathered at this corner, where a roadblock has been set up. They were evacuated yesterday but returned today to see if their houses were standing. All they can do is watch smoke rise all around and worry about whether their homes survived.
G.D. Durrant is a gruff-talking senior professor of painting and drawing at Palomar College. He has an issue: Why can't all the military manpower at Camp Pendleton, Twenty-Nine Palms and elsewhere in the region be mobilized to save property and lives? There are military personnel and equipment all around. "I just wish they could utilize it," he says. "All these firefighters here are working so hard, and their accomplishment is so minimal."
He knows where to point the finger: "The government has to offer more leadership for us," he says. "I had the pleasure of meeting Truman as a teenager. Truman, now that was a leader."
The fire is burning just out of sight, over a hill. There's a strong everything's-on-fire smell. At the corner, a breeze is blowing, but we can see just up the road that there are strong, constantly shifting winds. A helicopter is flying back and forth from nearby Lake Hodges, picking up water with a hose dangling from it like an elephant's trunk and spraying it on the fire.
Every once in a while we hear a boom, and someone points out the obvious: Another house went up. Each boom is accompanied by a new black smoke plume.
Clay Tyler, vice president of information services for Kisco Senior Living, comes down the hill in his Jeep, having somehow managed to get past the roadblock.
"It's right up by my house," he says. "It's up in the neighborhood here. I think it came up Felicita Creek. It burned everything right up to my house." He says he could only get close enough on Via Privada to see that his roof was still there. But he's worried. The house is within a 100 feet of dense chaparral.
After being evacuated yesterday, he checked into the Lawrence Welk resort with his wife and 11-year-old son, only to be evacuated from there today. The wife and son went on to Palm Springs, where they had managed to get a hotel room. He decided to stay behind and try to get back to his house.
The others at the corner are glad of the news but anxious about their own homes. With my press pass, I can walk up into the neighborhood. I take down their addresses and tell them I'll check on their homes.
1:30 p.m, Via Loma Vista, southwest Escondido:
Charlene Edwards, a new arrival at the roadblock, wants to know what I can tell her about the condition of the homes up the hill.
I ask her where she lives and she tells me her address. I wasn't on her street, I say.
She asks if I'll take her there.
"Sure," I tell her. "Let's go." It's the power of the press.
The moment we try to cross the intersection, a parade of firetrucks appears, lights flashing. Edwards holds her breath, hoping they're not on the way to her street.
The trucks pull over, and we go around them up the hill, turning onto Via Conejo. Hers is the third house on the left.
"It's still standing," Edwards says. She then asks if I'll wait while she runs inside and grabs a few things.
The first thing she does when we enter the house is look out back to make sure the fire isn't coming up the hill. The canyon has been scorched to within about a hundred yards of her house, but it's just smoldering at this point.
Edwards, a bookkeeper, then checks a cage outside to make sure her birds are OK.
"Oh thank you," she says. "They're still alive."
She tells me she has 13 cockatiels and there's no way to take them with her.
She grabbed her photos when first ordered to evacuate. Now she wants her computer and some clothes, having left with only what was on her back. I lug the computer out to the car and go back to help with the clothes.
Edwards then asks if I would mind checking on a neighbor's house.
We drive around the corner, and that one is fine too. But half a block in front of us, smoke suddenly billows up over a house and firefighters from the Downey Fire Department race to the backyard.
Flames have engulfed bushes, trees and a pile of firewood, and they are dangerously close to the back of a house that has to be worth a million dollars.
We hang around until it looks like they've got it under control, and on the way back Edwards gets a call from her daughter.
When she tells Samantha that a reporter has gotten her into the neighborhood, Samantha has a favor of her own to ask. Can we possibly go by her boyfriend Jason's house and rescue his surfboard? It's orange and yellow, and he keeps it in his upstairs bedroom.
Edwards asks if I'm game.
Why not? I've never rescued a surfboard before.
We head back out past the roadblock and down the hill. As we turn onto Jason's street, a helicopter zooms so close overhead I almost find myself ducking.
Smoke is rising in several directions, and I'm beginning to wonder how safe this is. But when we come upon an Escondido firetruck, and wave as we pass by, no one seems interested in stopping us.
We round a bend and Lake Hodges comes into view, beautiful and spooky at the same time, with thick yellow smoke blanketing the basin.
Surfboy Jason Ferguson, a Cal Baptist student, lives up a long driveway on a hill overlooking the lake. We pull up to the front door, and Edwards takes me in and leads me upstairs. Here it is, she says, coming out of his bedroom with the red and yellow board.
I angle it through the sun roof of my Honda.
Edwards and I walk out back, where there's a spectacular view of the lake. There are no major fires we can see, but there are hot spots here and there. Down the hill, a homeowner stands guard with a hose, and one ridge away, black smoke rises where another fire is marching through the canyon.
On the way back out, we stop to talk to Escondido Fire Capt. Ken Slavin, whom Edwards knows. She points out that we rescued Jason's surfboard and he smiles. Edwards asks if the neighborhood is going to make it. Slavin tells her it looks good for now, but there's no telling what might happen with a wind shift.
Back at the roadblock, we call Jason to give him the news that his surfboard's safe. Thank you , he says, that's awesome.
I ask him why, of all the things in the house, that's what he wanted to save.
"It's my brand new Wave Weapon," he says. "And I've only ridden it once."
11:30 a.m., Via Loma Vista, southwest Escondido:
I head up the street on foot, feeling OK until I notice all the power lines overhead. The wind is blowing hard through the palms and pines. Plumes of smoke rise to the left, right and overhead. But it isn't the fire that has me most worried: It's the possibility of downed power lines.
I decide to walk at least to the top of the hill, where I'll be able to see better. As I hit the crest, the winds shift once more, from the east to the south. I can't see flames, but judging by the black plume of smoke half a mile away, the fire is heading toward me.
The middle-class neighborhood of ranch-style homes is abandoned, eerily silent except for the wind in the trees and the helicopters overhead. Lush, ripe oranges hang from trees, and in one yard a sign reads, "Above average children at play."
Near G.D. Durrant's house, a small Sacramento firetruck has broken down and the two guys in it are on the phone calling for help. Their faces are covered with soot and they say they haven't slept since Saturday night.
"We just burned out this radiator," says Battalion Chief Craig Wiedenhoeff, who is with firefighter Niko King.
I ask them if it is safe to keep going, and they say the scene here is nothing compared with the other night when they were sent out east of town to the San Pasqual Academy.
"The sky turned black and then bright orange, and it came right down on us," says King. "We had no idea it was going to hit us like that."
They held the line as best they could and then headed on to the next flare-up. It's been one after another since then.
Durrant's house is still standing, and so are the others I went to check on.
On my way back down to deliver the news, I bump into Chris Splane, a landscape designer who was trying to find a spot from which he could see his house across the canyon.
"I came to see if it's still standing. Do you see that giant ficus tree on the hill? The house is in a big clump of trees right there, and I can't tell."
As we stand watching, helicopters are attacking what seems to be a fire just over the ridge from his house.
Splane says he was evacuated from his house yesterday at 4 a.m. He went two miles away to a friend's house, only to be evacuated from there at 4 p.m. Then he moved to the home of another friend in Valley Center. This morning he was evacuated for the third time in 24 hours.
The fire heading toward his house seems to have petered out. And though he can't see the house itself, he can tell that the trees shading it are unburned.
"I'm happy. I really didn't expect my house to still be there."
Back at the roadblock, Durrant and the others gather to hear the news.
I tell them they're in good shape. So far.
Before they can enjoy a moment of relief, a black ball of smoke mushrooms up a few hundred yards away from where we are standing.
And they all know they aren't in the clear yet.
---
The stories shaping California
Get up to speed with our Essential California newsletter, sent six days a week.
You may occasionally receive promotional content from the Los Angeles Times.