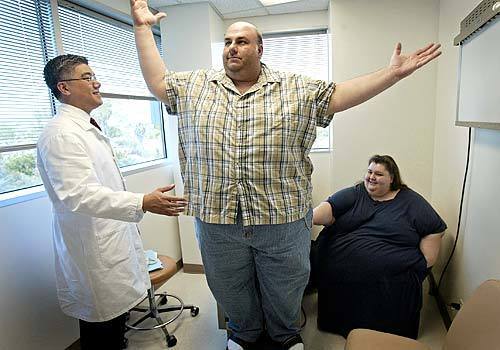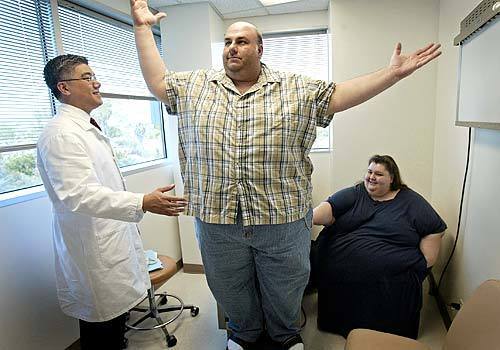 STAND-UP GUY:
Cyrus Tehrani exclaims upon standing from a prone position at a pre-surgery checkup last spring by bariatric surgeon Dr. Carson Liu, left, as sister Sheila watches.
(Ricardo DeAratanha / LAT)
A REACH:
Nurse Caroline DeOliveira measures Cyrus Tehrani's waist during his monthly checkup six months after surgery. Before the Lap-Band procedure, he had been wearing 78-inch-waist pants.
(Brian Vander Brug / LAT)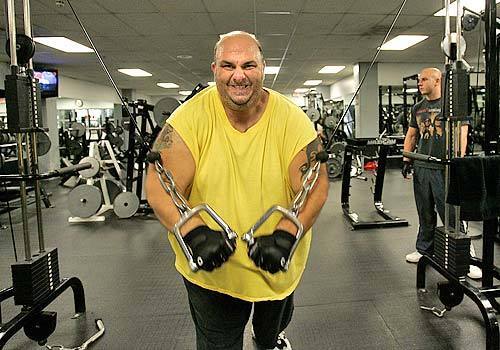 MOTIVATED:
Cyrus Tehrani, spotted by half-brother Jacob, lifts weights at a gym in Pasadena six months after his surgery. Cyrus is committed to regular exercise, despite time away from his children.
(Brian Vander Brug / LAT)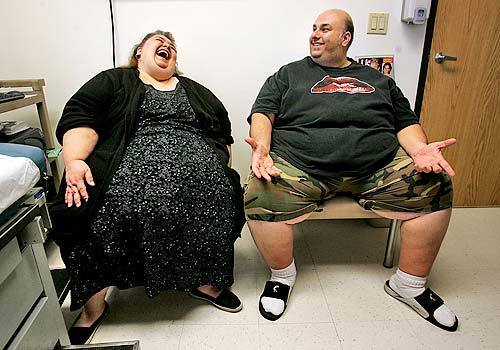 APPETITE FOR HUMOR:
Siblings Sheila and Cyrus Tehrani reminisce about what little they ate for Thanksgiving 2005. Weighing 579 and 578 pounds, respectively, before their surgery last June, they took out a loan on the family home to finance the operations.
(Brian Vander Brug / LAT)
MAKING PROGRESS:
Sara Flammang, 44, right, of Tustin walks with her friend Amanda Canova. Now at 324 pounds, Flammang has lost nearly 40 pounds on a supervised program.
()