Writer David Foster Wallace found dead
A talented tennis player as a youngster, David Foster Wallace attended Amherst College and majored in philosophy before switching his focus to writing fiction. He graduated with a bachelor's degree in 1985 and turned his senior thesis into the basis for "The Broom of the System."
After earning a master's degree in fine arts from the University of Arizona, Wallace began teaching writing at Illinois State University in Normal in 1993. In 2002 he was named the first Roy E. Disney professor of creative writing at Pomona College in Claremont.
(Keith Bedford / Getty Images)
Scott M. Morris reviewed "Oblivion" for the L.A. Times on June 13, 2004. Here are some excerpts:
David Foster Wallace has earned a place as one of America's most daring and talented young writers. His use of language is pyrotechnic, and he is impatient with traditional narrative forms. In his new collection, "Oblivion," he is up to his customary tricks, but he has also plumbed a little deeper in matters of the heart.
Those who are familiar with Wallace's inventive wordplay will not be disappointed. In "Another Pioneer," a passenger on an airplane relates a conversation he overheard about a Third World village that has produced a gifted child able to answer any question put to him. In Wallace's hands, the story itself is questioned: "[A]t certain points it became unclear what was part of the cycle's narrative Ding an sich and what were the passenger's own editorial interpolations and commentary...." Which, not incidentally, is a good way of describing Wallace's writing....
Of course, these being Wallace stories, such plot summaries are to some degree beside the point. There are stories within these stories, along with Wallace's trademark footnotes, parenthetical comments and bracketed observations. His eye for cultural detail is ever sharp, his humor ever dry.
(Michael Morgenstern / For The Times)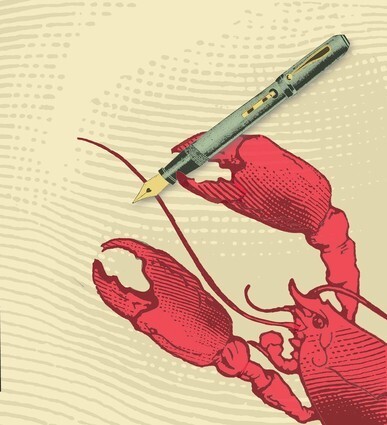 Steve Almond reviewed "Consider the Lobster" for the Los Angeles Times on Dec. 18, 2005. Here are some excerpts:
There is no writer alive to whom I would more happily entrust the task of covering the Adult Video News Awards (the porn industry's Oscars) than David Foster Wallace. There is no writer alive more incisive and hilarious, more ruthlessly tender, when it comes to documenting the perversities of modern American life.
As wittily as Wallace records the moral horrors on display, he never loses sight of the genre's essential pathos. The most fascinating subject he encounters at the Adult Video News Awards is an elderly police detective -- a gentle, soft-spoken grandfather -- who watches porn "for those rare moments in orgasm or accidental tenderness when the starlets drop their stylized ... sneer and become, suddenly, real people."
This is what makes Wallace so effective as a correspondent: his emotional curiosity about the world. For all his nimble phrasing and postmodern tomfoolery, he's something of an innocent.
(Wes Bausmith / Los Angeles Times)
Los Angeles Times Staff Writers
David Foster Wallace, the novelist, essayist and humorist best known for his 1996 novel "Infinite Jest," was found dead Friday night at his home in Claremont, according to the Claremont Police Department. He was 46.
Jackie Morales, a records clerk at the department, said Wallace's wife called police at 9:30 p.m. Friday saying she had returned home to find that her husband had hanged himself.
Wallace, who had taught creative writing at Pomona College since 2002, was on leave this semester.
Times book editor David Ulin was in New York City for a National Book Critics Circle Board meeting Saturday.
"What was a party is now a wake," Ulin said as the news of Wallace's death circulated. "People were speechless and just blown away.
"He was one of the most influential and innovative writers of the last 20 years," Ulin said.
"He is one of the main writers who brought ambition, a sense of play, a joy in storytelling and an exuberant experimentalism of form back to the novel in the late '80s and early 1990s," Ulin said. "And he really restored the notion of the novel as a kind of canvas on which a writer can do anything."
Wallace won a cult following for his dark humor and ironic wit, which was on display in "The Broom of the System," his 1987 debut novel; "Girl With Curious Hair," a 1989 collection of short stories, and "A Supposedly Fun Thing I'll Never Do Again: Essays and Arguments" (1997). In 1997, he also received a grant from the MacArthur Foundation.
A year earlier he shot to the top of the literary world with "Infinite Jest," a sprawling, ambitious novel with a nonlinear plot that ran 1,079 pages and had nearly as many footnotes.
Critics marveled at the prodigious talent evident in his imaginative take on a future world, comparing him to Thomas Pynchon and John Irving.
In a 1996 profile in the New York Times Magazine, Frank Bruni wrote, "Wallace is to literature what Robin Williams or perhaps Jim Carrey is to live comedy: a creator so maniacally energetic and amused with himself that he often follows his riffs out into the stratosphere, where he orbits all alone."
Other collections of fiction and nonfiction followed, including "Brief Interviews With Hideous Men" (1999), "Everything and More: A Compact History of Infinity" (2003) and "Oblivion" (2004).
In June, to coincide with this fall's presidential election, he reworked a 2000 essay about Republican candidate John McCain for a paperback published as "McCain's Promise: Aboard the Straight Talk Express With John McCain and a Whole Bunch of Actual Reporters, Thinking About Hope."
Wallace was born Feb. 21, 1962, in Ithaca, N.Y., and raised in Illinois, where his father taught philosophy at the University of Illinois and his mother taught English at a community college.
A talented tennis player as a youngster, Wallace attended Amherst College and majored in philosophy before switching his focus to writing fiction.
He graduated with a bachelor's degree in 1985 and turned his senior thesis into the basis for "The Broom of the System."
After earning a master's degree in fine arts from the University of Arizona, Wallace began teaching writing at Illinois State University in Normal in 1993.
In 2002 he was named the first Roy E. Disney professor of creative writing at Pomona College.
Gary Kates, the college's dean, called Wallace's death "an incredible loss."
"He was a fabulous teacher," Kates said Saturday. "He was hands-on with his students. He cared deeply about them. . . . He was a jewel on the faculty, and we deeply appreciated everything he gave to the college."
In addition to his wife, Karen Green, and his parents, Wallace is survived by a sister.
A memorial service is planned at Pomona College.
---
The stories shaping California
Get up to speed with our Essential California newsletter, sent six days a week.
You may occasionally receive promotional content from the Los Angeles Times.