9 Images
Westwood: Now and then
A recent burst of construction activity promises to generate some momentum in efforts to revive Westwood Village as the hippest place to be in L.A. on a Saturday night. Among longtime draws is the venerable Mann Village Theatre, at right, near this popular eatery at Broxton and Weyburn avenues.
(Lawrence K. Ho / Los Angeles Times)
A magazine cover from 1940 depicts the corner of Westwood and Wilshire boulevards in Los Angeles. One thing that hinders luring more shoppers and nightlife to the area is its notoriously difficult parking.
()
Traffic at Westwood and Wilshire boulevards can be brutal, and good luck finding a parking space.
(Lawrence K. Ho / Los Angeles Times)
This is Westwood Village in August 1937, looking north from Westwood and Wilshire boulevards. Notice the wide-open spaces.
(Los Angeles Public Library)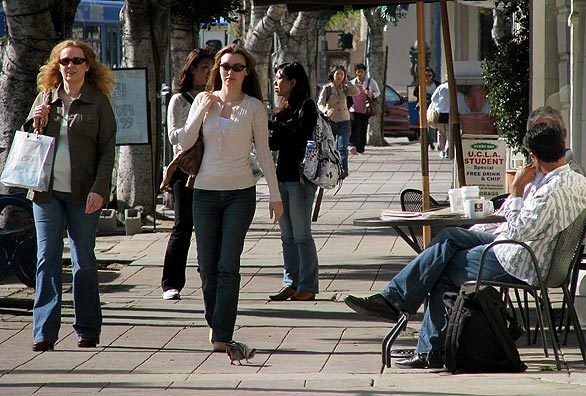 UCLA students and others provide a good amount of foot traffic for Westwood stores.
(Lawrence K. Ho / Los Angeles Times)
Historical Westwood Village: Glendon Avenue and Lindbrook Drive in 1937.
(Dick Whittington Studios)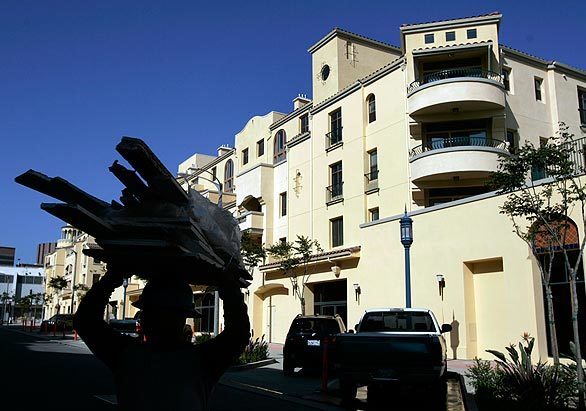 On Glendon Avenue, a block east of Westwood Boulevard, the first of an expected 700 tenants have moved into the 350-unit Palazzo Westwood Village apartment complex even as workers scurry to complete the project.
(Lawrence K. Ho / Los Angeles Times)
Westwood Village in this 1930 photo is the picture of tranquillity.
(Mott Studios)
Khaled Baramawy, a journalist visiting from Egypt, enjoys dinner and a hookah with friends at the Gypsy Cafe at Weyburn and Broxton avenues in Westwood Village. Despite the prime location amid the "platinum triangle" of Bel-Air, Holmby Hills and Brentwood — not to mention UCLA's 43,000 students and faculty members — Westwod Village has not been able to re-capture its bustling glory days.
(Gary Friedman / Los Angeles Times)