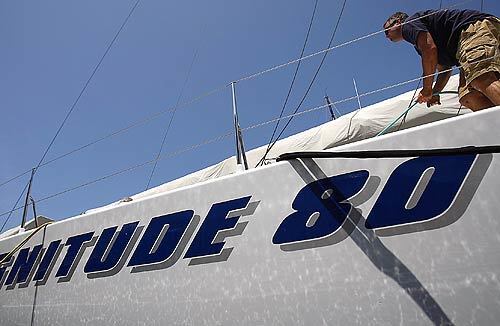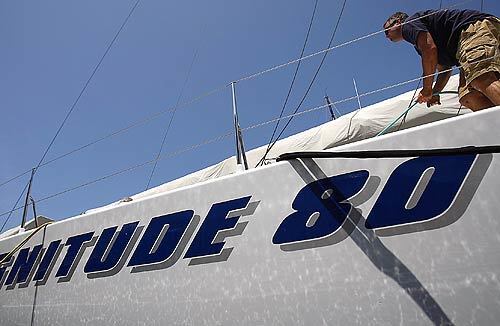 Chris Hamel, a crew member on the multimillion-dollar, 80-foot racing yacht Magnitude 80, prepares the vessel at its dock in Long Beach for this weekend's Newport to Ensenada International Yacht Race.
(Luis Sinco / Los Angeles Times)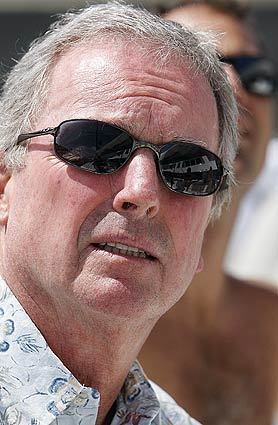 Doug Baker, 69, skipper of the Magnitude 80, is a seasoned sailor who has competed in the daylong Newport to Ensenada yacht race dozens of times --- and hopes to break the race's speed record as a prelude to a full season of competition.
(Luis Sinco / Los Angeles Times)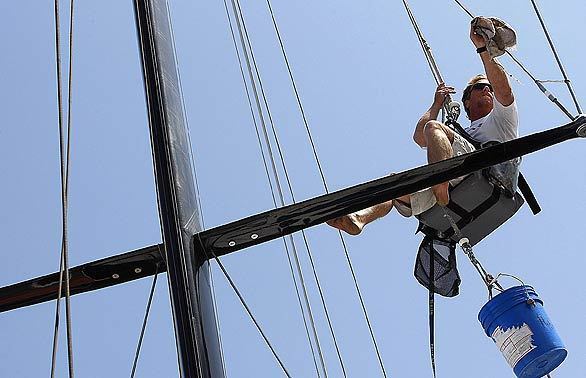 A crew member aboard the Magnitude 80 cleans and checks the rigging on the 110-foot-tall black mast. The 80-foot turbo-sled yacht will have up to an 18-member crew for the daylong sprint to Mexico.
(Luis Sinco / Los Angeles Times)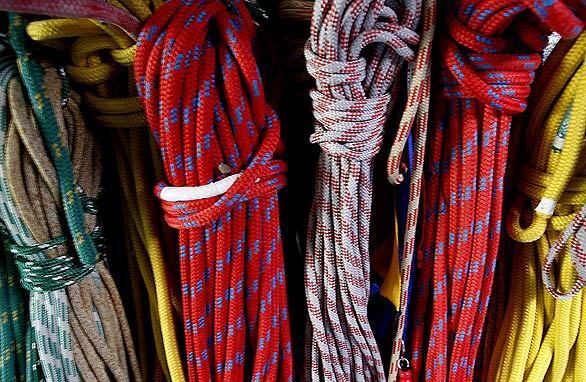 Lines are stowed inside the Magnitude 80 as its crew prepares to set sail Friday in the Newport to Ensenada yacht race. In its 61st year, the regatta has drawn them all, from working stiffs who love the water to disabled sailors to zillionaires such as Roy Disney.
(Luis Sinco / Los Angeles Times)
The skipper and crew of the Magnitude 80 hope to break the speed record in this year's race. Top racers are expected to cover the 125 miles to Ensenada in under 12 hours with good winds. Last year was the slowest race on record, officials said, in which many racers drifting in dead calm waters gave up and motored into San Diego.
(Luis Sinco / Los Angeles Times)