California cities curb marijuana industry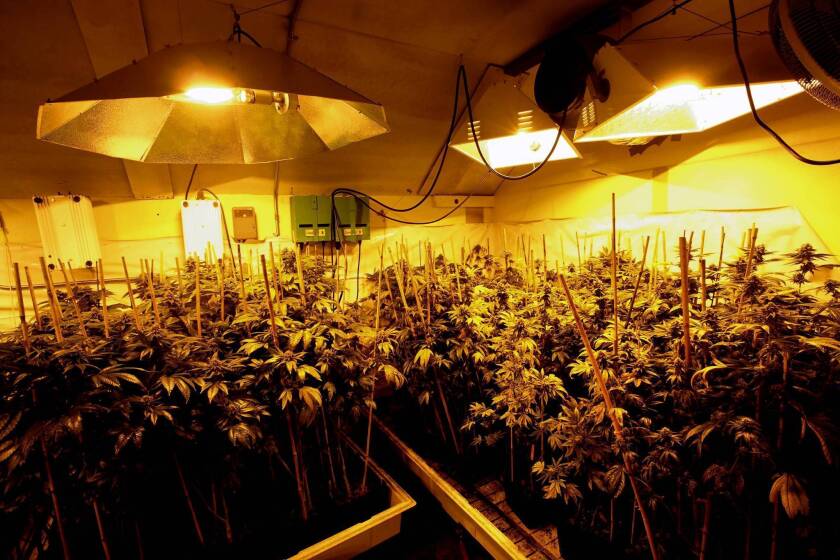 While voters in Colorado and Washington opted to legalize recreational marijuana use, a host of California communities moved instead to curtail the booming cannabis industry.
In San Diego County on Tuesday, measures to permit and regulate medical marijuana dispensaries were rejected in Del Mar, Solana Beach, Lemon Grove and Imperial Beach. The closest of the measures was in Del Mar, supported by 44% of voters.
In the Bay Area, a proposal that would have allowed up to three dispensaries in Palo Alto went down to defeat as well. Members of the City Council had argued that the stores would increase criminal activity and send children the wrong message, and 62% of voters sided with them.
In Northern California, voters in the Siskiyou County town of Dunsmuir rejected an attempt to roll back broad restrictions that were placed on medical marijuana growers last year.
The measure, rejected by 53% of voters, would have permitted cultivation on property that is not the grower's primary residence — as well as outdoors, in public view, inside enclosed garages, in Dunsmuir's historic district and in close proximity to youth-oriented activities. Opponents argued that the rail town-turned-outdoor recreational hub was emerging from an economic downturn and could not afford to be labeled a marijuana haven.
And the Humboldt County town of Arcata, 69% of voters sent their own message to growers, requiring those cultivating indoors and guzzling electricity to pay a premium utility tax.
The 45% tax will apply to residential electric bills that are six times above the baseline level set by the state. Nearly 7% of homes in Arcata, located in the heart of the Emerald Triangle, have bills that high, suggesting they are "grow houses."
Over the last year, federal prosecutors in California have cracked down on dispensaries near schools and parks, those operating for profit — in violation of state law — and those deemed "super stores" likely to be serving people who have no medical need.
In other contests Tuesday, labor unions were able to secure better conditions for workers.
A living-wage measure for Long Beach hotel workers, the third of its kind in California, was backed by 63% of the electorate there. It requires the city's 17 non-unionized hotels with more than 100 rooms to pay all workers at least $13 an hour.
And nearly 59% of voters in San Jose agreed to raise the hourly minimum wage to $10 — $2 above the mandated statewide rate. Proponents had argued that the measure was necessary for low-income people to survive in an increasingly pricey, tech-based city.
San Jose joins San Francisco, Washington, D.C., and Santa Fe and Albuquerque, N.M., as the only municipalities in the nation to set a minimum wage.
In Long Beach and San Jose, business interests opposed the measures, saying they would lead to layoffs and closures, as well as saddle consumers with higher costs.
In other California balloting, San Francisco voters rejected a proposition that would have required the city to craft an $8-million plan to demolish the dam that created the Hetch Hetchy Reservoir in Yosemite and find alternative sources of hydropower and water storage.
And in Berkeley, a controversial measure that would have banned sitting and lying on sidewalks in the city's commercial areas between 7 a.m. and 10 p.m. appeared to suffer a narrow defeat after leading in early results.
Romney reported from San Francisco. Times staff writers Tony Perry in San Diego and Wesley Lowery in Los Angeles contributed to this report.
---
For reporting and exclusive analysis from bureau chief John Myers, get our California Politics newsletter.
You may occasionally receive promotional content from the Los Angeles Times.