Soledad re-brands itself as the 'Gateway to the Pinnacles'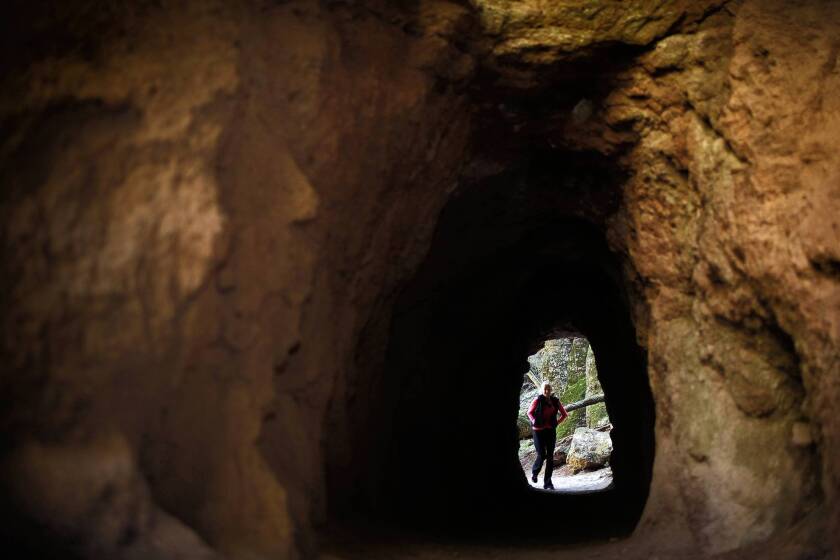 SOLEDAD, Calif. — For decades the slogans have sought to entice motorists who pull off Highway 101 in this Salinas Valley farm town — usually for gas or a cup of coffee — to stay and visit a while.
"It's Happening in Soledad," declares a billboard that looms over the asphalt artery.
"Soledad: Feel the Momentum" urge the stone markers planted at the town's highway exits.
PHOTOS: Soledad's success rests on Pinnacles
Now city officials think they have seized on an idea to provide the economic boost the community desperately needs: "Gateway to the Pinnacles."
"This is our chance," Mayor Fred Ledesma said recently, "and it's never going to pass this way again."
The Pinnacles' volcanic spires and talus caves are located five miles east of here, in the Gabilan Mountains. A release site for endangered California condors and a haven for rock climbers, the landscape also hosts a stunning wildflower season, 400 species of bees and more than a dozen types of bats.
A national monument since 1908, the area last month was elevated to national park status thanks to lobbying by federal, state, county and local officials throughout the region.
The change likely will benefit many communities, because national parks bring tourism. And tourism brings dollars.
Hollister, for example, sits 30 miles north of the park's eastern entrance — and Pinnacle's only campground.
But Soledad, whose only association for many people is the state prison here, perhaps has the most to gain.
At the urging of Ledesma and Adela Gonzalez, Soledad's city manager, the City Council in December hired a San Jose public relations firm to help re-brand the town. They set aside $150,000 for new river rock monuments touting Soledad's gateway status (it sits outside the park's west entrance). And officials snapped up nine Web domain names, among them: gatewaytopinnacles.com, gatewaytopinnaclesnationalpark.com and so on.
"It's been a month since the bill was signed, and we have not stopped jumping up and down," Gonzalez said. "We've been screaming it off the rooftops."
Incorporated in 1921, the town of 17,000 residents (prisoners not included) is named for the 18th century Mission Nuestra Señora de la Soledad. It served as a backdrop for John Steinbeck's "Of Mice and Men." Ledesma readily recites the opening line: "A few miles south of Soledad, the Salinas River drops in close to the hillside bank and runs deep and green."
While life here has been driven largely by agriculture — Ledesma and Gonzalez both are children of farmworkers — the economic boom of the late 1990s took the town by storm. Housing development soared; Soledad got its first and only shopping center. By the mid-2000s, this was among the fastest growing California communities of its size.
Then everything came to a halt. "Clearly we need a more thriving sales tax base," Gonzalez said.
The "gateway" designation may help provide it.
For example, a dozen well-regarded Monterey County wineries happen to sit within five miles of Soledad. Ledesma said that Carmel's mayor recently told him that the town would point tourists Soledad's way for winery tours and park visits.
Still, Gonzalez said, Soledad's success will turn on the foresight of its entrepreneurs — who could seize the chance to rent out bikes or rock climbing gear to park-goers, launch van tours, improve lodging opportunities or expand dining options.
It won't be easy.
Andrea Nield, director of Cal State Monterey Bay's small business development center, said the farming community is "used to things being the way they've been forever." The center still serves businesses there, but its small Soledad office recently was shuttered for lack of walk-ins.
Most retailers near downtown, a stretch of Front Street that parallels the highway, cater to farmworkers and their families: There are bakeries, discount stores and small Mexican restaurants that offer authentic seafood dishes as well as caldo de res and costillas. Sunday and Monday store closures, Gonzalez said, will need to be a thing of the past for tourism to thrive.
Some merchants are enthusiastic about the opportunity.
Sergio Gastelum, 44, opened El Camaron Mexican Grill with his brother seven months ago. The Mazatlan native, who has been in Soledad 14 years, recently leased an adjoining banquet room that would be perfect for tour groups. If the park designation "brings new people, new tourists, new customers to Soledad," said Gastelum, "it will benefit everyone."
At the official unveiling of the national park sign, held Monday on the east side, Secretary of the Interior Ken Salazar said Pinnacles was now on par with the Grand Canyon and Yellowstone as being among the "iconic places of the United States of America."
"There will be a whole lot more people coming to this area," he told the crowd gathered in winter afternoon light.
Sitting in his office shortly before the event, Ledesma was philosophical, sharing a John F. Kennedy quote he'd come across that morning.
"There are risks and costs to a program of action," he recounted, "but they are far less than the long-range risks and costs of comfortable inaction."
Then he paused. "That's us right now."
---
Get breaking news, investigations, analysis and more signature journalism from the Los Angeles Times in your inbox.
You may occasionally receive promotional content from the Los Angeles Times.