7 Images
Angelyne Fights City Hall
Angelyne stands in the storage bin where she now keeps her posters and promotional materials. The billboard icon operated her promotional company from an office on Selma Avenue in Hollywood for 18 years until she and others were forced to move to make way for a redevelopment project.
(Anne Cusack / LAT)
One of Angelyne's trademarks is her pink Corvette with a license plate bearing her name (or at least most of it).
(Anne Cusack / LAT)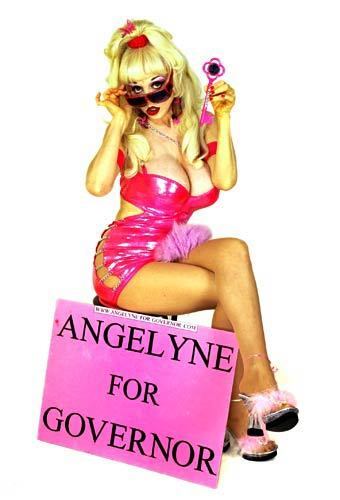 During the recall campaign against California Gov. Gray Davis in 2003, Angelyne ran as an independent candidate. She finished 28th in a field of 135 candidates.
(Brian Vander Brug / LAT)
Angelyne, in her famous pink Corvette, cruises along Melrose Avenue in Los Angeles in 2002. Because a redevelopment project forced her to move out of her longtime Hollywood office last fall, she now wants developers to pay for reprinting promotional materials that bear her old address--a task she estimates would cost $400,000.
(Stefano Paltera / For The Times)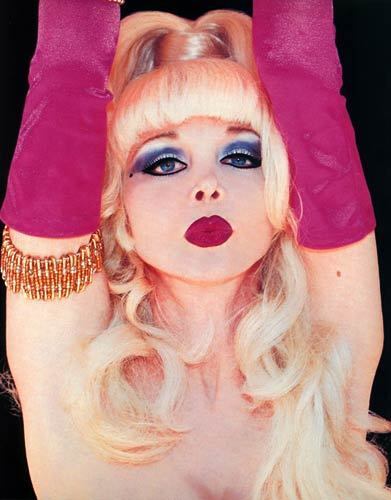 During the 2003 recall campaign, Angelyne released this campaign photo of herself.
(Angelyne For Governor)
Angelyne's 2003 campaign also released this photo of herself and her pink poodle, Buddha. Her campaign slogan: "We've had Gray, we've had Brown, now it's time for some blond and pink."
(Rider Richter / Angelyne For Governor)
Angelyne attends the premiere of "I Shot Andy Warhol" in Hollywood in 1996.
(Albert Ortega / Getty Images)