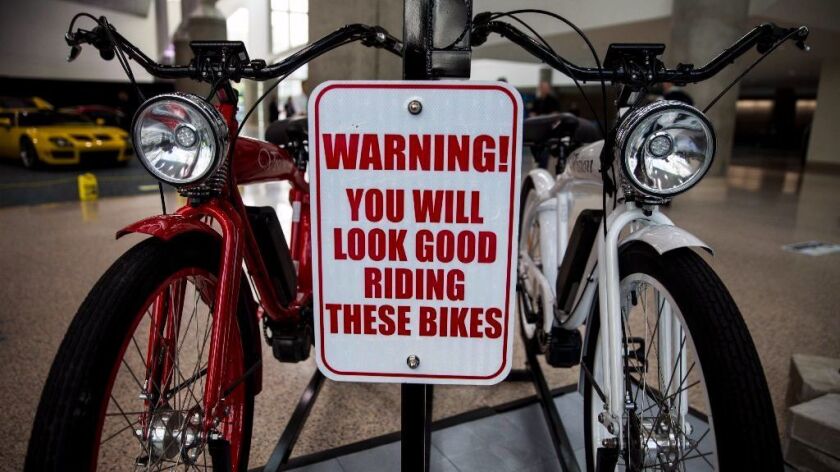 Beyond the fast cars and shiny SUVs decorating the showroom at the Los Angeles Auto Show, attendees can test drive a different kind of ride: electric bikes, scooters and other two-wheeled modes of transport.
At this year's show, a test ride area offers the opportunity to try an e-bike or see how an electric scooter feels.
The LA Auto Show, which opened to the public Dec.1 and runs until Dec. 10, is tapping into growing interest in e-bikes. As many as 251,000 ebikes, most of them imports, were sold in the U.S. in 2016, up 70% from the year before, according to an annual market estimate by eCycleElectric, a consulting firm specializing in light electric vehicles.
Here are a few electric vehicles you might see scooting around the show.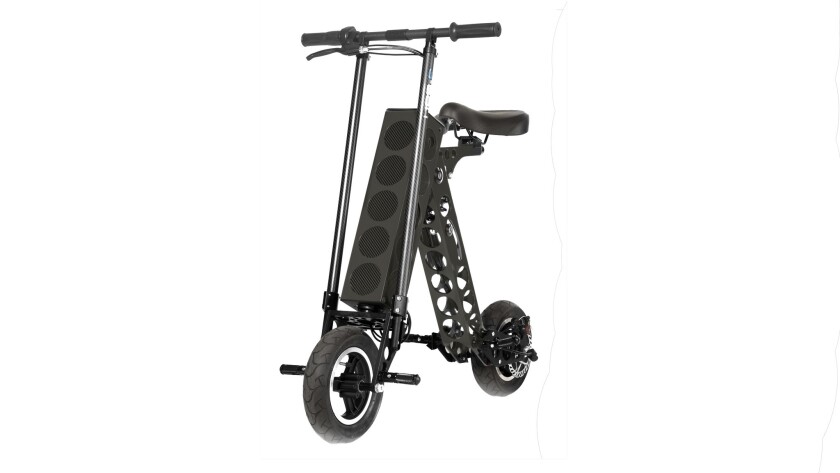 The Urb-E
One of the more noticeable electric vehicles at the LA Auto Show is the Urb-E.
The Urb-E, short for "urban electric," is a compact folding electric vehicle.
The Urb-E is technically classified as a bicycle and can legally go anywhere a bike can — but it's not really a bicycle.
Rather, the Urb-E resembles the love child of a bike and Star Wars' R2-D2. Unlike a bike, it doesn't require you to pedal. You simply turn the throttle and off you go.
Based in Pasadena, the company offers four Urb-E models: the Sport, the Sport GT, the Pro and the Pro GT. They range from $899 to $1,999.
Both Sport models are 30 pounds, can go up to 14 mph and have a single-charge range of 16 miles. The two Pro models are 35 pounds, can reach up to 18 mph and can go 20 miles on a single charge.
Evan Clark, Urb-E university manager, said the vehicle is designed for people who have short distances to go, such as a commuter whose bus or rail stop is a mile from work.
As a bonus, the Urb-E is approved to take when using the Metro system.
"A bicycle is a bicycle," Clark said. "Whether it's electric or not, there's the pedaling aspect. There's moving gears.… This is that solution for anyone that's going a short distance and doesn't necessarily want to be sweaty when they arrive at the office."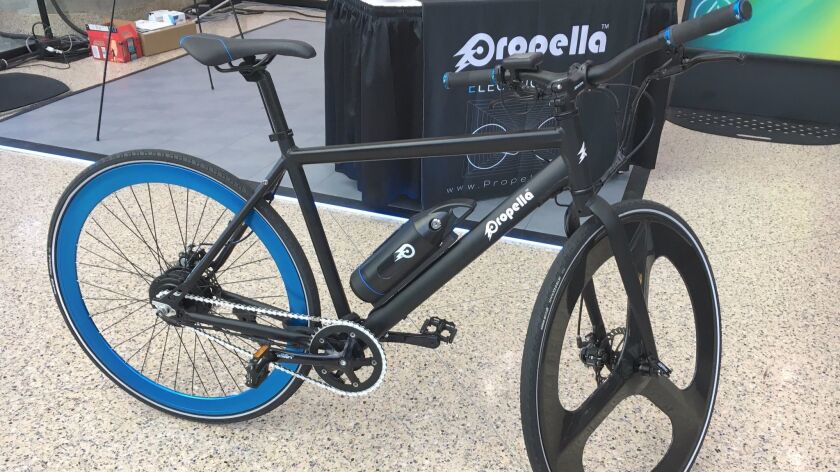 Propella Electric Bikes
When Ben Tarassoli decided he wanted to buy an electric bike, he ran into a problem.
None of the e-bikes on the market matched what he wanted. So, Tarassoli went into his parents' garage and got to work.
The result is the Propella electric bike, a sleek, light e-bike that offers riders the speed of an e-bike while maintaining the feel of a bike.
Many e-bikes on the market weigh more than 50 pounds. However, the Propella single-speed bike weighs 34.5 pounds and the seven-speed is 36.5 pounds.
"We believe a great electric bike should be a great bike in the first place," Tarassoli said. "If you're tagging a vehicle with the word 'bicycle,' it should ride and feel like a bicycle, right? With the current technology, if you add an enormous amount of power and battery and motor, you would lose that value. You would lose that bike feel. You would end up with a motorcycle."
The second generation of the Propella bike is on display at the LA Auto Show.
Its top speed is 18 mph when using pedal assistance. The battery will last 15 to 35 miles, depending on how much you use the electric part of the bike.
The single-speed is available for $1,199, and the multi-speed is available for $1,299.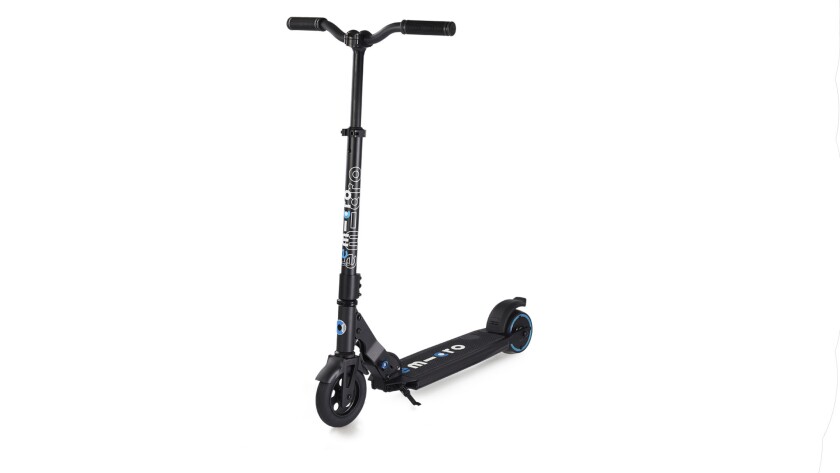 The Micro electric scooter
Initially, it looks like the Razor Scooter, a throwback to the childhood of many millennials.
However, Micro's electric scooters offer riders a zippier version of the original Razor, reaching speeds up to 15 mph.
Geoff Hawksworth, U.S. distributor for Micro, said that innovator Wim Ouboter originally designed the Razor, and the Micro brand is his latest work.
Unlike a hoverboard or skateboard, the Micro Falcon and Micro Condor offer users an easy way to find stability: handlebars.
Hawksworth said he lives in Santa Monica and uses his Micro electric scooter to get from the Metro Expo Line to his office in downtown L.A.
Hawksworth said the Micro electric scooters are designed to be lightweight and portable.
They're easy to fit inside a car for someone who's using a rideshare service or taking the scooter with them on the go. They're also easy to take inside a restaurant and lean against the wall while you're enjoying your meal, he said.
The Micro Falcon, which has a range of five to nine miles and can reach 15 mph, is 17.5 pounds. The Micro Condor is 23 pounds.
"I've seen electric scooters that are fantastic, and they have all sorts of gizmos — and they weigh 50 pounds," Hawksworth said. "I'm not going to carry that up a flight of stairs."
Maybe your heart says you want a motorcycle, but your brain says you're way too scared to ride one.
Cue the Phantom Vision electric bike.
Designed after a vintage Indian Motorcycle, the Phantom Vision e-bike can travel up to 50 miles using pedal assist. If you don't pedal while riding, the battery will get you about half that distance.
With a press of the pedal, this e-bike gets up and goes. It looks and feels fast.
Along with the Phantom Vision, Phantom Bikes, based in San Diego, also offers a few other e-bike options, including the Phantom Swirl, a commuter bike with a basket up front, and the Phantom Fat Track, which can take you just about anywhere with its fat tires and bulky design.
Twitter: @jaclyncosgrove
---