Granada Hills wins state academic title after high-profile Super Quiz is thrown out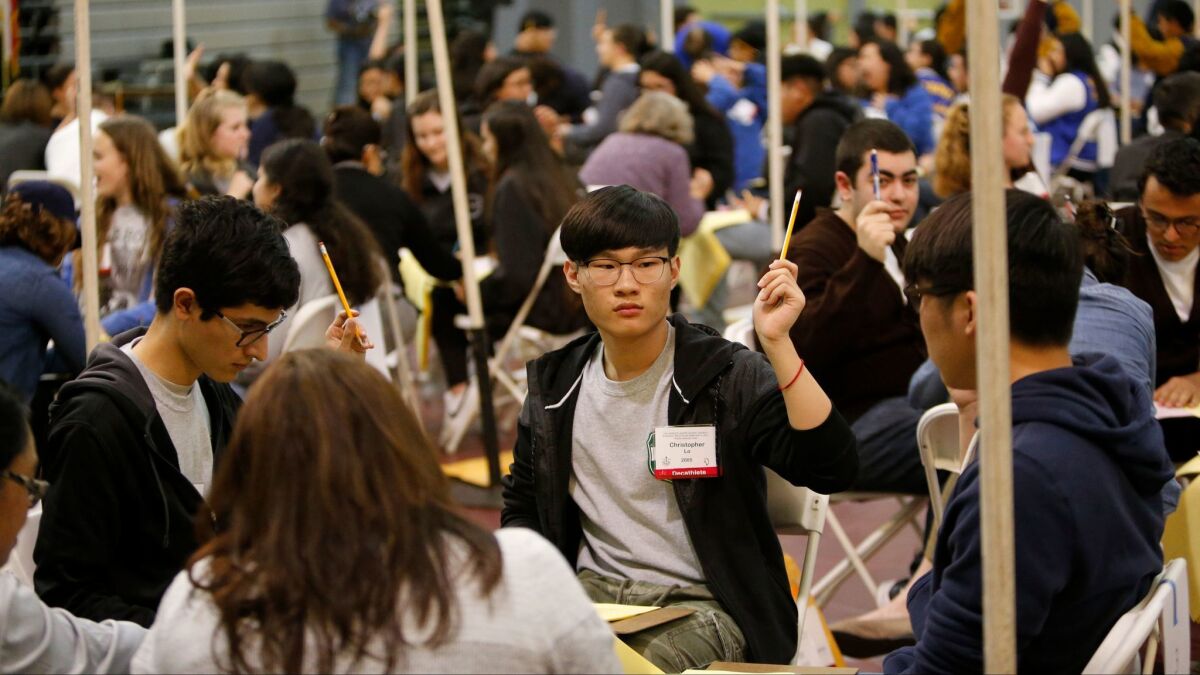 A security breach was not enough to derail Granada Hills Charter High School, a perennial favorite, from winning this year's California Academic Decathlon in Sacramento in results announced Sunday.
The problem ended up invalidating the Super Quiz, which is the highest-profile and only public portion of the annual competition. In the quiz, teams of students submit answers to questions that are tallied in real time before enthusiastic onlookers.
After the Super Quiz was completed Saturday, a team coach alerted organizers that competitors could have seen the questions in advance, said Cliff Ker, the decathlon coordinator for the Los Angeles Unified School District.
The state of Alaska had used the same version of Super Quiz questions several weeks ago — and that event was recorded and posted on YouTube.
"I don't think any of the kids in the California competition saw the video, but it was out there and it's been out there for a month," Ker said. "I agree with the decision" to invalidate the quiz results.
Questions for the Super Quiz are supplied by the United States Academic Decathlon, which does not provide unique versions for every state.
A release from state director Ken Scarberry said that "in the interest of fairness," Super Quiz results would be excluded. Scarberry made the decision in consultation with board members and county coordinators.
The contest was a grueling multiday affair. Individuals on nine-person teams submitted essays online in advance, then on Friday took written tests related to this year's topic: World War II. On Saturday, participants took part in interviews and also gave prepared and impromptu speeches.
Segments of the competition relate to the topic through economics, language and literature, mathematics, music and social science.
The team from Granada Hills proved unfazed by anything, scoring 55,211 points out of 60,000 possible.
The prevailing Granada Hills students are Melissa Santos, Aishah Mahmud, Kevin Ly, Mark Aguila, Christopher Lo, Peter Shin, Sebastian Gonzalez, Sabrina Carlos and Jordan Barretto. Their coaches are Mathew Arnold, Harsimar Dhanoa, Jonathan Sturtevant and Rachael Phipps.
There also was an L.A. flair to the next several finishers: El Camino Real Charter High (54,017 points), Franklin High (52,677), and Marshall High (52,189). The next-highest finisher was South Pasadena High (51,920).
Granada Hills, the reigning national champion, will represent California and pursue the state's fifteenth consecutive U.S. title at the nationals, which will take place April 17 through 23 in Madison, Wis.
All told, 581 students from 67 high school teams took part.
To read the article in Spanish, click here
The stories shaping California
Get up to speed with our Essential California newsletter, sent six days a week.
You may occasionally receive promotional content from the Los Angeles Times.