'Feeling powerful': LAUSD teachers and supporters dance and chant on a march from Grand Park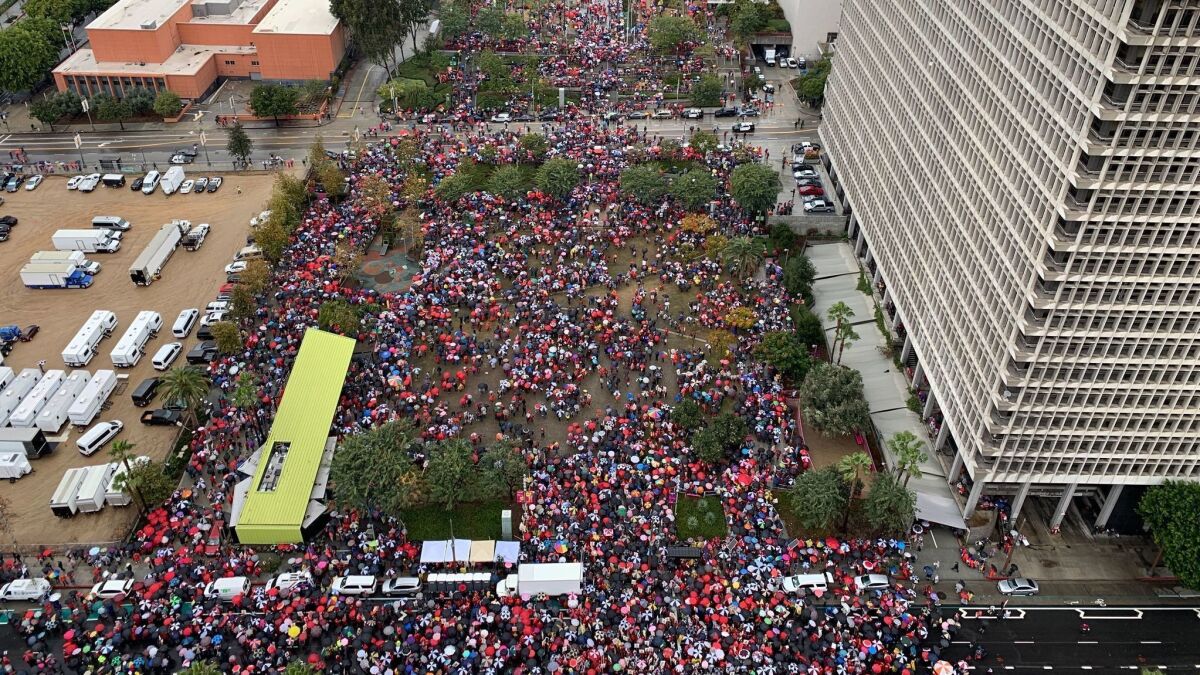 Thousands of picketers supporting the teachers' strike gathered in Grand Park and at L.A. City Hall before marching to Los Angeles Unified School District headquarters Monday morning.
Dark clouds, drizzle and muddy grass didn't dampen the spirits of the educators and their supporters, many dressed in red, as they danced, drummed, chanted and made use of bells and whistles handed out by organizers. By late morning, they had created a river of umbrellas at Broadway and 1st Street as they marched several blocks. About 28,000 picketers were out in force at schools across the county Monday morning, and 50,000 strike supporters marched to district headquarters downtown, according to UTLA President Alex Caputo-Pearl.
The crowd moved slowly south along Broadway and Main Street, where they then converged on 2nd Street and headed through the tunnel — closed for the marchers — toward Beaudry Avenue. A blue Kia sedan was trapped on 2nd Street as protesters surrounded it. The driver attempted to inch forward as the sea of red ponchos and jackets parted.
Then, as they walked through the tunnel, the cavernous walls amplified the sound and excitement. Whistles blared and the picketers' "U-T-L-A" chants echoed as they wandered through the tunnel. They cheered loudly as they emerged onto Figueroa Street.
The size of the gathering prompted the California Department of Transportation to temporarily close ramps from the 110 Freeway toward West 3rd Street.
"Today I am feeling very, very powerful and very hopeful that our students are going to get what they need," said Talia Guppy, a social worker at Central High School, as she marched.
At the top of Guppy's list of demands: an increase in the number of social workers and other mental health professionals, addressing what she said was a dismal student-to-social-worker ratio. Ideally, it should be one for every 250 students.
"We deal with all the crises that students face every day," Guppy said. "We will be out there every day until we get what the kids deserve."
Earlier, shortly before the march began at 10:30 a.m., a band of about 10 people started playing the 1980s hit "The Final Countdown" in the middle of Grand Park. As a group of students began chanting, one hoisted a sign that read: "I'm strike ready." Another had a sign that read: "This would never happen at Hogwarts!"
Scott Murphy, a teacher at Miramonte Elementary School, stood on the steps of City Hall as the rain continued to fall.
"I'm here for the students," he said. "It's about time the kids get what they deserve."
Michael La Mont, a teacher of 22 years, said the march represented the unity of teachers — and not just a small group of them.
"We're marching for the future of public education," he said. "No one's doing this for fun. We're missing our kids. It's raining. We're not going to get paid. This is a serious issue."
Shouting "Hey Hey, Ho Ho, Austin Beutner's got to go!" the picketers arrived at LAUSD headquarters shortly after noon.
Marchers flooded the streets surrounding the district's black glass building as wind and rain turned their placards soggy and rustled umbrellas. Speaking from the back of a flatbed truck, Caputo-Pearl lashed out at Beutner, repeating the allegation that the superintendent has squirreled away $2 billion in reserves — money the union said should be put on the negotiation table.
"This is a struggle for the soul of public education," Caputo-Pearl told the picketers, though the speaker amplifying his words failed to reach much of the crowd.
Times staff writer Sonali Kohli contributed to this report.
alejandra.reyesvelarde@latimes.com
Twitter: @r_valejandra
---
The stories shaping California
Get up to speed with our Essential California newsletter, sent six days a week.
You may occasionally receive promotional content from the Los Angeles Times.