No breakthrough to prevent LAUSD teachers' strike after more talks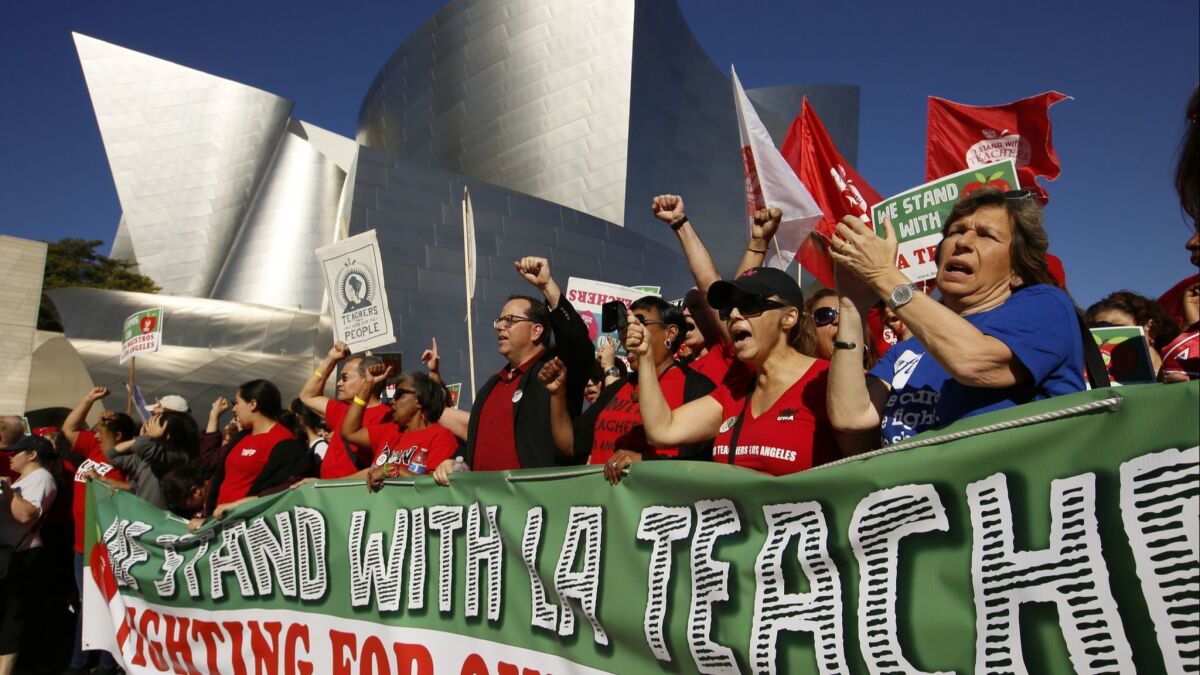 Ongoing talks to avert a teachers' strike ended Wednesday without a deal between United Teachers Los Angeles and the L.A. Unified School District. The two sides will meet again on Friday.
Dueling news conferences after the half-day session indicated that little to no progress was made.
"We did not see seriousness on the part of the school district to try to resolve this contract struggle," said Alex Caputo-Pearl, president of UTLA.
Caputo-Pearl criticized senior district officials for attending meetings in Sacramento rather than taking part in negotiations.
L.A. schools Supt. Austin Beutner and school board President Monica Garcia went to the state Capitol for a closed-door briefing with lawmakers. People in the meeting said the goal was to explain how the nation's second-largest school system would be managing the anticipated strike.
Beutner also gave details in his own news conference, which followed the union's.
He said one purpose of the trip was to explain the district's latest contract offer and how it matched up well with the recommendations in a recent report from a neutral fact-finder brought in to help bring the parties together. He also said he brought up the need for more state funding.
He added that his presence was not required in Los Angeles on Wednesday because he had a qualified team in place: "We can walk and chew gum at the same time."
Beutner also indicated that one purpose of the negotiation session was for the two sides to justify and explain their understanding of what resources are available in the district budget.
"Let's separate sophistry and rhetoric from facts," Beutner said. "We have limits on resources."
The superintendent also announced that the Los Angeles County Office of Education had assigned a fiscal advisory team to L.A. Unified. The purpose is to monitor district spending and provide advice, Beutner said. The county's action was evidence of its concern about the district's long-term finances, Beutner said.
Union leaders had scheduled a strike for Thursday, but have announced a postponement until Monday due to ongoing legal wrangling with L.A. Unified.
Attorneys for the district contend that UTLA did not provide the legally required formal 10-day notice that it was canceling the previous labor agreement. That agreement ran only through June 2017, but union members have continued to work under its terms during negotiations.
The district is asking the court to delay any strike for at least 10 more days. Caputo-Pearl says the strike will begin Monday if no agreement is reached.
"We are more resolved than ever to fight for what our students need," he said.
---
The stories shaping California
Get up to speed with our Essential California newsletter, sent six days a week.
You may occasionally receive promotional content from the Los Angeles Times.