Do charters or traditional schools have it worse? A new study says both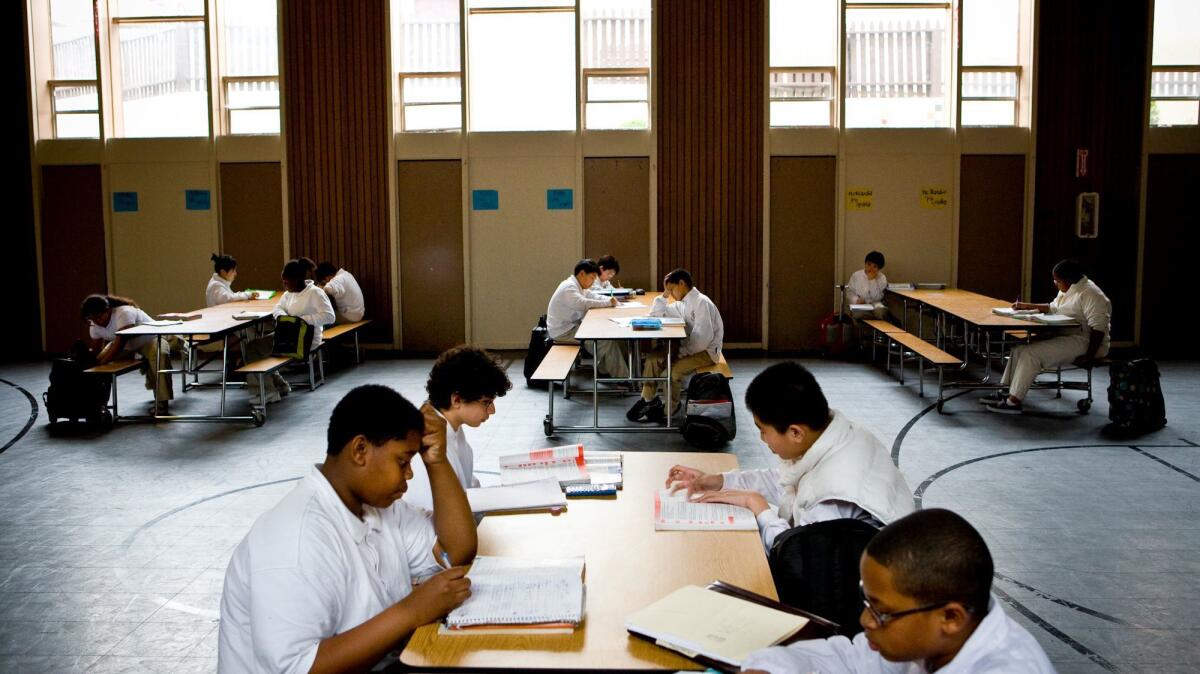 Charter schools remain a subject of intense debate in Los Angeles, especially with the arrival soon of two new school board members who were supported by charter backers.
While research on charters often is inconclusive and partisan, a study released this week has ammunition for both their enthusiasts and their critics.
The research commissioned by a coalition of educational and philanthropic organizations focused on charter schools in Oakland. It determined that they have received less public funding than Oakland's traditional public schools, but that traditional schools have had a more challenging student population to educate.
Charters are privately operated public schools that are exempt from some rules that govern traditional campuses. Most are non-union, and in California most are run by nonprofits. L.A. Unified has more charter students than any other school system, about 16% of total enrollment. Oakland is a much smaller district, and 30% of its students are in charters.
A central finding of the study supports charter operators' longtime claim that they get less money. Despite serving similar percentages of low-income students and students learning English, Oakland charters received about $2,800 less in public funding per student.
Charter critics, however, can point to other study conclusions:
Oakland Unified district schools served nearly twice as high a percentage of students with disabilities, and their students were more likely to have disabilities requiring intensive and expensive services.
Adjusting for special education trimmed the funding difference to $1,400 per student, according to estimates by researchers, while additional factors such as family transiency, if fully accounted for, might eliminate the funding disparity entirely or even reverse it.
Students entering charters in sixth and ninth grades, key transition years, had higher test scores than students who entered traditional public schools. In sixth grade, about 40% of students entering charters were academically proficient based on state learning goals, compared with about 27% of students entering district-run schools.
Traditional schools had a higher percentage of students who enrolled after Oct. 1: about 7%, compared with 2%. High turnover, with students who arrive and leave after the start of the year, often makes teaching and learning more challenging.
The study also found that:

Charter schools had 14% more contractually required teacher time per day, on average, than district-run schools.
District-run schools spent 18% more per teacher on compensation than the average charter school — mostly due to higher average costs for benefits.
"These are deeply complicated problems and we don't expect easy answers," said Ash Solar, executive director of GO Public Schools Oakland, a nonprofit education advocacy group that is part of the Oakland Achieves Partnership coalition, which commissioned the $330,000 study.
Other members of the coalition include Alameda First 5, Educate 78, GO Public Schools Oakland, the Oakland Chamber of Commerce, the Oakland Public Education Fund, the Rogers Family Foundation, the Urban Strategies Council, and United Way of the Bay Area.
The analysis was conducted by Education Resource Strategies, based in Massachusetts, using data from the 2014-15 school year.
Charters representing 88% of Oakland charter students cooperated with researchers as did the Oakland Unified School District.
Sign up for Essential California for news, features and recommendations from the L.A. Times and beyond in your inbox six days a week.
You may occasionally receive promotional content from the Los Angeles Times.