On Fairfax, the old Jewish scene and the new streetwear scene form an only-in-L.A. melting pot
A new generation of trendy streetwear stores and upscale restaurants have replaced old bakeries, delis and Judaica shops.
The cases of Pabst pile up around the dancers' feet in the parking lot as Drake and Kendrick Lamar boom from the speakers. Dressed in designer bomber jackets and the latest Nikes, they crash into each other in the mosh pit, smoking joints and clutching beer cans that drip ale.
Sneakerheads in the crowd lean against the walls and snap photos of their outfits to post on Instagram. A few feet away, two men under a canopy fry fish and shrimp for tacos.
The party raging in the small square along Fairfax Avenue stands as something new for a neighborhood long known as the heart of Jewish life in Los Angeles.
The smells of hamantaschen and challah in the bakeries no longer mingle with the sounds of Yiddish and melodies of Jewish music. Gone are the days when the avenue would shut down for high holidays.
The Jewish quarter of the past is now a haven for youth who worship the latest street fashion, line up overnight for Kanye West pop-up shops and grab a cold-brewed coffee at Cofax.
Rapid transitions of neighborhoods can be bruising. But in the Fairfax district, both the newcomers and the old guard are quick to remark about how fairly smooth the transition has been.
Here, diners throw back bone marrow and chicken liver toast at Animal in a setting that is equal parts Frank Ocean and Anthony Bourdain.
The urban vibe co-exists with the remaining Jewish shops like Canter's Deli and Western Kosher. Much of the Jewish population that once called the Fairfax district home have moved on, to the east along La Brea Avenue and to the south in the Pico-Robertson district.
"I met a person who stood at a skate shop for over 40 hours," said Yosef Mishulovin, a rabbi who runs the Chabad center and gift shop on Fairfax. "He asked me for my WiFi code. Some people ask me for a black bag so they can cover their Supreme bag because they spent $400 and they don't want to get robbed."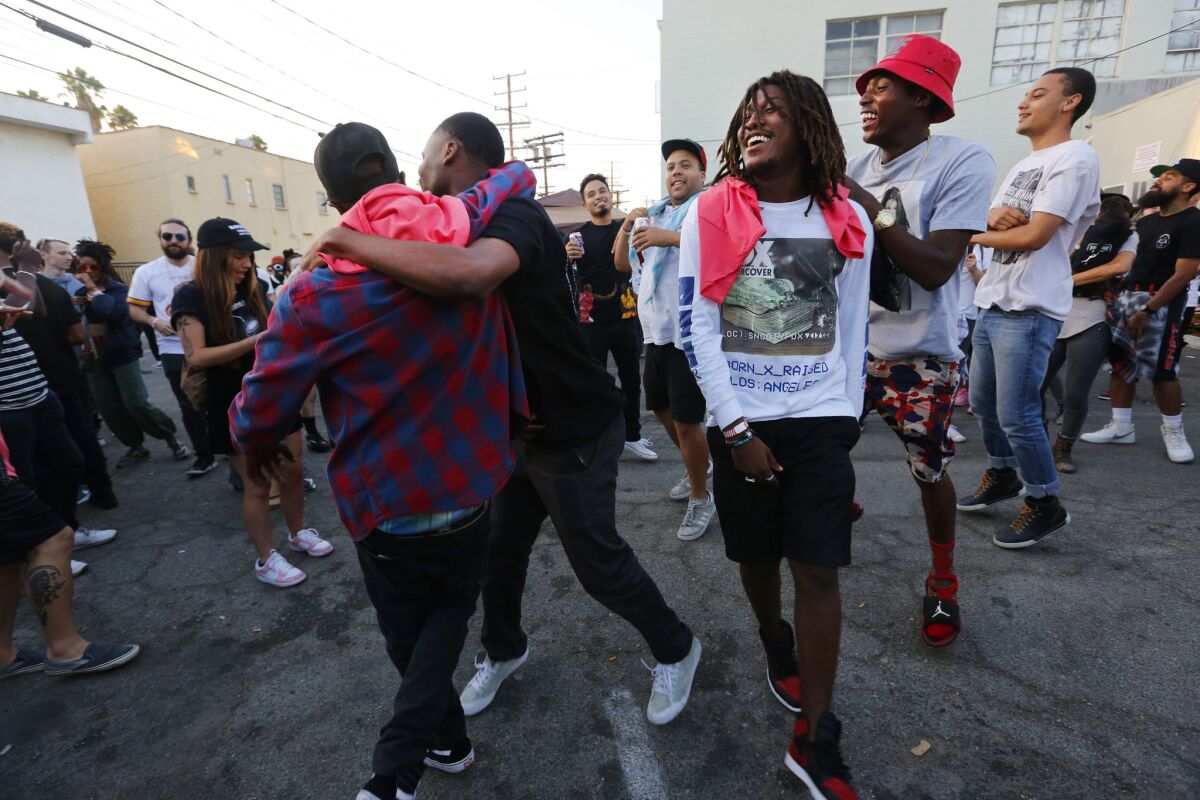 Smoking a cigarette away from the dancing crowd, Ron Castro said some Fairfax locals still cast glances at the younger newcomers. The looks remind him of pockets of East Los Angeles, he said, where older Latinos wander into bars to find hipsters sitting at the counter.
"It's like, 'Why are you kids hanging out here?'" said Castro, digital marketing director for the streetwear brand CLSC.
The new and old Fairfax aren't at odds, Castro said. The area has been home to a Jewish community for so long that there is still a semblance of the culture. Most of the landlords in the area — including CLSC's — are Jewish, he said.
The change is part of the inevitable evolution of the Fairfax district, where the aging Jewish population has declined and a new generation of younger professionals has moved in.
The average age of residents in the Fairfax shopping district has slowly but steadily dropped and the average income has risen as newcomers in their 30s replace their older counterparts, according to census estimates. In 1980, about 37% of Fairfax district residents were 65 or over. By 2010, it had dropped to 10%, data show.
"This is the Rodeo Drive of streetwear," said Moon Moranta, co-owner of the concept shop APT.4B. "If you're in your 30s and under, people say, 'We gotta go to Fairfax.'"
Fairfax became known as a center of Jewish life in the 1940s, when Jewish families relocated to the area from an enclave in Boyle Heights. Canter's opened its Fairfax Avenue branch in 1948.
At its peak in the 1950s, Jewish Fairfax teemed with activity. Residents didn't have to leave the neighborhood for the basics. Orthodox men in black yarmulkes strode the avenue on their way to nearby synagogues. Families crowded into bakeries on Friday afternoons, rushing to buy their challah bread for the Sabbath.
"It was like a little shtetl," said David Kagan, owner of Western Kosher on Fairfax. "There was no one-stop shop. It was an old-time feel, the way I imagine it was in Europe long ago."
Anyone who wanted Kosher food — from San Diego to Fresno — would come to Fairfax, he said.
"You knew what holiday it was, Jew or gentile, by walking down the street," Kagan, 47, said.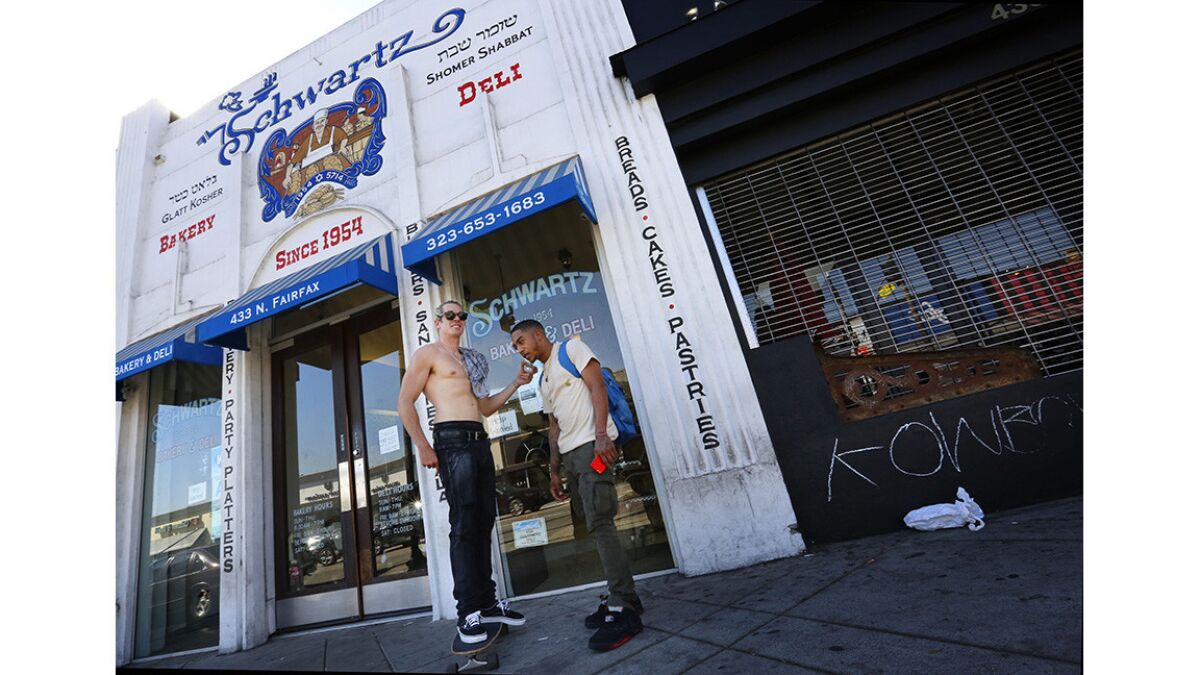 That began to change in the 1990s, when the Jewish stores started moving to the neighboring areas as religious Jews relocated to Pico-Robertson and their children moved to the San Fernando Valley. The temples followed, opening along La Brea.
"It's not what it used to be," said Kagan, who now lives in the Hancock Park area. "I don't think Fairfax would be considered a Jewish street anymore."
The Jewish travel agent and locksmith left long ago. Kagan's store survived because those who grew up on Fairfax continue to shop there.
The Pico-Robertson branch of his shop is much busier, he said, but the Fairfax feeling was never replicated in that neighborhood.
"With these tattoo parlors, cafes and skate shops, it's a completely different feel," Kagan said.
The thoroughfare is no stranger to an eclectic mix and can accommodate the traditional Jewish businesses that remain and the trendy arrivals, experts say.
"The clear display of Jewish culture is no longer what it once was; that title has clearly been ceded to Pico-Robertson," said Lynn Kronzek, a historian who has studied the Fairfax area. "But there's plenty of acknowledgement of the Jewish history there."
Although the Yiddish newspapers and myriad political organizations are gone, Fairfax "offers a lot" of Jewish culture, Kronzek said.
Mishulovin, the rabbi, moved to the area in the 1980s. Trendy restaurants have cropped up, he said, but the Fairfax name still draws tourists looking for a piece of Los Angeles' Jewish history.
Mishulovin attributes the shift to rising commercial rents and changing demographics. As the older generation, some whom were Holocaust survivors, died, their children moved away. The result was shuttered storefronts and slow but steady business for the Chabad center.
On a recent weekday, the store was quiet, save for a few customers who popped in to browse for gifts. A married couple walked in with their baby in a stroller, exchanging pleasantries with the rabbi in Hebrew.
The woman, a vendor, unboxed wares she had brought in from Israel to sell the rabbi. As she reached for the goods -- a mezuzah, a hanukiah -- Mishulovin wrapped tefillin around her husband's wrist.
Together, they prayed.
It's visits like these that give Mishulovin a reason to stay in an area where Judaism is waning. People need information and guidance, he said. Without a Chabad center, there wouldn't be anyone "to help them, to question, to discuss faith, to be there just for them."
"Do you go through life to make money or to help other people?" Mishulovin asked.
Among his neighbors down the street is New York brand Supreme, a clothing store with a cult following. The Hundreds, one of the shops that helped produce a small renaissance in the district's faded commercial area, sits in a cluster of streetwear stores along the strip.
Fairfax's rebranding began in in early 2000s. Streetwear boutique Brooklyn Projects, near Melrose and Fairfax avenues, was the first to open in 2002. In 2004, Supreme arrived, followed by the Hundreds' first store in 2007.
Today, Fairfax's street style and sensibility have come to represent a generation of skaters and fashionistas who preach streetwear's against-the-grain attitude as a way of life.
"We've basically taken it over," CLSC founder Joshua Vides said as he sipped a beer at the Labor Day barbecue. "There's still a couple Jewish shops left, but I don't expect it to last long."
But Fairfax's transformation doesn't have to mean the end of its Jewish history, said Jon Shook, half of the duo that launched two popular neighborhood eateries, Jon and Vinny's and Animal.
The Jewish stores that closed didn't shut down because of the trendy shops, Shook said.
"The reason the menorah store is no longer in business is because of the Internet, not because of skateboard shop," Shook said. "Retail declined and there's not as many Jewish families who are orthodox. But there's a temple right here next to Jon and Vinny's."
On weekend nights, young customers in trendy tees and jeans cluster in front of the door at Jon and Vinny's and wait for a table. The high-ceilinged space, formerly Damiano Mr. Pizza, is now filled with pale wooden booths.
Waiters hustle from booth to table, dressed in yellow T-shirts with "Jon and Vinny's" scrawled across them in a Hebrew-like script — a nod to both Fairfax's and Shook's Jewish heritage.
Across the street at Canter's, some of the streetwear addicts who frequent The Hundreds by day turn up in the deli's lounge, the Kibitz Room, to catch a rock show.
Shook said he and other, newer business owners have a great relationship with the old shopkeepers. The pair use local ingredients — lentils and tahini from Sammy's, kaiser rolls from Schwartz Bakery — to invest in Jewish businesses on the block.
"We try to be friends with everybody," he said. "Sometimes, the skate shops and Jewish shops bump heads. But don't all neighbors?"
For more California news follow me on Twitter: @sarahparvini
ALSO
Neighborhood Spotlight: Fairfax is bumper-to-bumper with L.A. culture
Hundreds of American kids are suddenly paralyzed, and doctors still don't know why
Campaign retracts Leonardo DiCaprio's endorsement of anti-development measure
---
The stories shaping California
Get up to speed with our Essential California newsletter, sent six days a week.
You may occasionally receive promotional content from the Los Angeles Times.