Firefighter killed in Thomas fire was trapped by flames, report says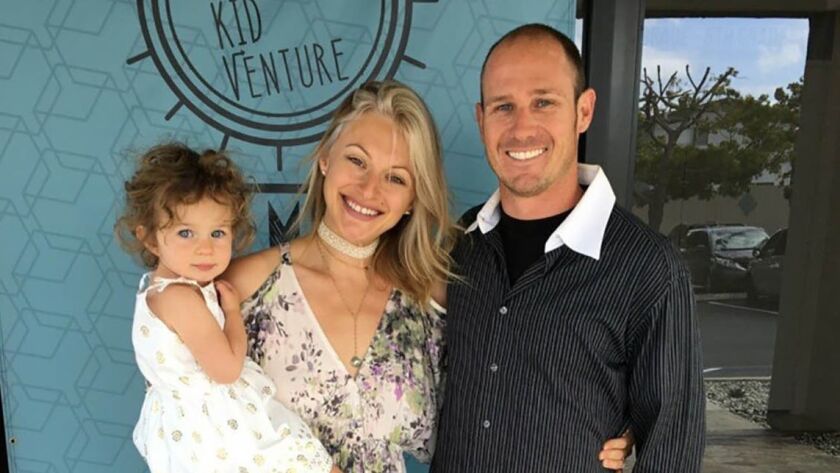 Reporting from San Diego —
The San Diego County firefighter who died last month fighting the Thomas fire in Ventura County was putting out a spot fire when he found himself trapped by flames, according to a preliminary report released by Cal Fire this week.
The report details the events that led to the death of 32-year-old Cory Iverson, who died in Fillmore on the morning of Dec. 14.
The North County resident was married with a 2-year-old daughter. His wife is pregnant with their second child, due this spring.
The California Department of Forestry and Fire Protection released the preliminary report, called a "green sheet," to the San Diego Union-Tribune on Tuesday.
Iverson and four other firefighters were laying hose along a bulldozer-created fire break. All five wore packs, each containing 300 feet of 1.5-inch hose, the report states. Iverson also was carrying a scraping tool.
Iverson was attempting to put out a spot fire, which was on the edge of the fire line, with his hand tool.
A second fire flared up about 20 feet deep in an unburned area. Iverson, with 200 feet of hose remaining on his back, headed toward it.
"As [Iverson] reached the second spot and began to take action, it erupted," the preliminary report states.
At the same time, more spot fires broke out along the fire line west of the original spot fire. Those fires grew quickly and could not be doused by the water one of the firefighters sprayed on them.
Iverson's escape route was cut off, the report states. He started moving southwest, parallel to the fire break. Faced with the intense fire, he turned and headed south down the slope.
He requested air support. It was his last confirmed radio transmission.
Others also requested immediate help from helicopters.
About 9:25 a.m., a fire captain told Iverson there were more fires below him.
"Get out of there," the captain said.
The fire grew more intense in unburned vegetation along the fire break.
About two minutes later came the mayday call: "We have a firefighter trapped."
People in the responding helicopters saw Iverson trying to flee.
Two more spot fires erupted in his path, the report states. He turned again. He fell but got back up and continued down the slope.
The vegetation was chest- to head-high, the report stated, "and in some cases, all that could be seen was the top of his helmet."
Helicopters began dropping fire retardant, then water because the turnaround time to reload was faster.
Shortly after 10 a.m., a fire captain found Iverson's body in a deep gulch, the report states.
According to the report, Iverson died of thermal injuries and smoke inhalation.
Figueroa writes for the San Diego Union-Tribune.
teri.figueroa@sduniontribune.com
---
The stories shaping California
Get up to speed with our Essential California newsletter, sent six days a week.
You may occasionally receive promotional content from the Los Angeles Times.