Immigrant detention center in Bakersfield, thought to be set to close, will stay open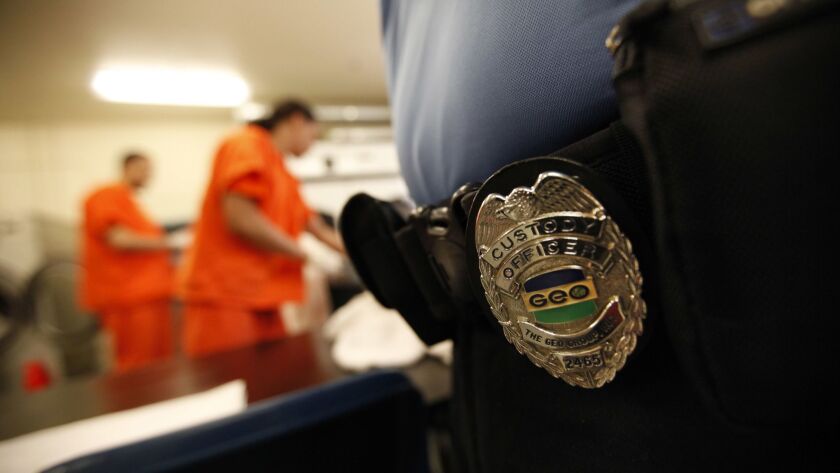 An immigration detention facility in Bakersfield that was expected to close later this month will remain open for another year, according to a federal contract made public this week.
On Tuesday, Immigration and Customs Enforcement cited "unusual and compelling urgency" in a notice explaining its justification for keeping open the 400-bed Mesa Verde ICE Processing Center. The $19.4-million contract allows private prison company GEO Group Inc. to continue running the facility through March 2020.
The Florida-based corporation, which runs 12 other immigrant detention facilities throughout the country, operates Mesa Verde under a subcontract with the nearby city of McFarland. The city voted to end that contract in December and it expires March 18.
Immigrant rights advocates said that ICE had kept them in the dark about the fate of immigrants being held there. Before the Mesa Verde contract was extended, advocates had worried that detainees there would be transferred far away from family and legal resources.
Mesa Verde is one of eight detention centers in California and — after two Bay Area jails ended their contracts with ICE last year — the only one located between Yolo County and San Bernardino County.
"Private prison companies are shielded from so much scrutiny," said Liz Martinez of Freedom for Immigrants, one of 75 groups that signed a letter last month calling on ICE to explain what would happen to Mesa Verde. "That's why it's important to bring attention to this."
Before opening a detention facility, federal law requires ICE to conduct a competitive public bidding process before awarding a contract to a company interested in managing the daily operations.
But most ICE facilities operate the way Mesa Verde has, under intergovernmental service agreements. Critics contend that using local governments as middlemen allows ICE to circumvent the lengthy public bidding process in order to quickly expand bed space, and to avoid responsibility in the event of any abuse or harm to detainees, including fatalities.
A pair of California laws passed in 2017 block the expansion of immigrant detention facilities in the state by prohibiting local governments from establishing new contracts with for-profit companies and ICE, or expanding existing ones. One of the laws also requires the state attorney general to monitor existing detention facilities.
According to a report last month by the California state auditor, the city of McFarland transferred $50 million (between $16 and $17 million a year) in payments from ICE to GEO Group since the facility, a former jail, reopened in January 2015 as a detention center. In return, GEO Group paid the city a yearly fee of about $35,000.
Mesa Verde is 26 miles from McFarland. It's not the only city to oversee detention facility operations from afar: Last year, the U.S. Department of Homeland Security's inspector general found that Eloy, Ariz., was paid $438,000 a year by the private prison company CoreCivic to manage the 2,400-bed South Texas Family Residential Center — which is 930 miles away in Dilley, Texas.
In 2016, ICE's Office of Detention Oversight found Mesa Verde to be compliant with just four of 16 standards and found deficiencies in areas including sexual assault prevention, use of force, food service and medical care. McFarland's city manager told the state auditor that he was unaware of that report. And when the California Department of Justice visited the facility last year, it appeared that the only programming available to detainees was an intermittent art therapy class offered by a volunteer organization.
The city did not respond to requests for comment. But the Bakersfield Californian reported in December that the McFarland City Council had voted in closed session to pull out of the contract, and that it would take 90 days for the withdrawal to go into effect. City leaders provided no reasoning behind the decision. Mayor Manuel Cantu Jr. told the paper that "GEO is a wonderful and amicable company that continues to operate in our city and is committed to supporting our community."
The news website Capital & Main obtained public records showing that McFarland appeared unprepared for the scrutiny from the state attorney general and auditor. In a September 2018 closed-door City Council meeting, City Manager John Wooner said he had none of the records the state requested. Wooner then advised the council to "threaten GEO with termination of the ICE contract if it didn't raise the city's fee to a quarter of a million dollars," the website reported. The council voted 3 to 2 to accept the plan, but a spokesman for GEO Group denied that the city asked for a higher fee.
GEO Group referred a request for comment to ICE. The agency said it is currently in the "pre-solicitation phase" of the competitive bidding process.
"Without continued use of the facility, ICE would be required to relocate almost 400 detainees to facilities farther away from their families and attorneys," said ICE spokesman Richard Rocha.
In the contract notice this week, ICE said Mesa Verde is an integral hub, a mile from the Bakersfield ICE office and 10 miles from the nearest airport and hospital. The agency said that relocating detainees — some with serious medical conditions — could "result in serious injury to the detainees as well as incur an unnecessary serious financial burden to cover the cost of relocating such a large population."
Immigrant rights advocates expressed skepticism about that explanation.
"It really adds insult to injury when they used the medical conditions of those individuals who are in detention as a basis [for the contract] when they know themselves they could release those individuals if they actually cared about their medical conditions," said Hamid Yazdan Panah, regional director of the Northern California Rapid Response and Immigrant Defense Network. "It really points to the fact that this agency continues to bend the law as it sees fit."
But Steven Schooner, a government procurement law professor at George Washington University, said that it takes time to plan, draft, advertise and execute a competitive federal contract and that awarding such a contract in less than three months would have been unusual.
He said the agency could access several "streamlined alternatives" to a "full and open" competition, especially based on urgency, that would make that timeline long enough. But going that route could open ICE up to criticism.
"Without making excuses for them, it sounds like ICE is damned if it does, damned if it doesn't," he said.
andrea.castillo@latimes.com | Twitter: @andreamcastillo
---
For reporting and exclusive analysis from bureau chief John Myers, get our California Politics newsletter.
You may occasionally receive promotional content from the Los Angeles Times.