Inglewood election pits mayor against clergyman — and NBA franchise against entertainment firm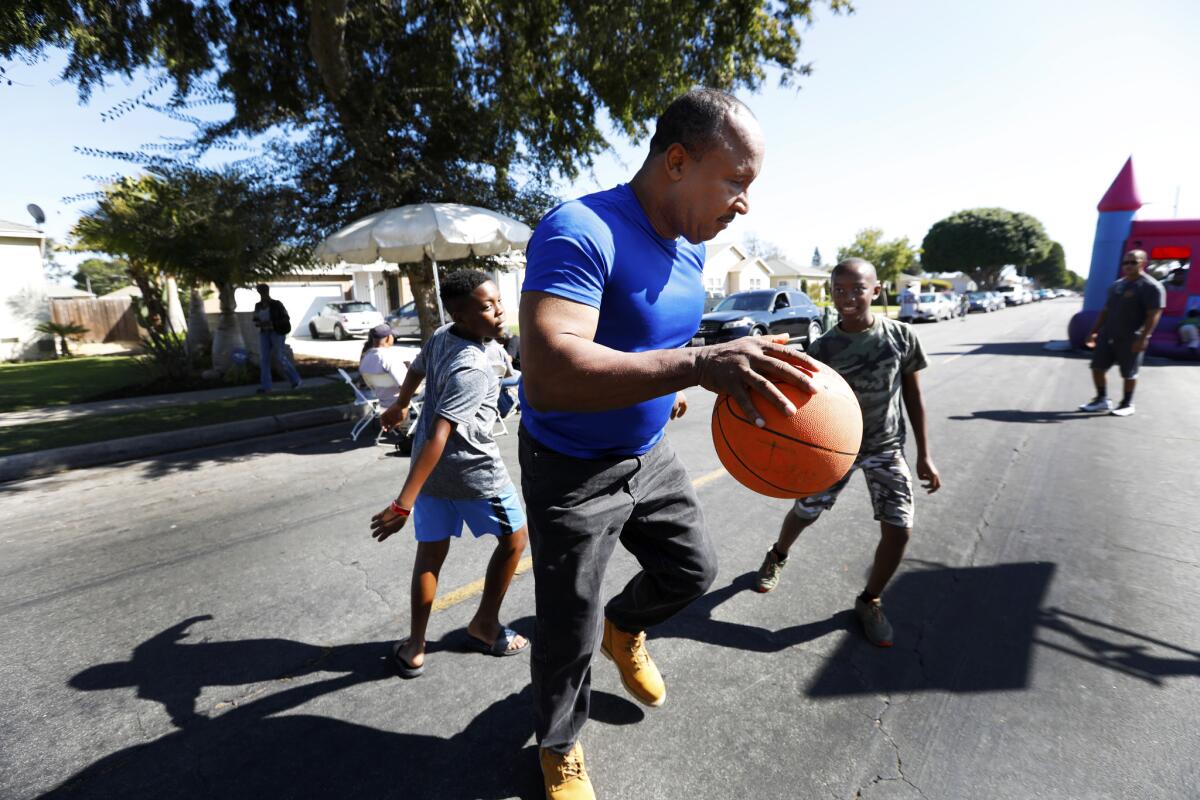 Inglewood city elections were once the stuff of lawn signs and candidate forums.
But as a wave of development transforms Inglewood into a destination for pro sports and entertainment, November's mayoral race has become a contentious fight not just between political rivals but also between some bold-face names with sway far outside the city limits.
On one side is incumbent James T. Butts Jr., who is generating support and money from the Los Angeles Clippers — an NBA franchise he hopes to bring to Inglewood, as well as celebrities including Snoop Dogg and Shaquille O'Neal.
On the other is clergyman Marc Little, who has the backing of a major entertainment conglomerate with a key stake in the city, along with reality TV tycoon Kris Jenner and retired boxer "Sugar" Shane Mosley.
"What you got is almost a proxy war," said USC law professor Jody Armour. "You have both candidates who are standing for proxies or surrogates."
The sudden interest in Inglewood politics comes after decades of losses, including the Lakers to Staples Center and the closure of the famed Hollywood Park racetrack.
Now a revived Forum is hosting top musical acts. An NFL stadium shared by the Rams and Chargers is under construction and a Clippers arena is in planning stages. A rail line will soon roll through town, which is generating cultural cachet thanks to the HBO show "Insecure."
With all that change comes money and heightened focus on City Hall politics. And that leaves some residents to wonder if all the outside attention will distract officials from the more basic issues they care about such as traffic, crime and community development.
Both candidates said they would not be influenced by wealthy donors and would address the key concerns of residents. They differ on how to do that.
Butts sees development as the linchpin to the revival of the city of 110,000. He has courted two NFL teams, L.A. Philharmonic's youth program and the Girl Scouts USA to make Inglewood their home.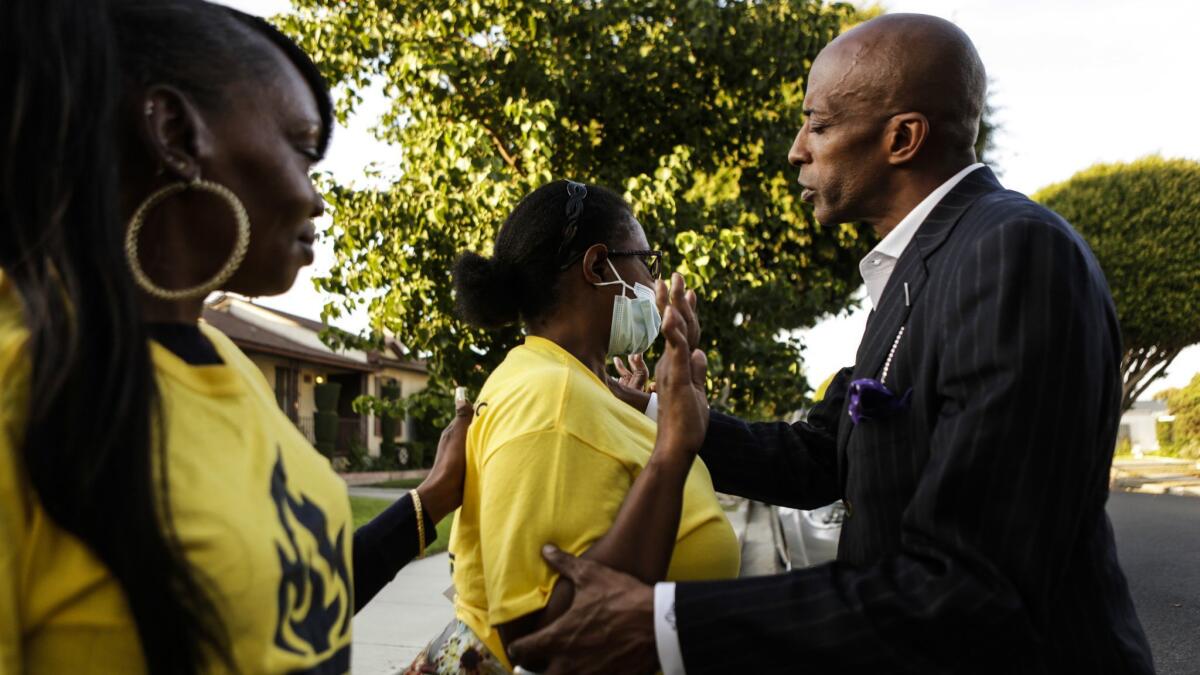 "Everybody wants to come and do business in Inglewood," Butts, 65, said. "In the last four to five years, the city of Inglewood has accomplished what only three mega-cities have done, and that would be Los Angeles, San Francisco and New York. But it took them a generation to accomplish it."
But when he tried to bring the Clippers, it ignited a battle with Madison Square Garden Co., which owns the competing venue the Forum.
The duel between Butts and MSG started last year when Inglewood signed an exclusive negotiating agreement with the Clippers to erect a proposed 22-acre arena across the street from the forthcoming football stadium.
MSG alleges in a lawsuit that Butts tricked the company into ending its lease of vacant city-owned land it used for overflow parking, thinking it was clearing the way for development of a technology park. The city later offered that land to the Clippers to build a venue a mile away from the Forum. Butts denies the accusation.
MSG hired lobbyists to combat a state Senate bill to fast-track the arena. When that proved unsuccessful, the company threw its support behind Little, the most prominent name in a field of four challengers to Butts.
So far, MSG has poured more than $600,000 into Little's campaign. The total is higher if counting the dozens of contributions of $900 or more from lawyers, TV honchos, record executives, musicians and others in the entertainment industry, such as Jenner, with some association to MSG. Jenner is close friends with the family of Irving Azoff, who worked with MSG in a $100-million renovation of the Forum.
Inglewood has no cap on the amount contributors can donate.
In total, Little has raised $700,000 to Butts' $250,000.
Political science professor Fernando Guerra said it's expected that moneyed interests will use cash to gain access. It's problematic, he said, when half of a candidate's campaign contributions come from one developer or interest.
"That's way too much influence," he said. "I don't care what the candidate says. If they know a majority of money that helped get them elected came from one particular source, they are going to at minimum give them access and at maximum listen to them."
Little said the mayor's vote is only one on a council of five, and if elected, he would represent residents.
MSG said it has known Little before it acquired the Forum in 2012 from Faithful Central Bible Church, where Little is a pastor and legal counsel, and the company says he's the right candidate to lead Inglewood into the future.
We "have been consistently impressed by his commitment to Inglewood and his hard work to make the city a better place to live and do business," Kimberly Kerns, a spokeswoman for MSG, said in a statement.
The company did not comment when asked if it has encouraged its celebrity roster to contribute to Little.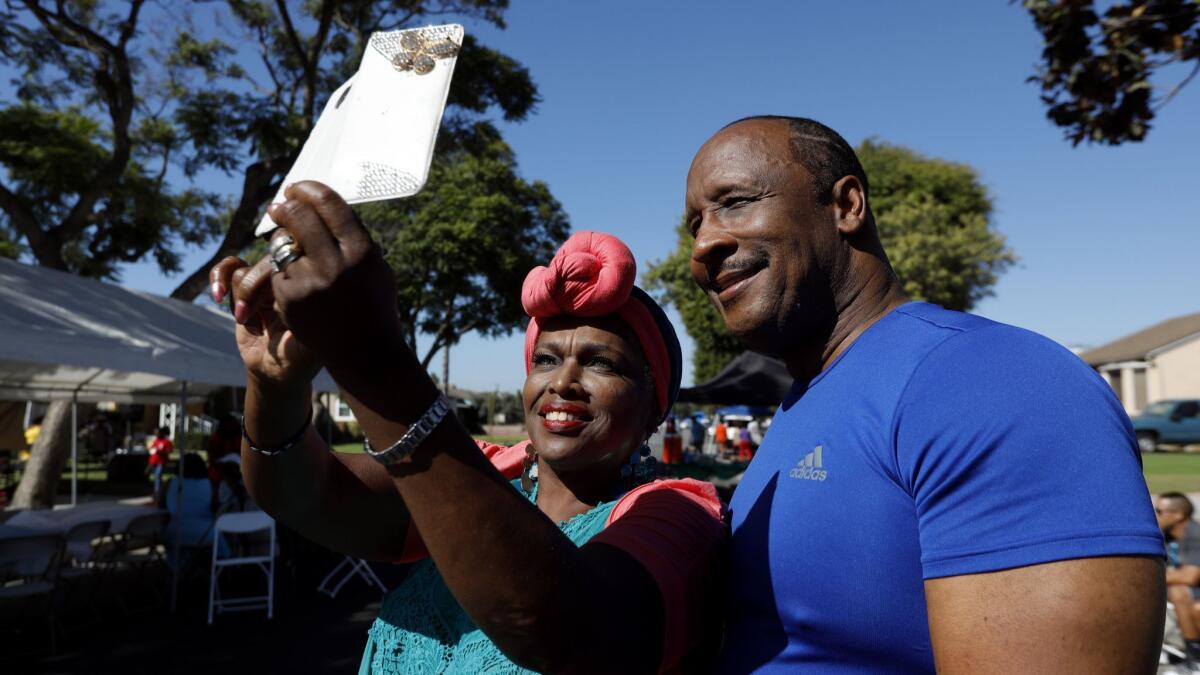 Butts said MSG is trying to "gain control through a puppet of what's going to be the most dynamic sports entertainment economy in the county."
"They are going to be disappointed that the residents are not easily fooled," he added.
Little said he's partnering with people who want to bring change to the city. MSG's support, he said, is not merely a slight to Butts. Little said his work as an entertainment attorney has brought in celebrity support for his campaign.
Mosley, the retired boxer, is one example. He donated $1,000 to Little, calling him a "man of integrity." The two have known each other for over two decades, Mosley said, and Little has served as his attorney at times. The Las Vegas resident said he visits Inglewood regularly when he stays in his Playa del Rey home.
"I care about what happens there," he said in an emailed statement. "I fought my second-to-last fight at the Forum. MSG, the owner of the Forum, has always treated me well, and they have been badly affected by Mayor Butts."
Butts has celebrity friends, too. Retired Lakers star O'Neal endorsed him and Snoop, whose real name is Calvin Broadus Jr., posted on Facebook a minute-long video urging voters to re-elect Butts.
"Inglewood is looking so beautiful now," Snoop said. "It should look good forever like that. Let's keep Mayor Butts in office."
It was only four years ago that Butts was on the receiving end of MSG's generosity. In that campaign, he collected $25,000 from the company and Azoff, about 10% of his total fundraising.
Now, he is getting a boost to the tune of $26,000 from the Clippers and people associated with the project. The team's owner, Steve Ballmer, donated more than $350,000 to a committee that supports Butts' mayoral bid.
Murphy's Bowl, the Clippers-controlled company behind the arena project, points to Butts' record of lowering crime and unemployment.
"We are proud to support him and the community in a race where Inglewood's interests are being pitted against New York-based commercial interests," Alice Walton, spokeswoman for the arena project, said in a statement.
Others connected to the Clippers project back Butts, too. Hollywood Park Casino Co., which is owned by Stockbridge Capital of San Francisco and lists Chris Meany as a licensee, gave $55,000 to a committee that supports Butts. Meany, the Clippers project manager and his development company, Wilson Meany, gave $15,000 to Butts and the committee.
"As someone who has done business in Inglewood for 15 years — before Jim Butts was elected mayor, and after — I've seen the positive impact of his strong leadership in working to improve the social and economic well-being of all Inglewood residents," Meany said in a statement.
The election could alter the fate of the Clippers arena project. The development is in the midst of an 18-month environmental review. A three-year exclusivity agreement could come undone if the city makes the project difficult or unwieldy, Butts said.
Little, 53, said he would support the Clippers moving to Inglewood, but he opposes the current arena proposal near Prairie Avenue and Century Boulevard.
In a dozen billboards flying across the city, Little promotes more affordable housing, slowing the rise of rents, addressing noise, traffic and potholes and bringing integrity back to a city facing increased scrutiny for paying council members and other city employees six-figure salaries.
Pamphlets mailed to Inglewood homes showed Butts' scowling face spliced next to that of President Trump and accused the mayor of abuse, nepotism, corruption, bullying and cronyism.
Linking the Democratic mayor to Trump may seem an unusual tactic for Little, a conservative who wrote about his political beliefs in a 2012 book titled "The Prodigal Republican: Faith and Politics." (Neither candidate will appear on the ballot next to a party affiliation.)
"This race is not about celebrity endorsements," Little said. "People are hurting in our community."
Little said, if elected, he would continue economic revitalization, call for community policing and address concerns on traffic, home affordability and infrastructure issues.
Additionally, he would push for residents to have more of a say in city politics by moving meetings to the evenings when more residents can attend, soliciting community participation and bringing transparency to a City Council in which discussions and disagreements are rare.
Dermot Givens, an attorney and political consultant, said Inglewood voters are older, black churchgoers. A recent Pew Research Center survey found that voters are more enthusiastic about voting than in any midterm election in more than two decades.
In the 2014 election, fewer than 16,000 people voted. Butts handily won, clinching 83% of the vote.
Experts said that whomever voters elect on Nov. 6 to take the $111,300 mayoral job will have the difficult task between striking the balance between developers' and residents' interests. Also on the ballot are businessman Joseph A. Soto, actor-turned-entrepreneur Brandon Myers and retired nurse Mohamed Ben Amor.
While some residents cheer the city's development resurgence, concerns remain on whether the big projects really benefit them.
"Will the revenue generated by these changes offset the woes of the massive increase in traffic, noise and crowds in the city that will impact the quality of life of residents?" said Earl Ofari Hutchinson, an Inglewood voter and president of the Los Angeles Urban Policy Roundtable.
For more California breaking news, follow @AngelJennings. She can also be reached at angel.jennings@latimes.com.
Sign up for Essential California for news, features and recommendations from the L.A. Times and beyond in your inbox six days a week.
You may occasionally receive promotional content from the Los Angeles Times.