State liquor enforcer and consultant plead guilty to shaking down Koreatown bars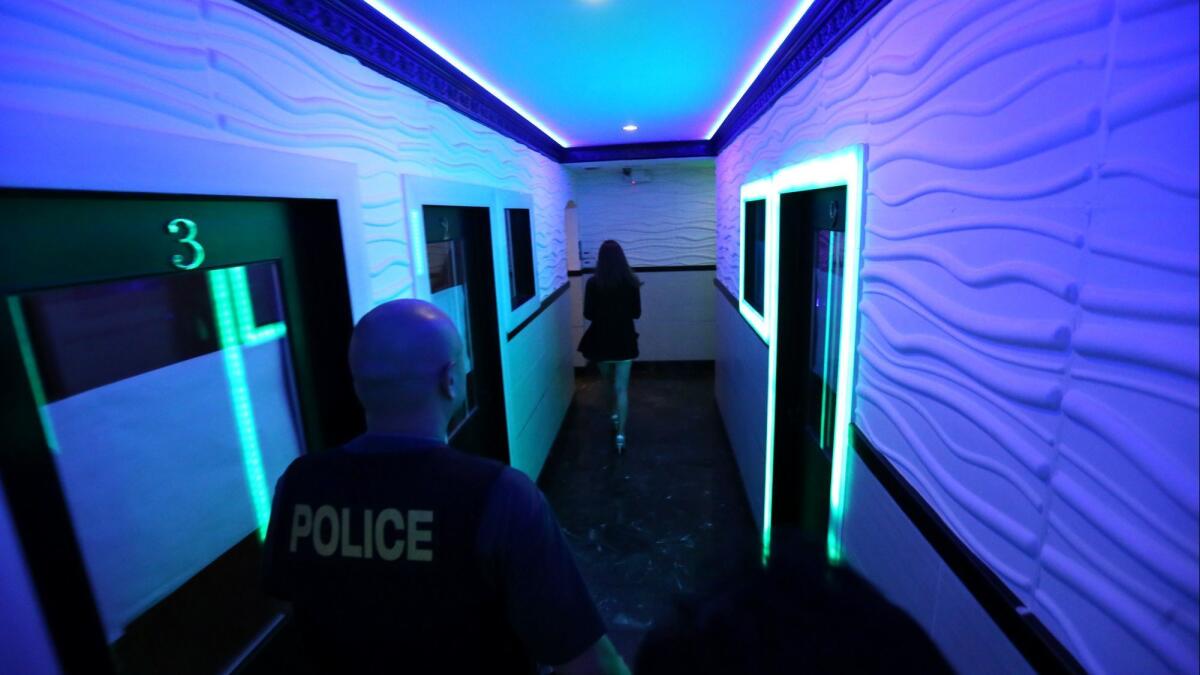 Two former officials in California's liquor agency pleaded guilty Thursday to running a bribery scheme that for years targeted karaoke bar owners in Los Angeles' Koreatown.
Wilbur M. Salao, 46, and Scott Seo, 49, entered guilty pleas during a morning hearing in a downtown federal courtroom, the U.S. attorney's office said in a statement.
Seo, who became a consultant for bar owners after a stint in the California Department of Alcoholic Beverage Control, admitted to paying thousands of dollars in bribes to Salao. Salao, an ABC supervisor who oversaw operations in Koreatown until he left the agency last year, pleaded guilty to a charge of conspiracy.
The men were arrested in October after an FBI investigation into their ploy to shake down bar owners.
Stanley L. Friedman, Seo's attorney, said his client regrets his conduct and pleaded guilty in order to "acknowledge his mistakes and bring closure to the matter." An attorney for Salao did not immediately respond to a request for comment.
In pleading guilty, Seo acknowledged paying more than $28,000 in bribes and kickbacks to Salao between the end of 2011 and May 2016. In exchange, prosecutors said Salao helped Seo's clients by, among other things, fast-tracking liquor license applications. Salao also targeted enforcement raids at bars that refused to work with Seo.
For example, in December 2011, after ABC agents raided a karaoke bar, the owner paid Seo $60,000 in cash to help resolve his problems, according to court records. Seo shared some of the money with Salao, who gave the bar a temporary license to remain open. Seo also admitted to sending Salao lists of businesses for the ABC to target, passing along violations they were likely to discover, such as operating after hours.
As part of his guilty plea, Seo agreed to cooperate with the FBI and prosecutors as they continue to investigate corruption in Koreatown. Along with sharing information he knows, Seo is required under the deal to serve as an undercover informant if investigators ask him to do so, according to a plea agreement filed in court.
If prosecutors decide Seo has provided significant assistance, they will ask U.S. District Judge John A. Kronstadt to show some leniency when he sentences Seo. Although he faces a maximum sentence of 10 years in prison, his attorney said he is hoping his client will receive something "significantly less" than that.
The terms of Salao's guilty plea were not made public, leaving it unclear whether he, too, is cooperating with authorities. Salao faces up to five years behind bars.
Investigators obtained a series of text messages between the two men as they discussed their scheme, according to the indictment filed against them. In one exchange, Salao expressed delight that Seo had managed to get a $3,000 consulting payment from a bar owner facing ABC violations.
"Damn! 3K just like that? We are gonna rape Ktown!" Salao wrote in a message to Seo, according to the indictment.
Later that day, prosecutors said, Seo told Salao that he wanted to meet to discuss a plan for using the Korean news media "to pump fear into Ktown." Salao responded by saying: "I'm open to whatever lines our wallets!" according to the indictment.
Salao also tipped off Seo to impending raids or undercover operations by the ABC and the Los Angeles Police Department, prosecutors said. He once sent Seo a photograph of an undercover LAPD officer, which allowed Seo to warn a client to conceal illegal activity from police.
The arrangement with Salao allowed Seo to bolster his business by $60,000 in illicit profits, prosecutors found.
Sign up for Essential California for news, features and recommendations from the L.A. Times and beyond in your inbox six days a week.
You may occasionally receive promotional content from the Los Angeles Times.