From immigration to short-term housing to street vendors, L.A. City Hall faces a heavy agenda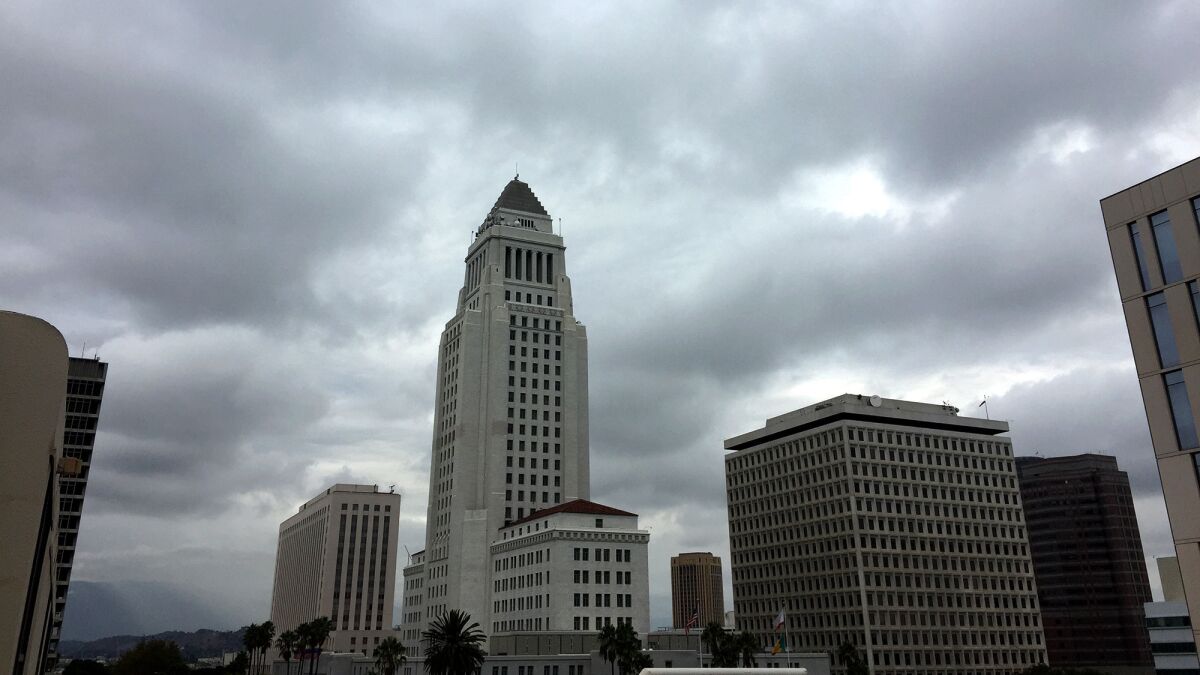 Los Angeles City Hall gets back to work this week, facing an ambitious and, in some ways, divisive agenda ahead of several key elections.
The council will take up some hot-button issues tied to immigrants, the new economy and homelessness. In the shadow of all this is Mayor Eric Garcetti's reelection bid and a citywide vote on a growth measure.
Here's a rundown of what's ahead:
Street vending law
Even before Donald Trump won the presidential election, the City Council was weighing a plan to legalize street vending — a practice that's illegal in Los Angeles. Now, some city officials want to hurry up and pass a law amid concerns over Trump's planned illegal immigration policies.
Many street vendors in L.A. are in the country illegally, and officials worry those workers will be deported if they're ticketed for street vending.
Backers also say legalization will help protect vendors from being extorted by local gangs and ensure vendors follow county health regulations.
"Los Angeles is the only large city in the U. S. that hasn't legalized vending," said Branimir Kvartuc, spokesman for City Councilman Joe Buscaino. "The current vending system is a mess."
Airbnb rules
The City Council is expected to finally pass a law to regulate short-term housing rentals.
Despite the widespread popularity of companies like Airbnb, it's still illegal in much of Los Angeles to rent out a residence for less than 30 days at a time, according to planning department officials.
Airbnb critics argue home-sharing companies cannibalize rental housing and changes the character of neighborhoods by filling apartments with travelers.
Under the proposal being considered by the council, housing covered by the city's Rent Stabilization Ordinance — believed to be about 80% of the city's rental stock — couldn't be rented out on home-sharing companies.
Larry Gross, executive director of the Coalition for Economic Survival, said home-sharing companies are hurting L.A.'s stock of affordable housing. "They must be restricted," Gross said of Airbnb.
Measure S
The battle over Los Angeles development takes center stage in March when voters weigh in on Measure S, a ballot measure that would put a two-year moratorium on construction projects requiring a zone change or other major change to city building rules. The goal, Measure S supporters say, is to rein in the type of overdevelopment that's led to denser neighborhoods.
Opponents argue the ballot would hurt the city's economy and drive up rental prices.
The Coalition to Preserve L.A., which is spearheading Measure S, has raised more than $1.4 million, according to its September campaign filings. Nearly all of that money has come from the AIDS Healthcare Foundation, which sued the city last year over the approval of the Palladium Residences, a project planned next door to its Hollywood headquarters.
Opponents, which include unions, homeless advocates and business groups, have raised about $1 million to fight Measure S. Garcetti also intends to campaign against the measure in the coming months.
Digital billboards
City Hall faced major criticism a decade ago when lawmakers allowed digital billboards across the city, a move that was ultimately struck down by the courts. Now, digital displays are again being debated for some areas of Los Angeles.
The L.A. City Council is expected to consider a plan to allow digital billboards in so-called sign districts and to grandfather in some existing, illegal billboards.
Business groups and unions support allowing more digital signs, while some neighborhood groups and activists argue the displays are a form of visual blight that reduce property values.
Digital billboards remain a controversial issue, so expect a vote on the sign law after the March election, when 10 City Hall officials face reelection.
Homeless storage
City Hall wants to locate storage facility sites so the city's estimated 28,000 homeless can safely secure their medicines, paperwork and other personal items.
However, the plan is already facing some push back from community members. A proposed storage facility in San Pedro was shelved this fall after locals complained the site was too close to a school.
A Venice site and other spots will be considered by the City Council in the coming months. The council will also consider a plan for a mobile storage bus that would drive around the city.
"People need an alternative to keeping their stuff on the sidewalk," said David Graham-Caso, spokesman for Los Angeles City Councilman Mike Bonin. "It's something that we've heard from neighbors and homeless advocates alike."
Twitter: @dakotacdsmith
The stories shaping California
Get up to speed with our Essential California newsletter, sent six days a week.
You may occasionally receive promotional content from the Los Angeles Times.