Metro backs away from controversial plan to widen the 710 Freeway, opting for more modest changes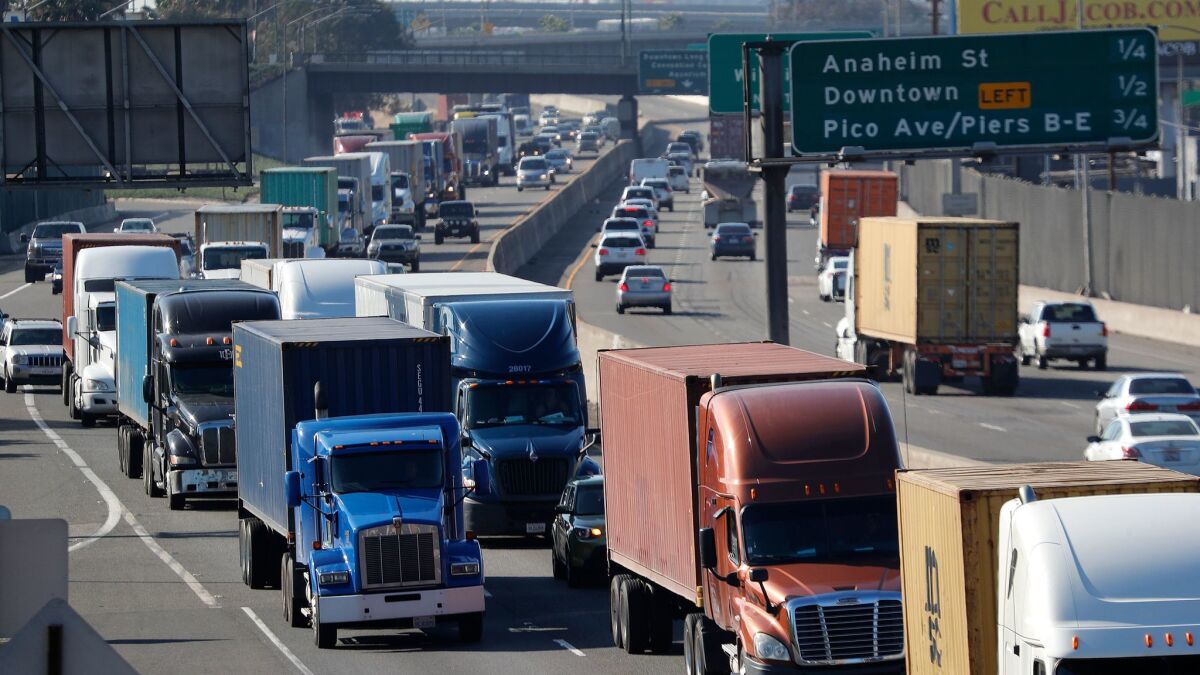 For two decades, Los Angeles County transportation officials have clashed with local advocates over how to untangle traffic on the truck-choked 710 Freeway without doing more harm to surrounding neighborhoods in what's known as "the diesel death zone."
Faced again with a hotly contested proposal to widen the freeway, the Metropolitan Transportation Authority's board of directors unanimously agreed Thursday to support rebuilding some intersections and ramps along the 19-mile route, but stopped short of adding a new lane in each direction.
Under an amendment written by county Supervisor Hilda Solis, Metro officials will be required to return to the board of directors and seek approval for widening the freeway once initial upgrades are complete, which could take years.
Improvements on the route are crucial to the movement of goods between the region's sprawling network of freeways and warehouses, and the ports of Los Angeles and Long Beach, which handle 40% of the country's imports and exports, directors said. But some directors expressed reluctance to approve another freeway-widening project.
"I think it's clear what this board's opinion is of that," said Los Angeles Mayor and Metro Chair Eric Garcetti.
The 710 project has about $1 billion secured through the Measure M and Measure R half-cent sales taxes. That's enough to fund some improvements, but about $5 billion short of what's needed to pay for new freeway-to-freeway interchanges and a wider route.
Directors asked Metro to prepare a list of the improvements that could be built quickly with an analysis of the benefits for safety, transportation and air quality, and with an analysis of how to reduce resident displacement.
They also requested an analysis of ways to separate freight and commuter traffic on the 710 and other freeways across the region without widening them, including by reserving toll lanes for zero- and low-emission trucks.
Long Beach Mayor Robert Garcia, whose city is home to nearly half the length of the 710, said the proposed widening is "different from other highway and freeway projects" because it connects the region's warehouses and big-box stores to the twin ports.
Directors heard two hours of passionate public testimony from residents of polluted southeast county cities facing the specter of displacement and years of construction, many of whom said they did not trust Metro and Caltrans to keep their word.
"Instead of coming up with a cohesive and thoughtful plan, the board is asking communities to take a leap of faith and just blindly trust that the agency will somehow transform this project at some point in the future," Adrian Martinez, an attorney for Earthjustice, an environmental advocacy group, said in a statement. He said the organization was "deeply disappointed" by the vote.
"Have you heard the phrase, 'Justice for all?' " said Marlene Sanchez, 70, who lives on the border of Carson and Long Beach. "I don't think there's justice for all when I go out and clean my car, and the paper towels come away black from the soot from the refineries."
Any vote to enlarge the freeway's footprint after hearing from the community "is a farce," Sanchez said. "They want us to believe that they're listening to us."
Workers from local trade unions packed the boardroom, wearing black T-shirts and neon-orange construction vests. Their representatives urged the board to support local jobs and improved goods movement by starting the freeway upgrades but asked them to invest in zero-emission technology to improve air quality.
"A zero-emission lane commitment is what we all need," said Isabel Lopez, an electrician apprentice with the labor union IBEW Local 11. "Let's build smarter."
As other union members urged Metro to widen the freeway, advocates from the county's southeast cities near the freeway held up protest signs. Some wore white stickers on their jackets, showing a red line slashing through a truck spewing emissions.
Joe Kim of South Gate said an advocacy group told his family last week that their Wienerschnitzel restaurant on Imperial Highway, just west of the 710, could be demolished to widen the freeway. When he contacted Metro, officials would not confirm whether the family business of 35 years would be affected, he said.
"I just hope they can think about the real families that would be affected," Kim said.
Twitter: @laura_nelson
The stories shaping California
Get up to speed with our Essential California newsletter, sent six days a week.
You may occasionally receive promotional content from the Los Angeles Times.