El Camino Real Charter High wins California Academic Decathlon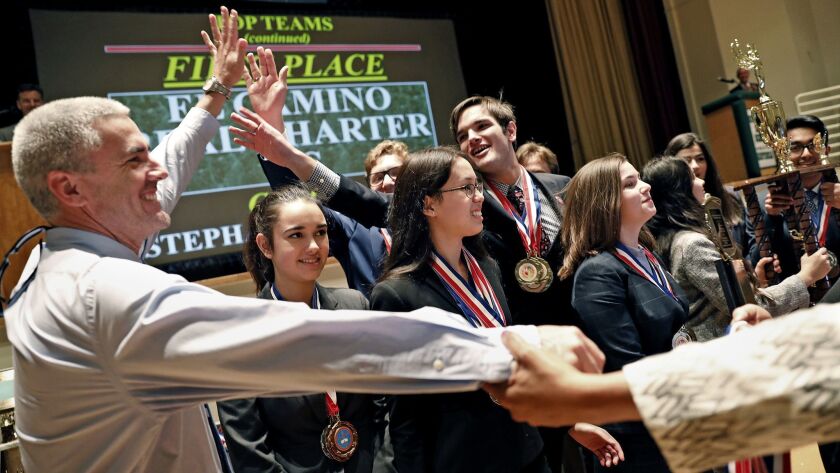 El Camino Real Charter High School has won the California Academic Decathlon in Sacramento and will advance to the national competition next month, officials announced Sunday.
It's the latest victory for El Camino Real's powerhouse team, a perennial state and national champion that won Los Angeles Unified School District's Academic Decathlon in February and has clinched the national Academic Decathlon title seven times in the past two decades — most recently in 2014.
The win was still something of an upset because El Camino Real, located in Woodland Hills, beat reigning national champion Granada Hills Charter High, which has won the state and national competition six of the last seven years.
In a statement, LAUSD interim Superintendent Vivian Ekchian congratulated "our outstanding decathletes and their phenomenal coaches," saying "thank you for proudly representing our school district and bringing back another state title."
The members of the winning El Camino Real team are Inesh Ahuja, Ashtar Fayoumi, Matthew Fitzmorris, Briana Lincoln, Rachel Markenson, Nolan Origer, Avery Tamura, Maya Teitz and Trevor Winnard. Their coach is Stephanie Franklin.
The winners were announced during a spirited awards ceremony Sunday at the Sacramento Memorial Auditorium, where all five top honors were claimed by Los Angeles County schools.
Coming in second place was Granada Hills, the current national champion. Third was South Pasadena High School, which in February won its fourth consecutive Los Angeles County Academic Decathlon, a competition open to all public high schools outside L.A. Unified. Franklin High School finished fourth and Mark Keppel High School in Alhambra was fifth.
Claiming the state title means El Camino Real will compete against other state championship teams in April at the U.S. Academic Decathlon in Frisco, Texas.
In Academic Decathlon, nine-member teams of ninth- through 12th-grade students compete in academic contests in 10 categories — art, music, language and literature, social science, science, mathematics, economics, speech, interview and essay — plus the Super Quiz, a "Jeopardy!"-style question-and-answer session that draws from all subjects.
The theme of this year's competition is Africa.
Schools from LAUSD have won the national competition 18 times since 1987, and California has held the national title for the last 15 consecutive years.
Twitter: @tonybarboza
City News Service contributed to this report.
---
For reporting and exclusive analysis from bureau chief John Myers, get our California Politics newsletter.
You may occasionally receive promotional content from the Los Angeles Times.