Supporters of closing Santa Monica Airport lose round in court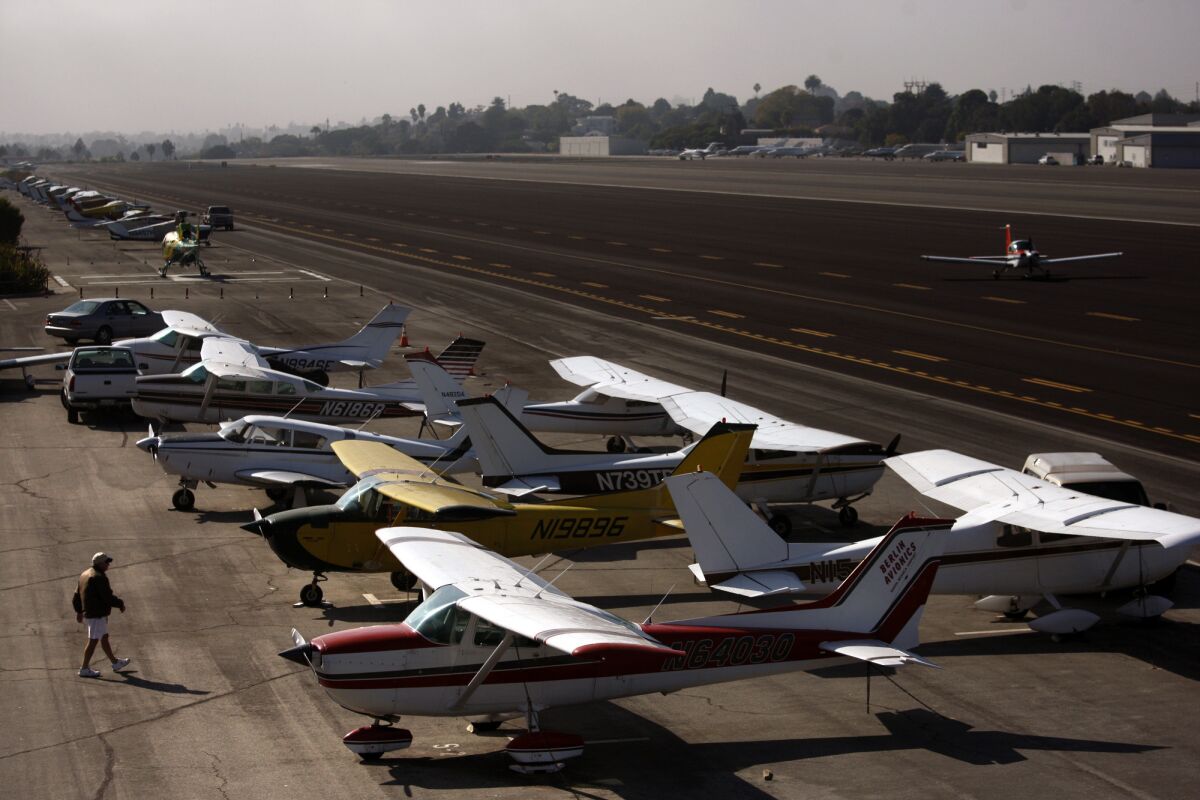 In a setback for opponents of Santa Monica Airport, a Los Angeles judge has dismissed a lawsuit that challenged a November ballot measure to protect the facility from closure.
Los Angeles County Superior Court Judge Luis A. Lavin threw out the case filed in May by an anti-airport group that claimed Measure D was misleading, poorly vetted by city officials and violated the state Constitution and elections code.
The initiative, which is backed by a coalition of airport supporters and the Aircraft Owners and Pilots Assn., would require voter approval to shut down the airport, alter its land use or restrict aviation-related activities.
Lavin, who ruled Tuesday afternoon, said there was no evidence that the city clerk violated the elections code, that the measure's wording was false or that the city attorney was incompetent in the preparation of the measure's title and summary.
The judge also held that the anti-airport faction failed to cite any legal authority prohibiting the City Council from advancing the ballot measure and that one of the suit allegations should be addressed after the election.
Lavin noted that the plaintiffs sought to impede the initiative process and force the city to abandon its neutral and ministerial role in processing ballot measures.
Attorney Jonathan Stein, who represented the anti-airport group, said he disagreed with the judge and that the substance of the allegations was not heard.
He said he would appeal the decision and pursue a second lawsuit he recently filed with similar allegations. Stein noted that the Council "ended up being a cheerleader for the AOPA" though it supports closing the airport.
In addition to the aircraft owners association, the defendants included the Santa Monica city clerk, the Santa Monica City Council and the Santa Monica city attorney.
"Regardless of the wisdom of AOPA's ballot measure, the lawsuit was misguided and an unnecessary distraction," said Santa Monica Deputy City Atty. Ivan Campbell. "We are pleased with the result, but it was a needless waste of public resources and time."
Santa Monicans for Open and Honest Development Decisions, a sponsor of the ballot measure, also criticized the case.
"It's clear that opponents of Measure D will try anything to prevent voters from speaking," said David Shaby, an attorney and member of the pro-airport group. "But it's just adding to the cost and delays we've seen from frivolous litigation. Why are they so afraid of the voters deciding?"
Lavin's decision gives Santa Monicans, the city and the AOPA the right to seek their legal fees and court costs from the plaintiffs. Members of Santa Monicans said they are seriously considering it while city officials have yet to decide.
Follow @LADeadline16 for aviation news
The stories shaping California
Get up to speed with our Essential California newsletter, sent six days a week.
You may occasionally receive promotional content from the Los Angeles Times.