State Assembly OKs Snoopy license plates bill to support museums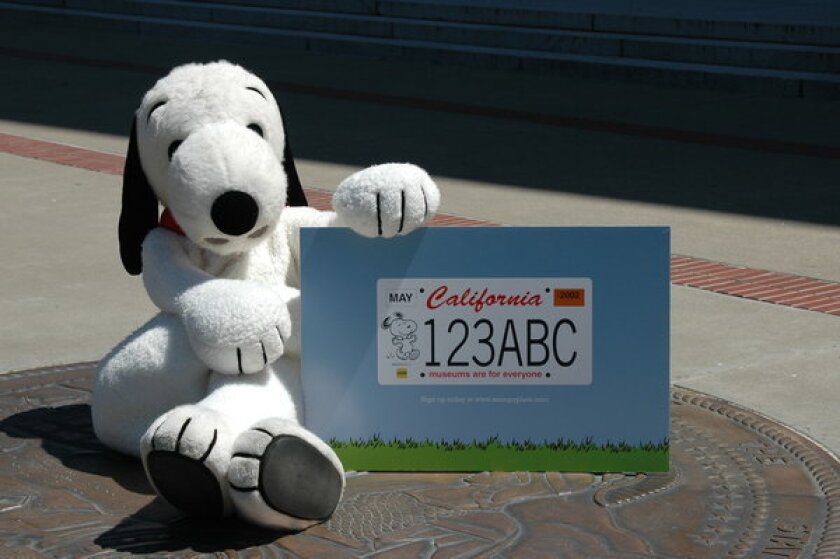 He may not be taking on the Red Baron in this one, but Snoopy may soon be seen on the back of some California cars.
The state Assembly passed a bill Thursday that would establish a Snoopy license plate to benefit California museums.
AB 482, introduced by Assemblywoman Toni Atkins (D-San Diego), passed with a vote of 57-19.
The bill, which now goes to the Senate, would allow the California Cultural and Historical Endowment to use the revenue from the plate to create a new grant program to support small capital projects at museums.
If approved by the Senate, the bill would transfer the endowment from the California State Library to the Natural Resources Agency.
The endowment had been using bond money to make grants and loans to museums and other nonprofit groups, but with that program winding down, it was looking for new funding, Atkins said, according to the Associated Press.
After founding a Santa Rosa museum in honor of Charles Schulz, Jean Schulz, widow of the "Peanuts" cartoonist, recognized the need for additional museum funding, according to the California Assn. of Museums. The association is receiving royalty-free rights to establish the plate.
Last year, the endowment accepted an offer by the association to sponsor a plate using the Snoopy cartoon character.
Museum enthusiasts — and Snoopy fans — can sign up for the specialized plate here.
ALSO:
DMV reviewing driver's license status of teen in fatal O.C. crash
California executions on hold since 2006 likely won't resume soon
Angeles National Forest fire grows to 1,400 acres, 15% contained
Twitter: @Sam_Schaefer
---
The perils of parenting through a pandemic
What's going on with school? What do kids need? Get 8 to 3, a newsletter dedicated to the questions that keep California families up at night.
You may occasionally receive promotional content from the Los Angeles Times.