New claims about perks for inspector, perils for neighbors in Bel-Air mega-mansion case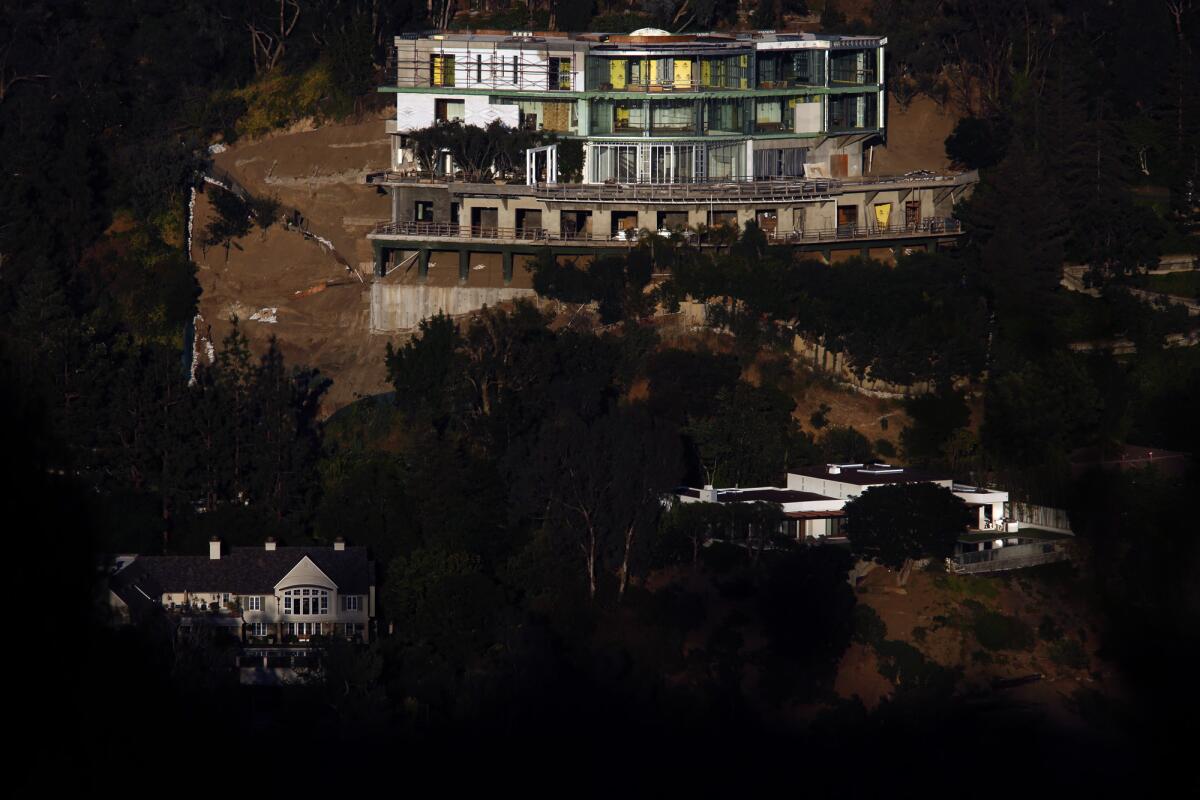 The mammoth, unfinished mansion on Strada Vecchia Road in Bel-Air has long been at the center of controversy, investigations and legal battles.
Its developer, Mohamed Hadid, pleaded no contest to criminal charges after prosecutors accused him of building a house far bigger than allowed. He has battled in court with neighbors, who alleged that the city knew and failed to stop illegal construction. And investigators have looked into possible wrongdoing by a city building inspector scrutinizing the house.
Now a key figure in the Bel-Air drama — the former construction manager — has made new claims about alleged perks for a city inspector who oversaw the project, according to a declaration submitted in a civil case involving the house.
Former construction manager Russell Linch also raised concerns about the safety of the massive building, saying that he believes it needs to be demolished.
The allegations mark a shift in the role that Linch, who previously defended Hadid and whose company is now suing him, has played in the ongoing battle over the house. The legal showdown has grabbed attention amid accusations of deception, concerns about city oversight and fears surrounding the unfinished mansion still perched on the hillside.
In a legal declaration in the civil case lodged by neighbors, Linch said Hadid had directed him to send "some guys" over to build wooden cabinets at a home that he understood to belong to Anthony Anderson. Anderson worked as an inspector for the Los Angeles Department of Building and Safety on the Strada Vecchia project.
The work ended up being done by a carpenter who was paid by Hadid through his company, Linch claimed in the declaration.
Linch said he later reviewed financial records for Hadid and "there were no checks or other records reflecting that Anderson paid for these cabinets."
In a separate declaration, the carpenter himself said he and his team spent two to three weeks at the home, building cabinets, closets and a built-in dresser, and was paid by Hadid's company. He estimated that his team would ordinarily charge between $15,000 and $30,000 for such a job.
Linch also said that early in the project, Anderson had asked him if he could find a position for his son on the Bel-Air job. Linch said in his declaration that he subsequently hired Anderson's son as a laborer on his crew, through Hadid's company.
Anderson, who no longer works for the department, did not respond to messages seeking comment.
Bruce Rudman, an attorney representing Hadid, said Tuesday that he and other developer defendants in the case "vehemently deny the assertions being made in the declaration of Mr. Linch and his employee," the carpenter, calling Linch "disgruntled."
Rudman added that Linch "testified differently at his deposition under oath," where he was "represented by two attorneys of his own choosing, and paid for by him. … He has never been coerced."
"Unlike the plaintiffs who want to try this case in the media, we will refrain from doing so, except to say there is no merit to the claims, which if made outside of a court pleading would be actionable," Rudman said.
In the past, Hadid told The Times he would "never, ever, ever pay an inspector" and said he had pleaded no contest to the criminal charges surrounding the house to "move on" and avoid embarrassing city inspectors who had signed off on the construction.
In a countersuit, Hadid has accused neighbor Joseph Horacek of trying to extort millions of dollars from him and then pushing to halt the project when he didn't get the money.
Attorney Gary Lincenberg, who represents Horacek and other neighbors, said Rudman's denial "rings hollow in light of the overwhelming evidence" of wrongdoing, calling it "his word versus the evidence."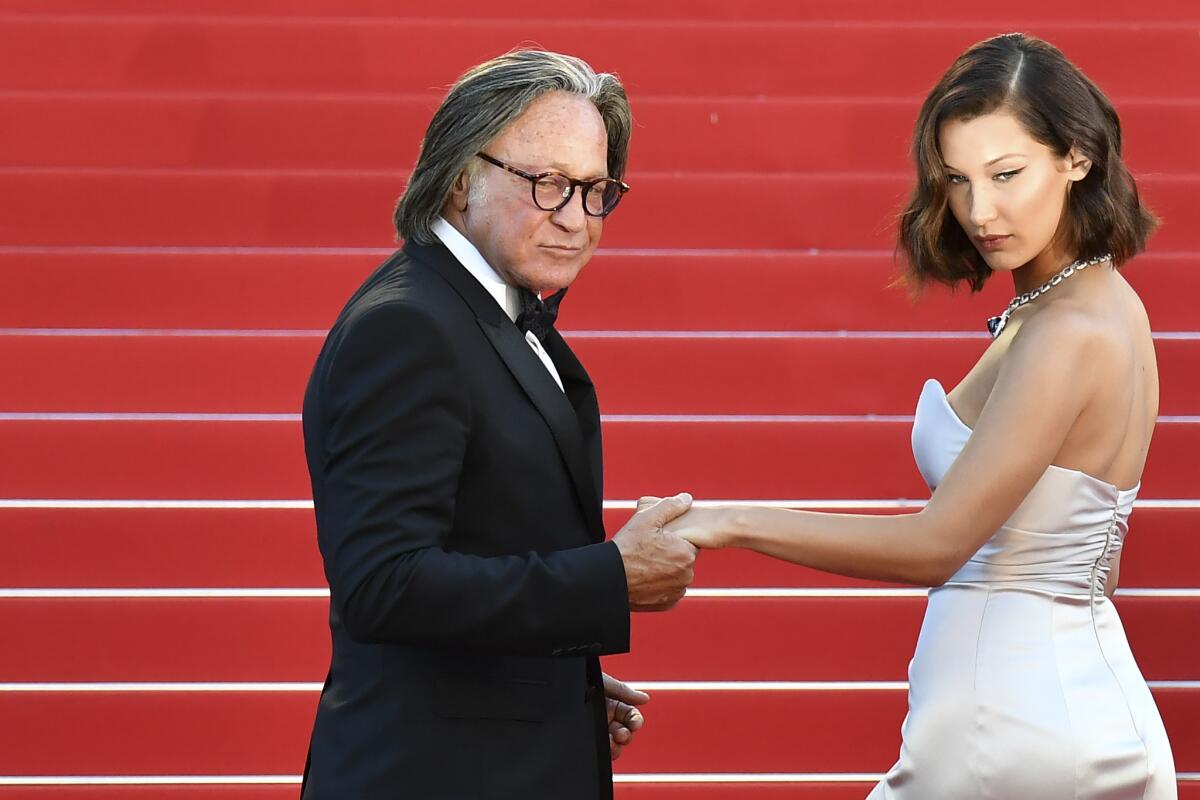 Under Los Angeles rules, city officials are barred from accepting gifts when it is "reasonably foreseeable" that it could influence them in performing their official work.
Last year, a city investigator said in a deposition that a probe had found evidence that a building inspector on the project had received "items of value."
The investigator, Randolph Osborne, said he had turned over information to the FBI, which he said was investigating the matter. Osborne did not identify the inspector who was involved.
Reached by The Times in October, Anderson declined to answer questions about whether he had been contacted by a city investigator and whether he had gotten anything of value in connection with the project, repeatedly saying that he was not allowed to talk about it.
Linch has previously defended Hadid and the project: Last year, when news emerged of the city probe into possible wrongdoing, Linch said he wasn't aware of anything of value being provided to an inspector.
Linch said in his declaration that during an earlier deposition attended by Hadid, he had given inaccurate answers because he felt pressured to protect the developer and minimize his role.
This month, however, the company that Linch owns, RAL Design and Management, filed suit against Hadid for breach of contract, claiming that Hadid and his business associates owed the firm more than $2.5 million.
In his newly released declaration in the Bel-Air case, Linch also stated that there should have been twice as many piles — a kind of column that extends into bedrock to support a structure — to hold up a house as big as what Hadid ultimately built.
Those piles should have been driven deeper, he added. And the piles have "less rebar than the minimum required" under L.A. building codes, but Hadid "asked me not to tell anyone about the problem," Linch alleged in the declaration.
"Because I believe the piles are inadequate to support the house, I believe the house is unsafe and that the entire house must be demolished," Linch said.
The former construction manager also claimed that Hadid created fake inspection reports showing the piles going deeper than the original documents indicated, turned in another falsified record to the city to understate how much grading was done, and hid pages from the plans where an inspector had written "not approved."
In addition, Linch said that another inspector was hired by Hadid to tear down the house that had sat on the Bel-Air site. That inspector also granted after-the-fact approval for demolition work that he had done himself, Linch claimed.
Linch also said in his declaration that Hadid had sent workers to help other city inspectors flip houses but declined Tuesday to provide further details about that statement.
Building and Safety spokesman Kim Arther said the department does not comment on filings in pending litigation against the city.
However, Arther said inspectors generally are not permitted to work, or to seek employment for a family member, on a building project they are overseeing.
When asked about the safety of the Bel-Air building, Arther said the department "has not been presented with technical evidence that the structure is subject to imminent collapse."
Arther said the department has requested a forensic study of the piles at the mansion to show whether they were properly constructed.
Twitter: @AlpertReyes
Sign up for Essential California for news, features and recommendations from the L.A. Times and beyond in your inbox six days a week.
You may occasionally receive promotional content from the Los Angeles Times.