State chief justice says unpaid traffic fines should get day in court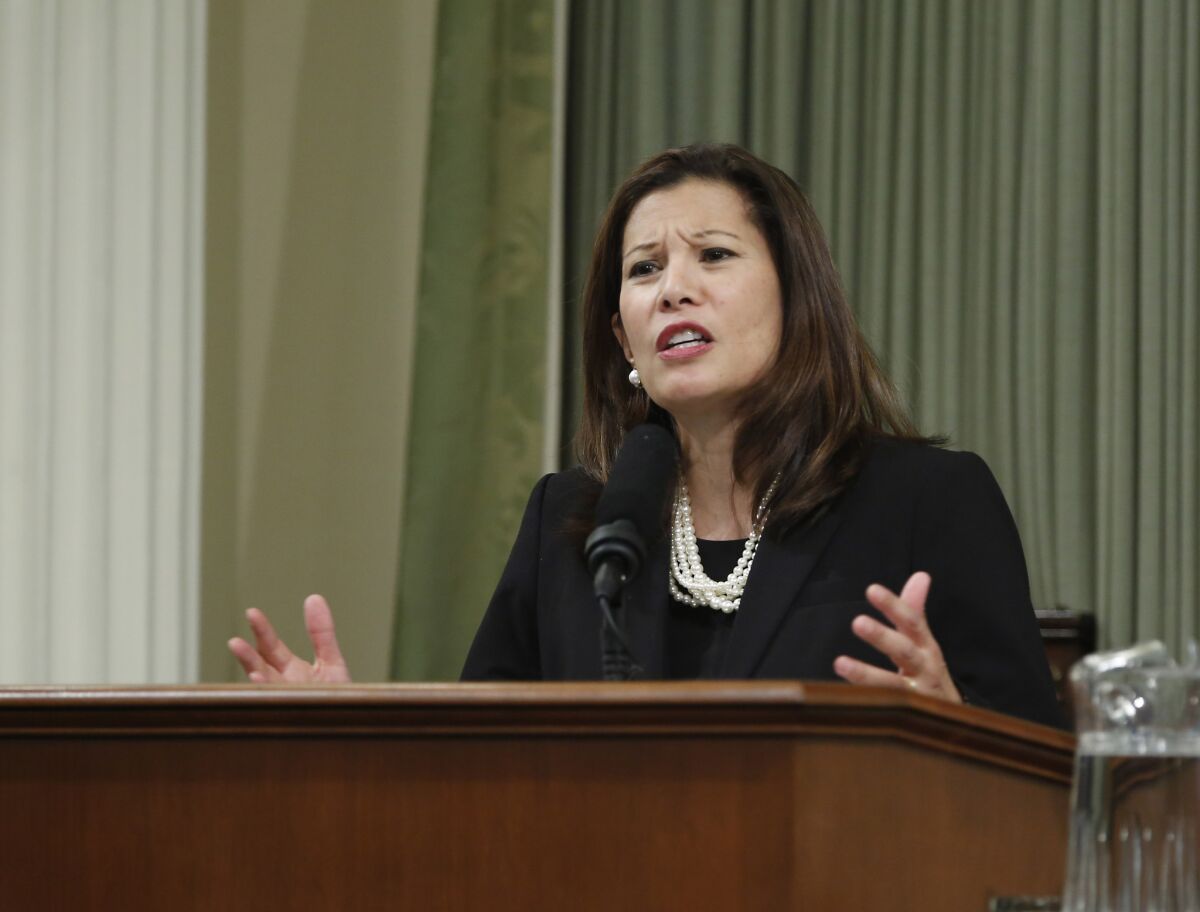 Reporting from San Francisco —
Weighing in on a troubled system, California Chief Justice Tani Cantil-Sakauye has called for an emergency rule to prevent courts from requiring drivers to pay traffic tickets before they can go to court to contest them.
Cantil-Sakauye this week asked the Judicial Council, the policy-making body of the courts, to write an emergency rule "that makes it clear that Californians do not have to pay for a traffic infraction before being able to appear in court."
Her directive, issued Monday, comes as legislators and Gov. Jerry Brown tackle the issue of escalating traffic fines, fees and penalties that have led to driver's license suspensions for 4.8 million Californians.
In bolstering a proposed amnesty program this month for those with unpaid court-ordered traffic debt, Brown said the practice places residents in "a hellhole of desperation."
He added that the "whole business of those fines ought to be looked at."
Once an initial deadline to pay or contest a ticket has passed, many California counties will grant a court hearing only if fines are first paid in full. By then the debt has generally been sent to a state-contracted collections agency, which suspends the offender's driver's license and layers on an additional civil penalty.
The license can be reinstated only with a full payment, and penalties continue to amass.
A report issued last month by the Lawyers Committee for Civil Rights of the San Francisco Bay Area and other civil legal aid groups revealed that one in six California drivers have had their licenses suspended for not paying the steadily escalating fees. Without the ability to legally drive, many are unable to work.
A traffic ticket with a base fine of $100 now costs nearly $500 because of additional fees and penalties that the Legislature has adopted to generate funds for the court system and other programs. That jumps to $815 if the driver misses the initial deadline for payment.
The U.S. Department of Justice has condemned similar practices in Ferguson, Mo., citing a disparate impact on low-income and minority people.
Cantil-Sakauye said that although many traffic fines are set by state law, "the law is confusing and may result in inconsistent practices or policies throughout the state."
In addition to seeking the emergency rule, she has asked a state commission on the future of the court system to "take a broader look at effective public access to California's courts, including traffic proceedings and the impact of mandatory and discretionary fines, fees and penalties on court users."
The state's uncollected court-ordered debt has grown to more than $10 billion. A slew of government funds that rely on the revenue stream are, as a result, increasingly strapped.
Brown unveiled the 18-month amnesty in his proposed budget released in January. It would slash by 50% qualifying court-ordered traffic debt incurred before 2013 and direct some of those dollars to two insolvent law enforcement training funds.
An expanded version was included in his budget revision unveiled this month. The amnesty would allow participants whose licenses were suspended due to unpaid traffic infractions and some misdemeanors to get them reinstated, "so they can legally get to work and make their agreed-upon payments" to the court.
It also eliminates the fee assessed by collection agencies for failing to pay, allows for payment plans to be established and calls for wage garnishment if the plan is not honored.
A budget subcommittee on Tuesday unanimously backed the amnesty, approving placeholder legislation that may be fine-tuned to address concerns by the legislative analyst's office and court officials.
State Sen. Loni Hancock (D-Berkeley), the subcommittee chair, said at the hearing that beyond the amnesty -- which addresses past unpaid debt -- she and other lawmakers have "already discussed and have determined that we are going to take a big look at the fines this year."
Fines that rapidly "quadruple," she said, "could be leading people into severe financial hardship," while the inability of many debtors to pay has left a number of special funds "in decline."
State Sen. Joel Anderson (R-El Cajon) agreed, saying penalties are "just overwhelming for families working paycheck to paycheck."
San Bernardino County Superior Court Presiding Judge Marsha Slough, who chairs the Judicial Council's advisory committee of presiding judges statewide, testified in support of forward-looking solutions.
She called the problem "a big issue that we all together need to get our arms around," and echoed Cantil-Sakauye's call for all three branches of government to work "toward broader resolution."
Meanwhile, a bill authored by State Sen. Robert M. Hertzberg (D-Van Nuys) dovetails with Brown's amnesty proposal. It requires that the Judicial Council adopt guidelines for the program, ensures that driver's licenses will be restored if a payment plan is negotiated, and allows for a sliding scale based on income that could drop the amount due by as much as 80%.
Hertzberg said his legislation may be amended to strengthen new elements of Brown's program.
He said he was "over the moon" with Brown's revised amnesty proposal and Cantil-Sakauye's action, and has been working with State Sen. Hannah-Beth Jackson (D-Santa Barbara), who chairs the Senate Judiciary Committee, to identify broader reforms.
"What we've got to do is change the system and fund the courts appropriately so they don't have to engage in this voodoo," to pay for government programs by increasing fines, he said. "It's just fundamentally wrong. It doesn't work."
Twitter: @mauradolan
Twitter @leeromney
---
The stories shaping California
Get up to speed with our Essential California newsletter, sent six days a week.
You may occasionally receive promotional content from the Los Angeles Times.