California officials blast Trump's oil-drilling proposal as dangerous and unneeded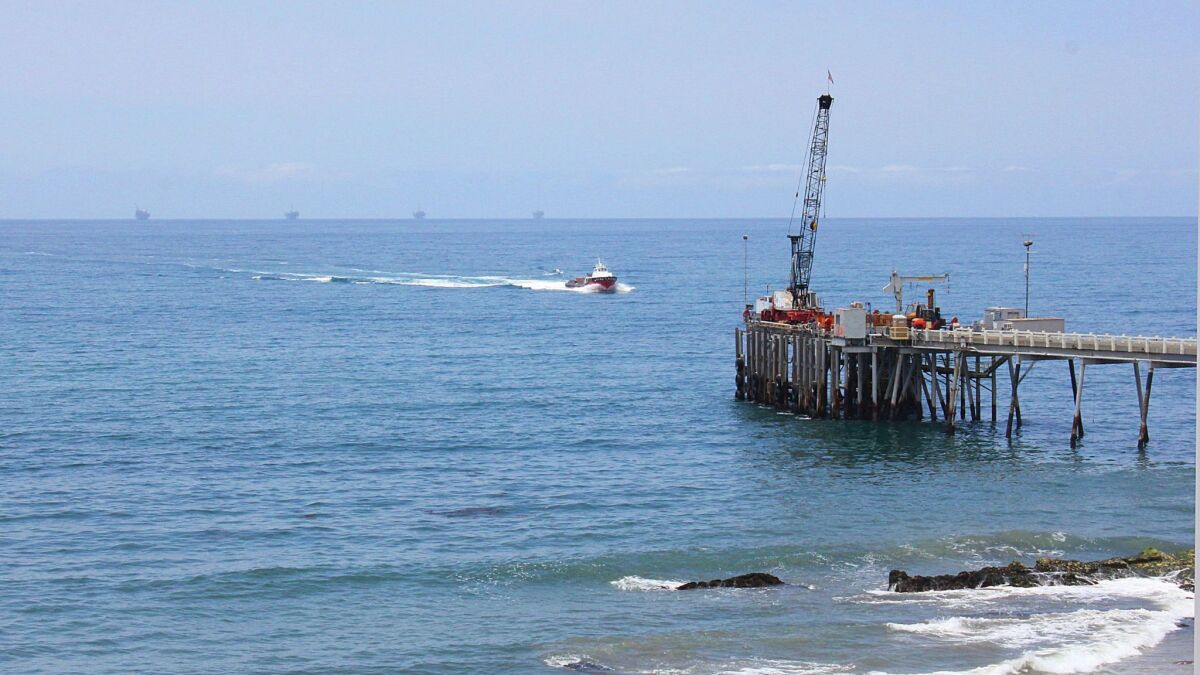 The Trump administration's proposal to expand offshore oil development is being met with unyielding opposition in California, where drilling in coastal waters has been deeply unpopular since a devastating 1969 spill off the coast of Santa Barbara.
That blowout on an offshore platform spewed more than 3 million gallons of oil into some of the nation's most sensitive coastal habitat, killing thousands of seabirds and other marine life and spurring the modern environmental movement.
Nearly 50 years later, California's distaste for offshore drilling hasn't faded. A more recent reminder of the environmental perils came in 2015 when a ruptured oil pipeline near Refugio State Beach fouled some of the same coastline.
"We saw the impacts of that firsthand: Oil washing up on the beach with dead seabirds and fish, along with people from the community covered in oil as they tried to save them," said Kristen Hislop, marine conservation program director with the Santa Barbara-based Environmental Defense Center. "Additional offshore oil along our coast would surely lead to more spills with similarly devastating impacts to the marine environment."
California officials on Thursday condemned the Trump administration's proposal and vowed to fight to keep federal waters off-limits to new drilling.
"This political decision to open the magnificent and beautiful Pacific Coast waters to oil and gas drilling flies in the face of decades of strong opposition on the part of Oregon, Washington and California — from Republicans and Democrats alike," Gov. Jerry Brown said in a joint statement with the governors of those states. "For more than 30 years, our shared coastline has been protected from further federal drilling, and we'll do whatever it takes to stop this reckless, shortsighted action."
Local resistance could make it difficult for federal officials to make good on their plans. California controls coastal waters out to 3 miles from the shoreline but has no jurisdiction beyond that. The state could, however, block new drilling proposals indirectly by rejecting pipelines and other infrastructure needed to transport oil to the shore, which requires state approval.
California Attorney General Xavier Becerra said in a statement that he was evaluating all options to protect the state's natural resources from the Trump administration's offshore drilling proposal "because we don't want it and because we know what happens when it goes wrong."
"It should be underscored that regulatory agencies in our state will have a say in whether any offshore drilling ultimately does occur, "Becerra added.
California has not issued a new offshore oil and gas lease since the 1969 Santa Barbara spill, which remains the largest in the state's history.
There are four oil platforms in California waters off Santa Barbara County, Huntington Beach and Seal Beach, as well as artificial oil islands in Long Beach Harbor and Ventura County, all of which operate under leases issued prior to the 1969 oil spill, according to the State Lands Commission. There are 23 oil and gas platforms in federal waters more than three miles off the California coast, according to the agency.
State leaders have been vigorous opponents as the Trump administration has moved to expand offshore oil and gas production, arguing that the devastation of past spills shows the risks are too great.
In a July letter to federal officials, the State Lands Commission said new offshore oil development "creates undeniable peril to California's ocean and marine environment and economy" and poses an unacceptably high risk of "catastrophic harm from an offshore oil spill."
Lt. Gov. Gavin Newsom, a commission member, has vowed to "use every power in its toolbox to ensure that not a drop of oil or gas from new offshore drilling ever makes landfall in California."
Environmental groups say oil exploration and development would only increase the risk of another dangerous spill.
"Opening these areas to drilling endangers sea life, including whales, dolphins and sea turtles, as well as the life and livelihoods of Californians and all Americans in coastal communities," said Dan Jacobson with Environment California.
The oil industry welcomed the proposal and said offshore drilling could be safely expanded.
"This announcement could help California increase our domestic energy production," said Catherine Reheis-Boyd, president of the Western States Petroleum Assn. She added: "Ultimately, Californians do have a say — producing energy [off] California's coast is accomplished through a collaborative federal, state and local regulatory process."
State officials have argued that expanding offshore oil production would most probably require construction of new platforms and onshore support equipment and that is likely to harm the state's multibillion-dollar coastal economy, including tourism, fishing and the marine ecosystem. They also argue that such investments would be counterproductive to state efforts to transition away from fossil fuels to renewable energy sources.
"The days of drilling for oil are numbered," U.S. Sen. Dianne Feinstein (D-Calif.) said in a statement. "We have clean-energy alternatives that can grow our economy faster without jeopardizing our coastal economies and natural resources."
---
UPDATES:
3:35 p.m.: This article was updated to include a tally of the existing offshore oil drilling platforms off the California coastline.
This article was originally published at 3:10 p.m.
The stories shaping California
Get up to speed with our Essential California newsletter, sent six days a week.
You may occasionally receive promotional content from the Los Angeles Times.