California's deadliest fire on record is 100% contained, officials say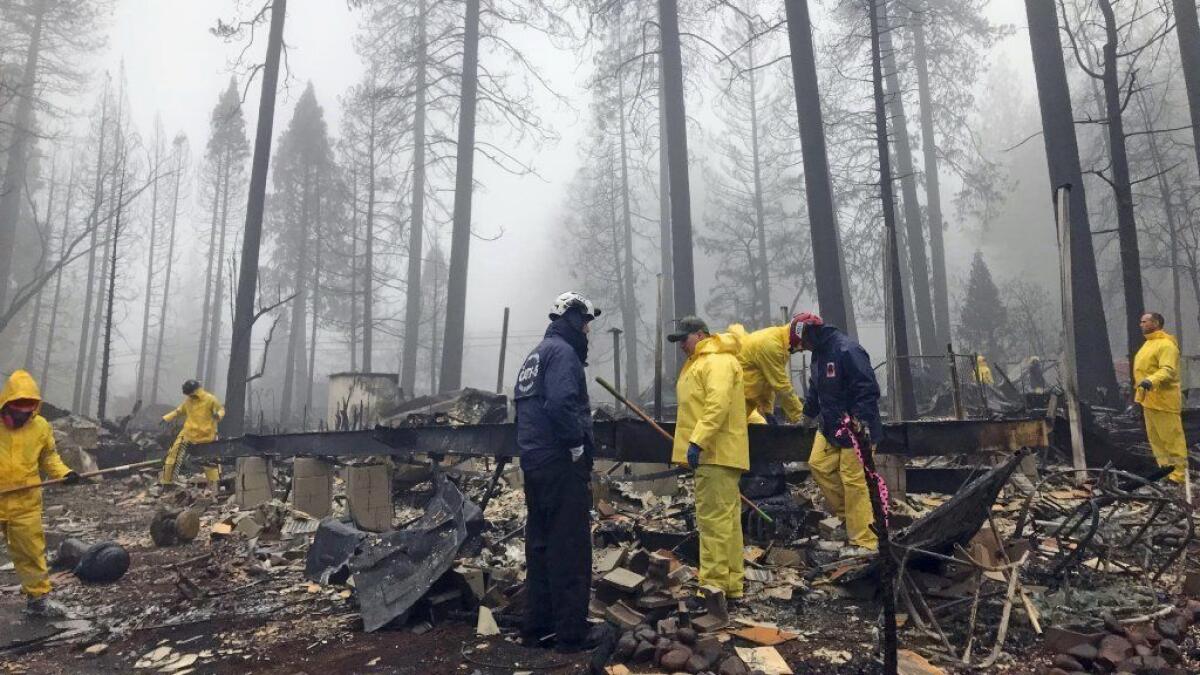 More than two weeks after the deadliest fire on record in California swept through Butte County, killing at least 85 people and destroying 14,000 homes, officials announced Sunday that the massive Camp fire was finally 100% contained.
The devastating blaze, which began on Nov. 8, scorched more than 153,000 acres and destroyed more than 18,000 structures, according to California Department of Forestry and Fire Protection officials. The number of residents still missing stands at 249, and thousands more have been displaced by the massive blaze.
Light rains in the area have assisted firefighters in extinguishing hot spots, but most evacuations and road closures remain in effect. More than 1,000 firefighters remain on site, assisting with search and recovery efforts.
Full containment came as a big relief for fire officials, who noted that the rain helped. Full containment was originally projected for Nov. 30, but the rain helped speed up the process.
"We didn't get mudslides, so that was good," said Brigitte Foster, fire prevention officer for Lassen National Forest and spokeswoman for fire officials regarding the Camp fire. "We got enough to hamper down on the fire."
The rains also gave fire officials the ability to reduce the number of fire personnel and allow them to go home for the holiday weekend.
"We still have plenty of resources out there to work from the containment line and make sure there are no smoldering spots along the edge," Foster said. "We still have search and rescue teams working in the area."
Additionally, crews are helping clear roadways and removing hazardous material such as trees that could fall down before residents are allowed to return to burn areas and assess property damages. It's unknown when they will be able to return.
There are some concerns about storms approaching burn areas this week throughout the state, though they're not expected to cause major debris flows.
Butte County is expecting two storms this week, one on Tuesday and another potentially stronger one Thursday, which could bring wind gusts up to 35 mph in the Camp fire burn area and threaten to knock over trees, said Bill Rasch, a National Weather Service meteorologist in Sacramento. There is a low chance that Thursday's weather system could also bring thunderstorms, which could increase the rate of rainfall enough to prompt mud flows, he said.
"We'll give them an updated confidence on that as it gets closer," Rasch said Sunday. It's likely that the two weather systems combined will bring two to four inches of rain this week, he said — about half as much as the region saw last week.
In Southern California, a Pacific storm may bring half an inch to two inches of rain from Wednesday night through Thursday, but it's also not expected to cause major debris flows in fire burn areas, said Kathy Hoxsie, a National Weather Service meteorologist in Oxnard.
Drivers in the canyons and on Pacific Coast Highway should still beware of minor mud flows and rock falls, though, Hoxsie warned.
"Pacific Coast Highway is kind of known for rocks on the highway, even without fires," she said. "So we want to make sure people are aware that when we're saying we're not expecting at this time any major debris flows, there's a good chance that there will still be minor issues."
Residents in both areas should pay attention to the news and their county emergency alert systems in case forecasts change, weather officials said.
Hundreds of Malibu, Agoura Hills and Thousand Oaks area evacuees spent the holiday weekend returning to their burned-out neighborhoods to survey their damaged or destroyed homes and to begin rebuilding their lives. Some were still debating whether to stay or leave.
The Woolsey fire, which straddled Los Angeles and Ventura counties, began Nov. 8 and killed three people, scorched more than 96,000 acres and destroyed 1,600 structures before it was fully contained on Thanksgiving Day.
Pono Barnes, a spokesman for the Los Angeles County Fire Department, said firefighters are working on encouraging residents to prepare for rainstorms that could potentially develop and move over the burn area this winter season.
"The whole landscape in the area has changed," Barnes said. "The vegetation that was there to hold the ground together was burned off."
Fire officials said the ground that has been burned is unable to absorb water and can lead to runoff problems. Additionally, they said, the loosened soil could abet debris flows.
Residents whose homes sit along steep hillsides have been told to use plastic sheets or sandbags in order to control water erosion.
"The last rain event we had was small and we didn't get any major debris flow, but some portions of the hillsides slid and there was rock debris," Barnes said.
Meanwhile, gas and utility crews have been working to restore service to residents who have been able to return to their homes.
Southern California Gas Co. said crews have completed sweeps through areas that are no longer under mandatory evacuation orders and where gas was turned off. Those areas include the Peter Strauss Ranch community, the Oak Forest Mobile Home Park, the Seminole Mobile Home Park and the area of Morning View Drive and Bonsall Drive in Malibu.
Southern California Edison has restored electricity to more than 39,000 residents but more than 2,400 customers are still waiting for their service to be restored, officials said.
Operations at disaster assistance centers in Malibu and Agoura Hills were extended in order to keep helping residents who were affected by the Woosley fire.
The centers, located at the former Malibu Courthouse and at the Conrad L. Hilton Foundation in Agoura Hills, are scheduled to be open through Dec. 8. Hours of operation are between 1 p.m. and 8 p.m. from Monday to Thursday, and between 10 a.m. to 6 p.m. Friday and Saturday
At the centers, residents affected by the fire can get help filing insurance claims and applying for FEMA assistance. They can also receive advice on how to clean up, repair and rebuild their properties.
---
UPDATES:
Noon: This article was updated with information about the Woosley fire and comments from fire officials.
11:05 a.m.: This article was updated with information from weather officials.
9:45 a.m.: This article was updated with new information from fire officials.
This article was originally posted at 9 a.m.
Sign up for Essential California for news, features and recommendations from the L.A. Times and beyond in your inbox six days a week.
You may occasionally receive promotional content from the Los Angeles Times.