'Rehab mogul' accused of sexually assaulting patients and 'elaborate' fraud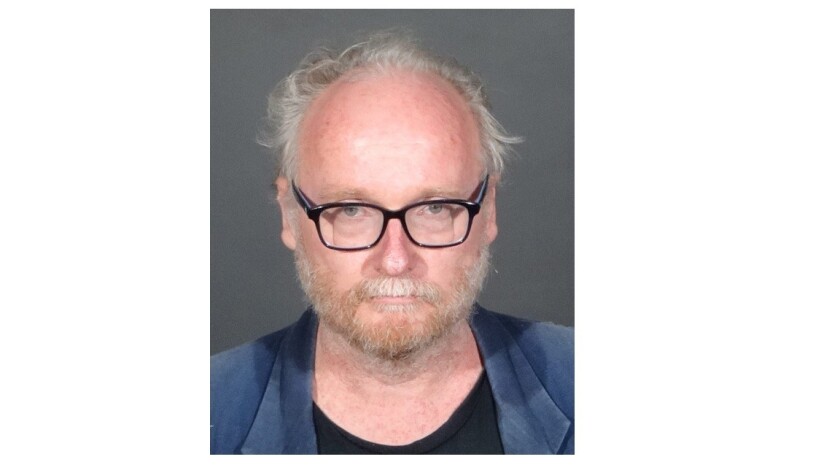 The founder of 19 sober-living facilities in Southern California and Colorado was arrested Thursday on suspicion of sexually assaulting more than a dozen female patients as well as defrauding insurers in an elaborate $176-million scheme, authorities said.
Christopher Bathum, a self-described "rehab mogul," was taken into custody at his Agoura Hills home during a raid that included searches of 15 locations in Los Angeles and Orange counties, according to law enforcement officials. The 55-year-old operator of Community Recovery of Los Angeles, also known as CRLA, was booked on several counts of sexual assault, said Lt. Todd Deeds of the Los Angeles County Sheriff's Department's Major Crime Bureau.
In addition, Bathum and the firm's chief executive, Kirsten Wallace — who was also arrested — are accused of stealing patients' identities to buy health policies without their knowledge, according to the California Department of Insurance. They continued to bill insurance companies for tens of millions of dollars in drug and alcohol treatment after the services were completed, the department alleged in a news release.
Insurance companies paid out $44 million before they discovered the fraud, according to the department.
"Bathum and Wallace's alleged conspiracy victimized hundreds of people addicted to drugs and alcohol by keeping them in a never-ending cycle of treatment, addiction, and fraud — all the while lining their pockets with millions of dollars from allegedly fraudulent insurance claims," said Insurance Commissioner Dave Jones in a statement.
According to the Sheriff's Department, Bathum ran six centers in Colorado and 13 drug and alcohol rehabilitation facilities in Los Angeles and Orange counties.
Detectives began investigating Bathum in May after someone filed a sexual assault complaint, Deeds said. Deeds declined to describe the allegations against Bathum, but he said more than a dozen former patients have accused him of sexual assault. The assaults allegedly occurred between 2012 and 2016 at the treatment centers.
Deeds said he suspects there could be more victims and urged any others to notify investigators.
"We want every one of them to come forward," the lieutenant said. "He is in custody right now."
Formal charges have not been filed against Bathum, said Jane Robison, a spokeswoman for the Los Angeles County district attorney's office.
The investigation was launched a month before ABC's "20/20" aired an hourlong episode on Bathum and his treatment centers, which had been the subject of an L.A. Weekly report last year detailing the allegations and dozens of lawsuits filed against him.
In the episode, Amanda Jester, one of the women who filed a lawsuit against Bathum, said his Malibu facility appeared to offer the relief and help she needed to free herself from her alcohol addiction. Jester alleged that he sexually assaulted her in a sweat lodge on the massive property and in a hotel room.
"I have no credit card, no money, no cellphone — I felt like I had no choice," she said.
Other recovering addicts praised Bathum for helping them.
Bathum has denied the allegations.
"You gotta understand something. You're in a world of accusations that's amazingly complex and has people saying ... all kinds of crazy things … in a trauma-filled world," he told 20/20.
For breaking news in California, follow @VeronicaRochaLA on Twitter.
MORE LOCAL NEWS
Los Angeles is ready to embrace a new future
Anti-Trump protesters swarm downtown L.A. for third night; graffiti and vandalism reported
Juan Corona, California serial killer convicted of killing 25 farmworkers, is again denied parole
---
The stories shaping California
Get up to speed with our Essential California newsletter, sent six days a week.
You may occasionally receive promotional content from the Los Angeles Times.