MS-13 gang member and convicted killer are arrested after coming to U.S. border in migrant caravan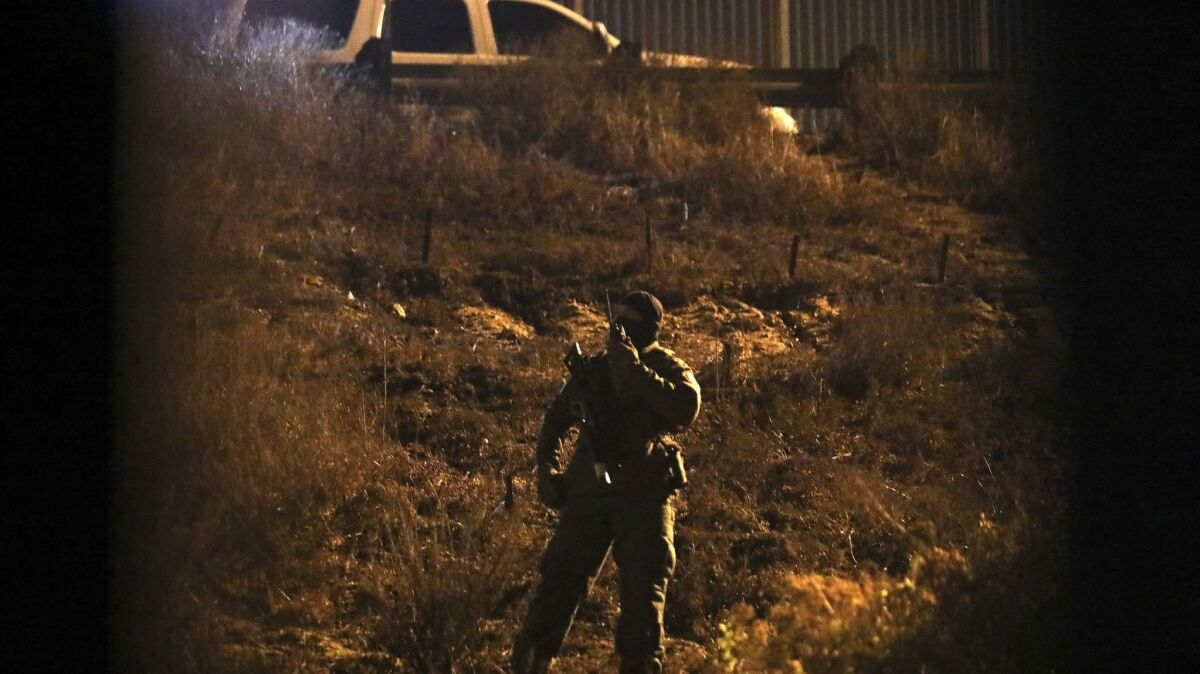 Reporting from SAN DIEGO —
A killer convicted in Honduras and an MS-13 gang member also from Honduras were arrested in California last weekend after crossing the border illegally, Border Patrol said Friday.
The two are being held up by federal authorities as examples of some of the criminals who have traveled through Mexico to the border with Central American caravans hoping to enter the U.S., many through the asylum process.
Both arrests occurred Saturday.
Around 11 p.m., agents detected three people crossing the border about one mile east of the San Ysidro Port of Entry, authorities said. The trio was arrested and taken to a Border Patrol station for processing. There, documents indicated that one of the men had been released recently from prison in Honduras after serving 10 years for homicide and three years for robbery.
The man, 46, admitted he'd been released four months ago and traveled with the caravan to Tijuana.
The man's record was confirmed with the Honduran Consulate in Los Angeles.
The two other men with him, ages 22 and 38, are also from Honduras. One had been deported previously, authorities said.
All three are being held in Department of Homeland Security custody pending deportation proceedings, officials said, with no criminal charges filed. It was unclear why they weren't being charged with illegal entry under the Trump administration's "zero tolerance" policy.
Earlier in the evening near the Calexico Port of Entry, Border Patrol agents encountered a 29-year-old man suspected of being in the country illegally, authorities said. The man told agents that he was a Honduran citizen who had traveled with the caravan, and that he was an active gang member with MS-13, a notoriously violent group.
He also was being held pending immigration processing and repatriation to Honduras with no criminal charges filed.
Davis writes for the San Diego Union-Tribune.
The stories shaping California
Get up to speed with our Essential California newsletter, sent six days a week.
You may occasionally receive promotional content from the Los Angeles Times.