L.A. City Council backs Hollywood project with new apartment towers
The Los Angeles City Council granted its approval Tuesday of a vast new project that will include glassy towers with more than 900 new units of housing, over 300 hotel rooms and new shops and restaurants on more than eight acres in Hollywood.
The $1-billion development will give rise to nine new buildings, including three skyscrapers, the tallest of which will measure 31 stories. Backers of the Crossroads Hollywood project said it would bring in needed housing and give an economic jolt to the neighborhood.
Alfredo Hernandez, executive director of the Hollywood Media District Business Improvement District, called it a "catalytic project" that would provide housing and generate jobs and tax revenue.
"This is an underutilized part of Hollywood that could really use some pedestrian activity, some new businesses," Hernandez said. "It's just a general boost for the entire area."
The council decision disappointed the Coalition to Preserve L.A., a group that had publicly called for L.A. politicians to put off the vote in light of the ongoing FBI investigation of City Hall. Opponents charged that the Crossroads Hollywood project would harm the neighborhood by fueling gentrification, worsening pollution and choking the area with traffic.
"Let's be clear — what we are looking at is the wiping out of a historic, diverse community by this developer. … This project will exacerbate the pricing-out of working families and invite in even more unaffordable housing," said Jorge Castaneda, a community organizer with the Coalition to Preserve L.A., which has sharply criticized development decisions at City Hall.
Critics also argued that the massive development was "under a cloud" due to the FBI probe. Federal agents have scrutinized at least two members of the City Council and have sought records from real estate developers about any political donations and gifts given to Councilman Jose Huizar, his staff or his colleagues, The Times has reported.
A federal warrant named Huizar, Councilman Curren Price and others in City Hall and the development world as agents sought evidence of possible crimes, including bribery, kickbacks and extortion.
The document did not say that agents had evidence of criminal activity by any of the people named, and no one has been arrested or charged.
At a packed hearing at City Hall last week, Crossroads Hollywood opponents held up signs reading "Stop Pay to Play," repeatedly invoked the FBI probe and complained about Harridge Development Group executives and representatives making political donations and meeting privately with council members.
The money devoted to lobbying "seems to show that the major consideration in approving projects like Crossroads is not better community planning or concern for communities — it's money," said Casey Maddren, president of United Neighborhoods for Los Angeles, which has raised concerns about how development affects neighborhoods.
Backers of the project countered that there was no evidence that the Crossroads Hollywood project was implicated in the federal investigation. A Harridge representative said the company had not received a subpoena.
During the hearing last week of a council committee focused on planning and development issues, Councilman Gil Cedillo complained about "hysteria" surrounding the FBI probe, saying it had nothing to do with what was happening at the committee.
Huizar was removed from the committee in November, after his home and offices were raided by the FBI; Price still sits on the committee but was absent for the vote.
"It's like 'The Day of the Locust' here at City Hall now," Cedillo said.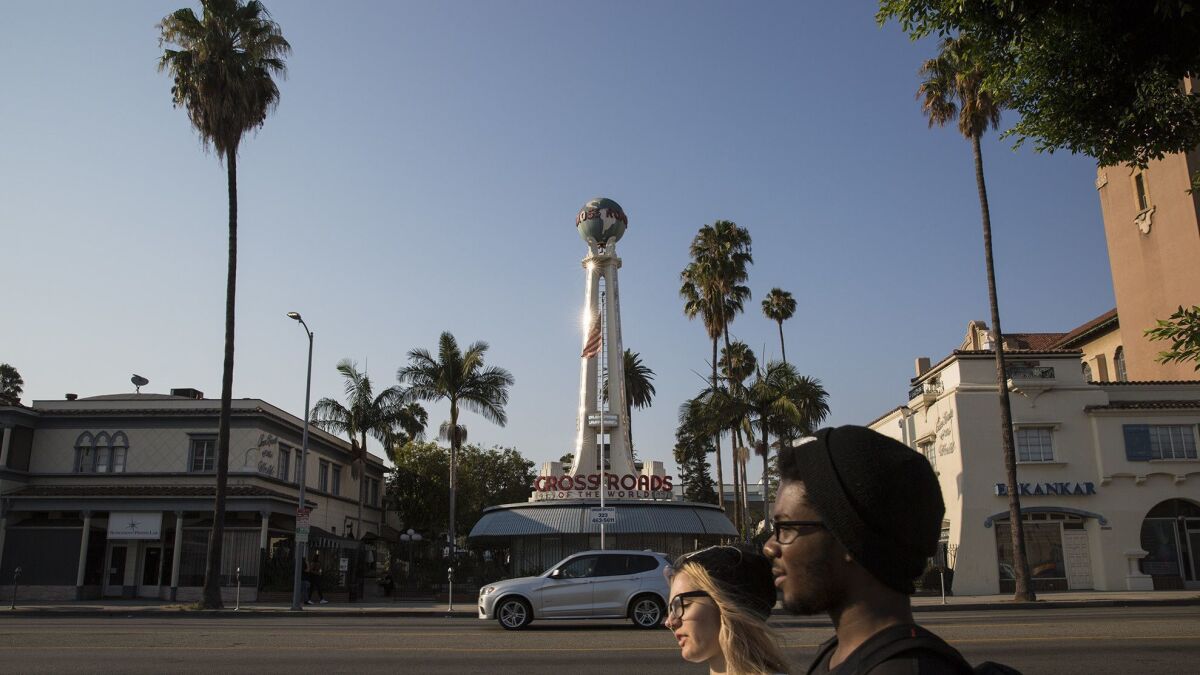 Representatives of Harridge Development Group argued that the new project would deliver sorely needed housing, including more than 100 units for "very low-income" households to replace the 82-rent stabilized apartments being torn down, in an area served by several bus routes and a Metro Red Line station.
They also stated that tenants living in an apartment complex that is going to be torn down would be able to come back to the new building at their current rents, plus increases allowed under the rent-stabilization ordinance. Jon Hofferman, a member of the Crossroads Tenants Assn., said that tenants had heard that verbally, but were anxious to get that promise in writing.
Craig Bullock, an aide to Councilman Mitch O'Farrell, stressed last week that a number of buildings on the site will be retained, including the Crossroads of the World shopping plaza known for its rotating globe visible from Sunset Boulevard. Before Tuesday's vote at City Hall, members of business and labor groups also voiced support.
The City Council voted 13 to 0 Tuesday to allow the project to move forward. Price, whose spokeswoman said last year that he would recuse himself from voting on Crossroads Hollywood amid questions about his wife being hired as a relocation consultant on the project, was absent. O'Farrell, who represents the area where the project is proposed, was also absent for the final vote.
Twitter: @AlpertReyes
---
The stories shaping California
Get up to speed with our Essential California newsletter, sent six days a week.
You may occasionally receive promotional content from the Los Angeles Times.