Anti-violence activist Denise Harlins dies; aunt of Latasha Harlins, whose killing sparked anger before L.A. riots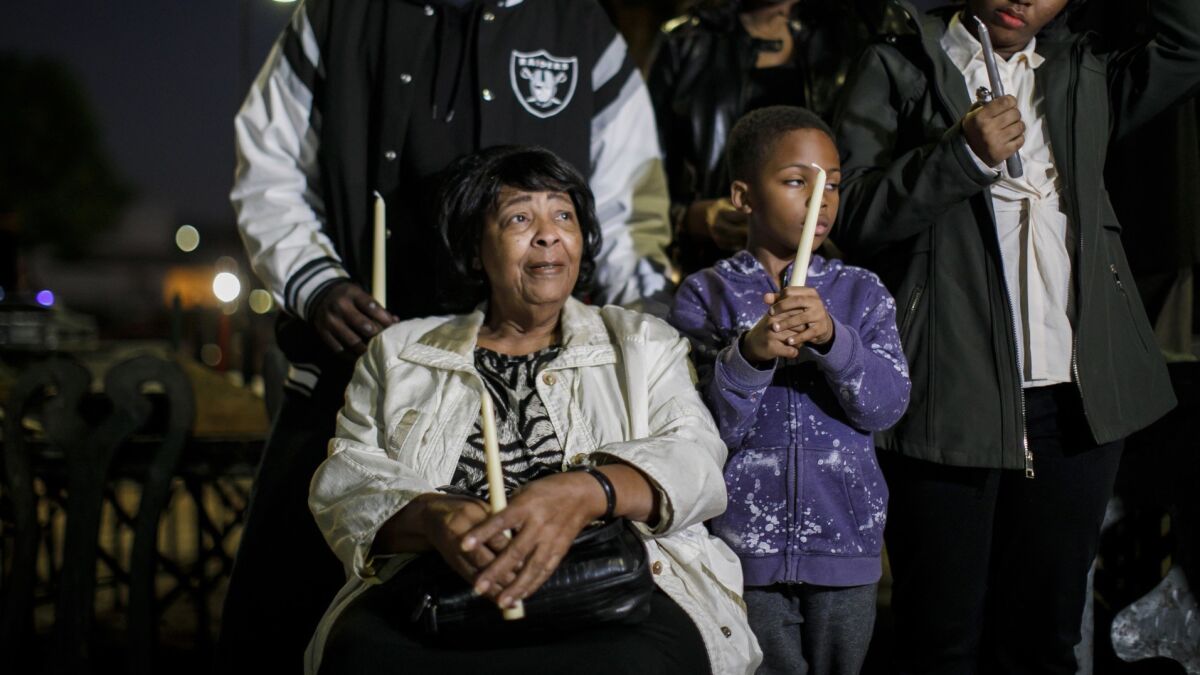 Denise Harlins, who became an activist after her 15-year-old niece was fatally shot in the lead-up to the 1992 Los Angeles riots, died Tuesday.
Her death from congestive heart failure was announced by Najee Ali, an L.A. community activist. Her family hosted a candlelight vigil in her memory Wednesday evening in Leimert Park Village.
Harlins' niece, Latasha Harlins, was killed two weeks after the beating of Rodney King. A Korean-born shopkeeper shot the girl in the back of the head in a dispute over a bottle of orange juice.
The two racially charged incidents sparked outrage in Los Angeles that eventually boiled over into the 1992 L.A. riots. Some rioters invoked the teenager's name as they torched buildings in South L.A.
On March 16, 1991, Latasha walked to Empire Liquor Market and Deli on 91st and Figueroa streets, put a bottle of orange juice in her knapsack, then went to the counter. Soon Ja Du, the store owner, accused the girl of trying to steal the juice.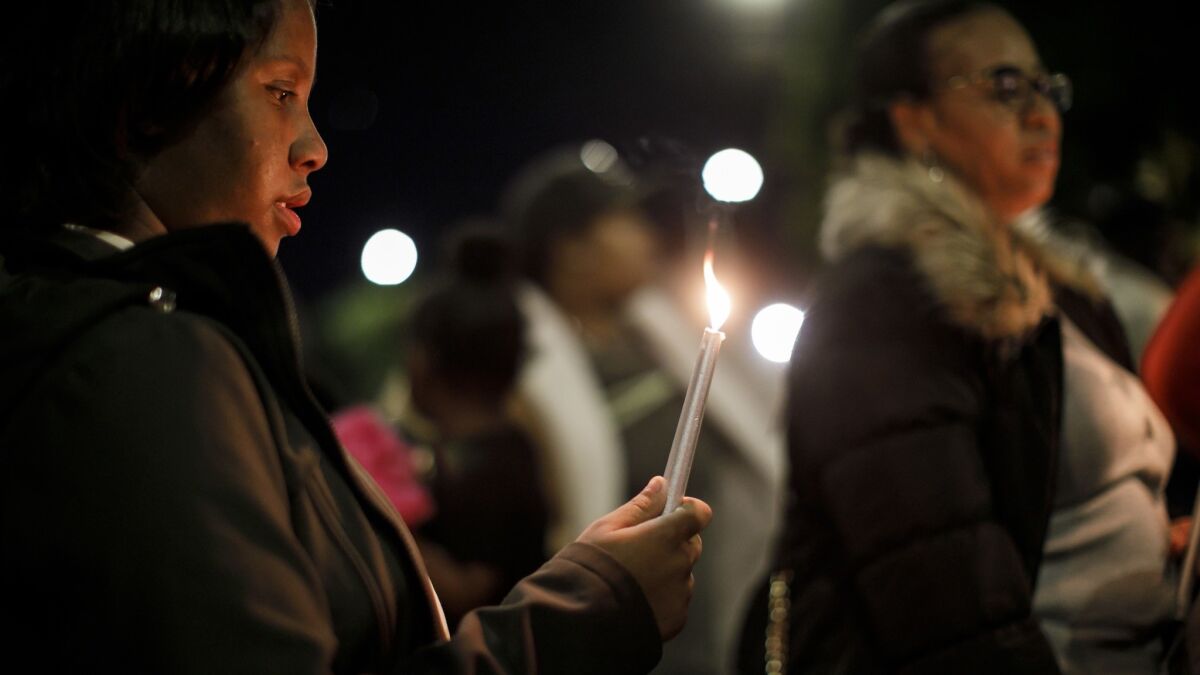 Witnesses said Latasha told Du she intended to pay and revealed two dollar bills in her hand; police later concluded that there was "no attempt at shoplifting" by Latasha.
But Du grabbed the teen's sweater, and as the two struggled, Latasha broke free after striking Du in the face, knocking her down. Latasha tossed the juice on the counter and walked to the door. Du picked up a .38-caliber handgun and fired a shot into the back of Latasha's head, killing her.
A jury found Du guilty of voluntary manslaughter, with a maximum sentence of 16 years in prison. The judge gave her probation, 400 hours of community service and a $500 fine.
Before Latasha's death, Denise Harlins had not been politically involved.
"I didn't know how to even write a press release," she said, according to a 1993 Los Angeles Times article. She had quit her job with the state Department of Insurance to go back to college and study business management — with the hope of starting her own business.
To save money, she moved in with her mother, who was raising Latasha and the girl's siblings. In the weeks after Latasha's killing, Harlins launched a crusade to preserve her niece's memory, forming two organizations bearing the girl's name.
The Latasha Harlins Justice Committee began a years-long battle to overturn the sentence and recall the judge. Both efforts were unsuccessful.
Harlins lobbied public officials, staged protests and marched in parades.
"Harlins became a staunch activist who led the protests demanding justice for her murdered niece and continued to speak out against gun violence, violence against children and calling for racial unity," Ali said on Facebook. "I lost a dear friend and fellow activist. Denise represented the best of South Central."
Twitter: @Brittny_Mejia
---
Life is stressful. Our weekly mental wellness newsletter can help.
You may occasionally receive promotional content from the Los Angeles Times.