'You ain't poppin' unless you got haters': Aspiring rapper turns L.A. commute into nightmare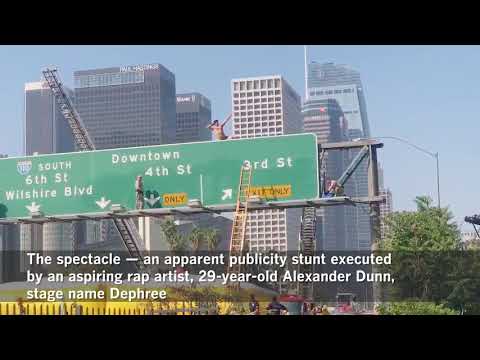 An aspiring rap artist caused a massive traffic jam, paralyzing much of downtown as police officers and firefighters scaled a freeway sign to try to remove him.
The worst qualities of Los Angeles — endless traffic and shameless self-promotion — collided in exasperating fashion Wednesday on the 110 Freeway in downtown.
It happened about 8 a.m. when a husky, shirtless man in underwear scaled an exit sign near 3rd Street, unfurled several banners and began vaping, dancing and shouting through a bullhorn as thousands of motorists looked on in various states of amusement, anger and resignation.
The spectacle shut down the freeway's packed southbound lanes for roughly two hours and paralyzed much of traffic downtown as police officers and firefighters attempted to coax the man from his perilous perch.
By 10 a.m. officers had convinced the man to end his performance. He stood up facing the sign and did a backflip onto an enormous inflated cushion firefighters had placed below. As police escorted him away, he yelled to bystanders: "I love you all!"
Soon after, the man was booked on suspicion of delaying a police officer, trespassing on state property and failure to obey a regulatory sign. It was also revealed that the whole exercise was a publicity stunt.
Alexander Dunn, 29, an aspiring rapper who goes by the name Dephree, had been planning a big splash in advance of a music video that was supposed to come out Wednesday evening.
Footage of Dunn's traffic sign antics will be featured in the video, according to his close friend and manager, King Graint.
Graint, who declined to give his actual name, told a Times reporter the act wasn't all about self-promotion though. The performer also wanted to deliver a message about the environment.
"Dephree is truly, truly passionate about the environment," Graint said. "He became a rapper and wanted to be a rapper to get a platform to talk about it."
Among the banners Dunn hung from the sign were one that read "Fight pollution not each other," and another that said "Give a hoot, don't pollute."
A third banner with graffiti-style writing simply had Dephree painted across it.
Initially, Dunn had wanted to scale a traffic sign at the intersection of Hollywood and Highland, but Graint said that was a non-starter.
"Dude there's no way you're going to fit," he said he told Dunn. "You're going to be too big. You're going to break the thing."
Then Graint was driving down the freeway and was struck with inspiration. The metaphor of shutting down the freeway — with all that smog —he said, was perfect.
Witnesses said Dunn was alternating between yelling about himself, love and God, and freestyle rapping. He also took breaks and would sit down and vape.
Jeiron Session, a freelance videographer from New York, was driving by when he saw the man, nearly naked on the exit sign for southbound 6th Street, Wilshire Boulevard and downtown 4th Street offramps. Incredulous, he stopped his car and started shooting video. Session noticed his signs about pollution and said he was making some relevant arguments.
"He's getting his point across, getting attention," Session said. "Whatever it is, I'm with him."
The incident was just the latest in a number of publicity stunts that have brought L.A. freeways to a grinding halt — including a YouTubed episode in which hundreds of motorcyclists blocked the 10 Freeway in West Covina while a man proposed to his girlfriend.
However, Wednesday's sign escapade could carry financial consequences for the performer, according to one expert.
Former L.A. County Dist. Atty. Steve Cooley said prosecutors could consider additional charges if they have evidence the stunt was done for commercial gain.
"If you can establish that the act caused damages, then you seek to get that money back from the perpetrator," Cooley said.
That was the case in 2010, when an Orange County band enraged thousands of motorists by blocking the 101 Freeway in Hollywood to perform an impromptu concert on top of a truck. A judge later ordered band members to pay Caltrans nearly $40,000 in restitution.
As Wednesday's performance art played out, traffic was snarled for miles. Frustrated commuters were searching for an explanation for why this ride into work was so bad.
Graint said that Dunn probably wouldn't mind the vitriol he had sparked.
"You ain't poppin' unless you got haters," said Graint. Dunn, he said, wouldn't care about people being stuck in traffic "because the bigger picture is saving the environment and rapping."
The two have known each other since high school and, in recent years, have released several songs and music videos. Many of them feature Dunn dancing in Tommy Hilfiger boxer-briefs like the ones he wore Wednesday.
"He wants an endorsement from Hanes or Ralph Lauren or Fruit of the Loom," the producer added.
Angelenos who followed the episode on social media, or who were trapped in traffic, wondered whether Dunn might be suicidal or mentally unstable. This couldn't be further from the truth, said Dunn's friend and frequent collaborator, Jennifer Hebert, whose stage name is JenVoix.
They used to work together at a sober living facility, and she said he was beloved by clients for his upbeat and positive demeanor.
"He's one of the happiest mofos I've ever met — always so positive. People think he's suicidal. No, he loves his life!"
Hebert saw Dunn Tuesday night while they were filming a video for their album. She had an inkling that he was going to do something nuts, but was still surprised that Dunn's antics had gained so much traction.
"I'm just trying to blow up in the rap game. That's totally what he would say."
Times Staff Writers Joseph Serna and Richard Winton contributed to this report.
Sign up for Essential California for news, features and recommendations from the L.A. Times and beyond in your inbox six days a week.
You may occasionally receive promotional content from the Los Angeles Times.