Drone pilot is grounded and must forfeit device after interfering with LAPD search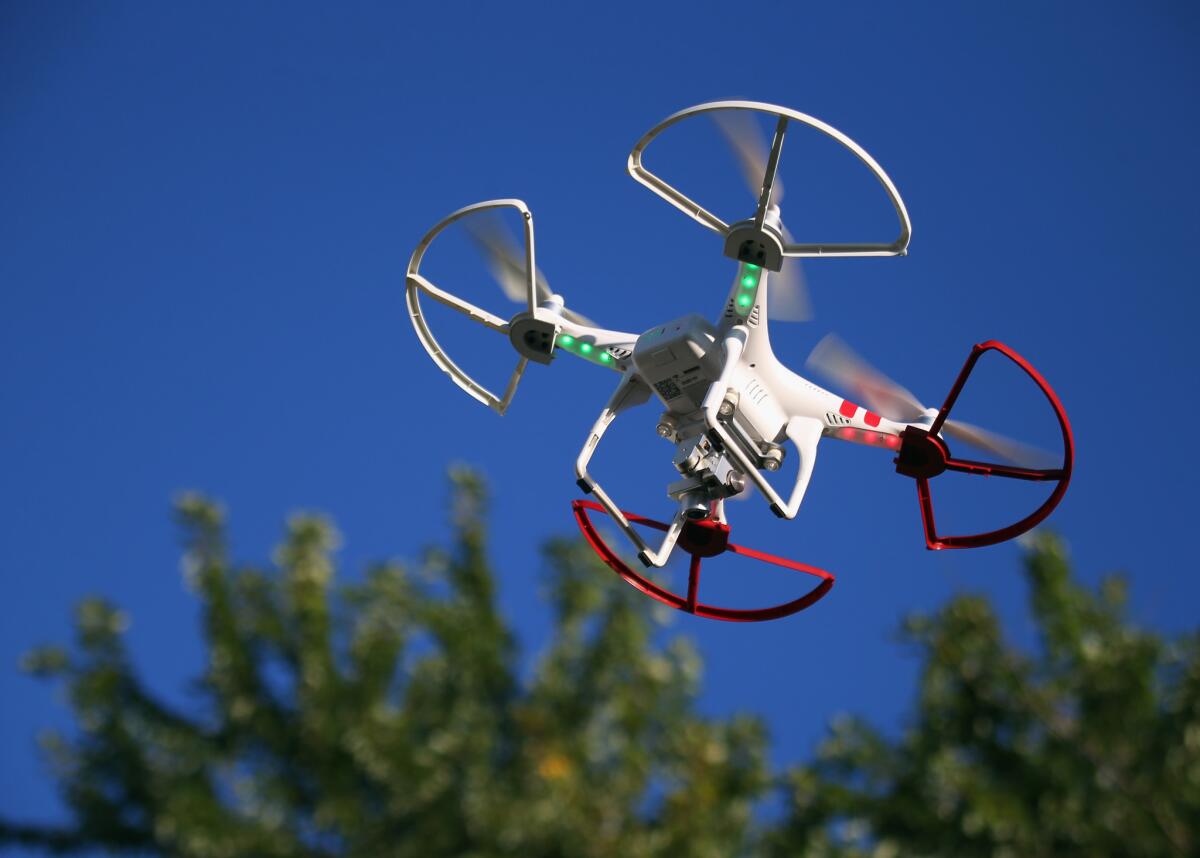 A man who flew a drone near an LAPD helicopter during a manhunt in Hollywood has to turn over the drone and promise not to fly another one for at least the next three years, the Los Angeles city attorney's office announced Wednesday.
Martin Sheldon, 57, pleaded no contest Wednesday to obstructing a police officer on Aug. 27 when he flew the device near an LAPD chopper hovering over a section of east Hollywood where authorities were looking for a man wanted for assault with a deadly weapon.
Sheldon was ordered to turn over his $6,000 drone system, perform 30 days of community labor and promise not to own or fly a drone or any other unmanned remote aircraft during his three years of probation, the city attorney's office said.
"Interfering with a police investigation through the careless operation of a drone places our officers and the public at serious risk," City Atty. Mike Feuer said in a statement. "This conviction sends a strong message that we will hold those who recklessly operate these devices accountable for their actions."
A police helicopter was helping officers on the ground look for a person around Western Avenue and Sunset Boulevard, where police had set up a perimeter, when the drone flew nearby, said Officer Nuria Vanegas of the Los Angeles Police Department.
The helicopter "had to make some movements to avoid" the drone, she said. Officers found Sheldon in a nearby parking lot and took him and his drone into custody.
As civilian drone use has become more prevalent, especially in overcrowded public places and areas inaccessible by foot such as wildfire zones and inside police perimeters, state and local lawmakers have sought ways to regulate their use.
In September, Gov. Jerry Brown vetoed a bill that would have prohibited drone flights up to 350 feet above private property without the property owner's consent. In vetoing the bill, Brown said the bill was well-intentioned but "could expose the occasional hobbyist and the FAA-approved commercial user alike to burdensome litigation and new causes of action."
The L.A. City Council, meanwhile, recently approved an ordinance criminalizing a violation of many of the FAA's guidelines for drone flights.
Drone flights over wildfire areas are already prohibited because of temporary flight restrictions issued by state and federal fire agencies, but recent incidents have reignited the effort to enforce them.
For breaking California news, follow @JosephSerna.
ALSO
Victim finds cellphone thief's selfie in her cloud storage, police say
Historic Taco Bell building to make 'run for' Irvine on the back of a truck
450 illegal tamales from Mexico seized at LAX and 'incinerated' (not steamed)
Sign up for Essential California for news, features and recommendations from the L.A. Times and beyond in your inbox six days a week.
You may occasionally receive promotional content from the Los Angeles Times.