Joke's on L.A.: Comedy Central behind Dumb Starbucks faux shop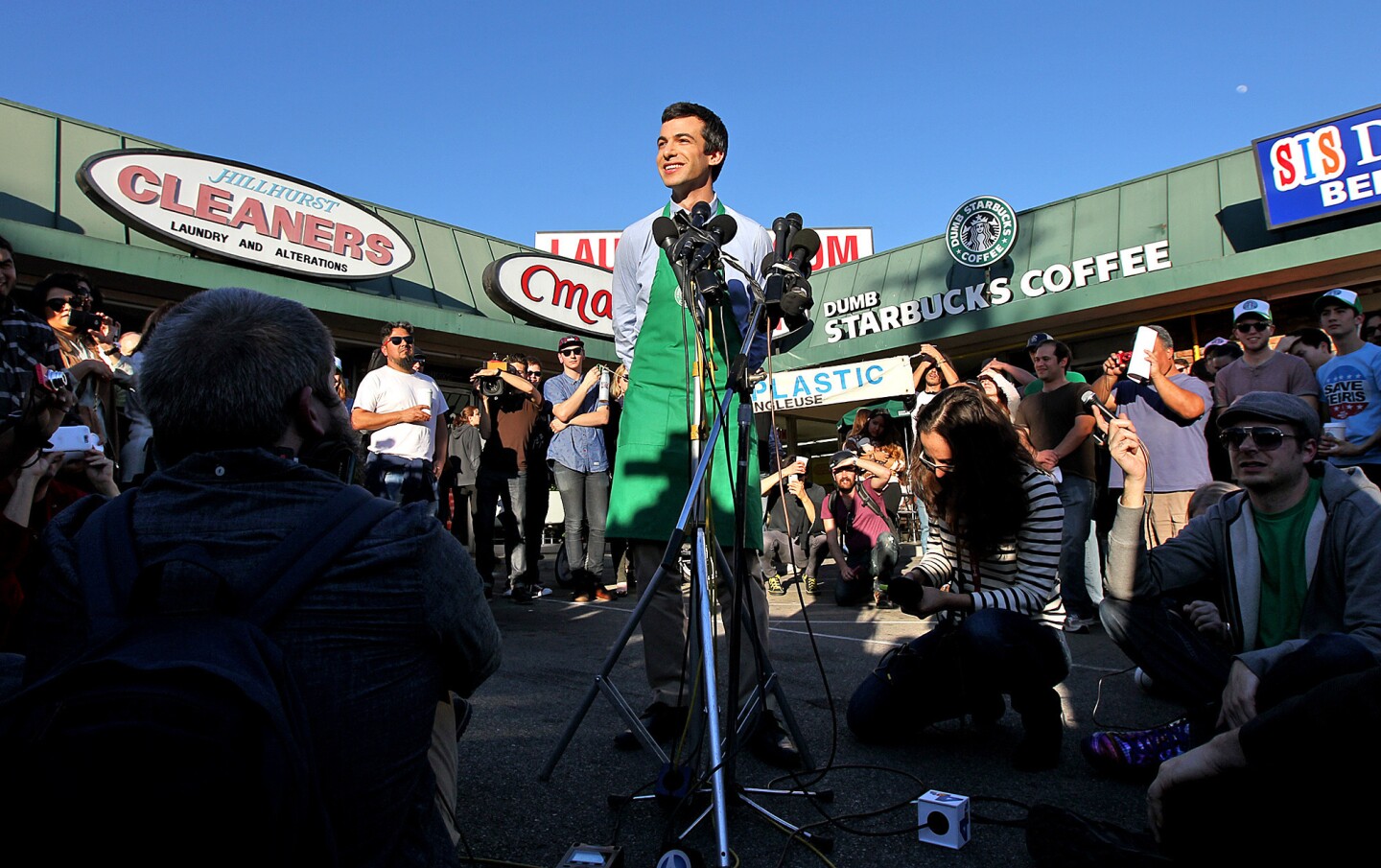 Comedian Nathan Fielder held a tongue-in-cheek news conference outside his Dumb Starbucks store in Los Feliz.
(Christina House / For The Times)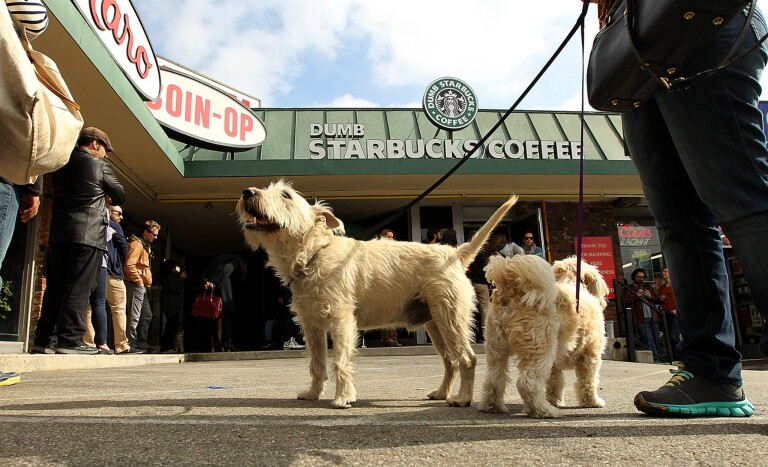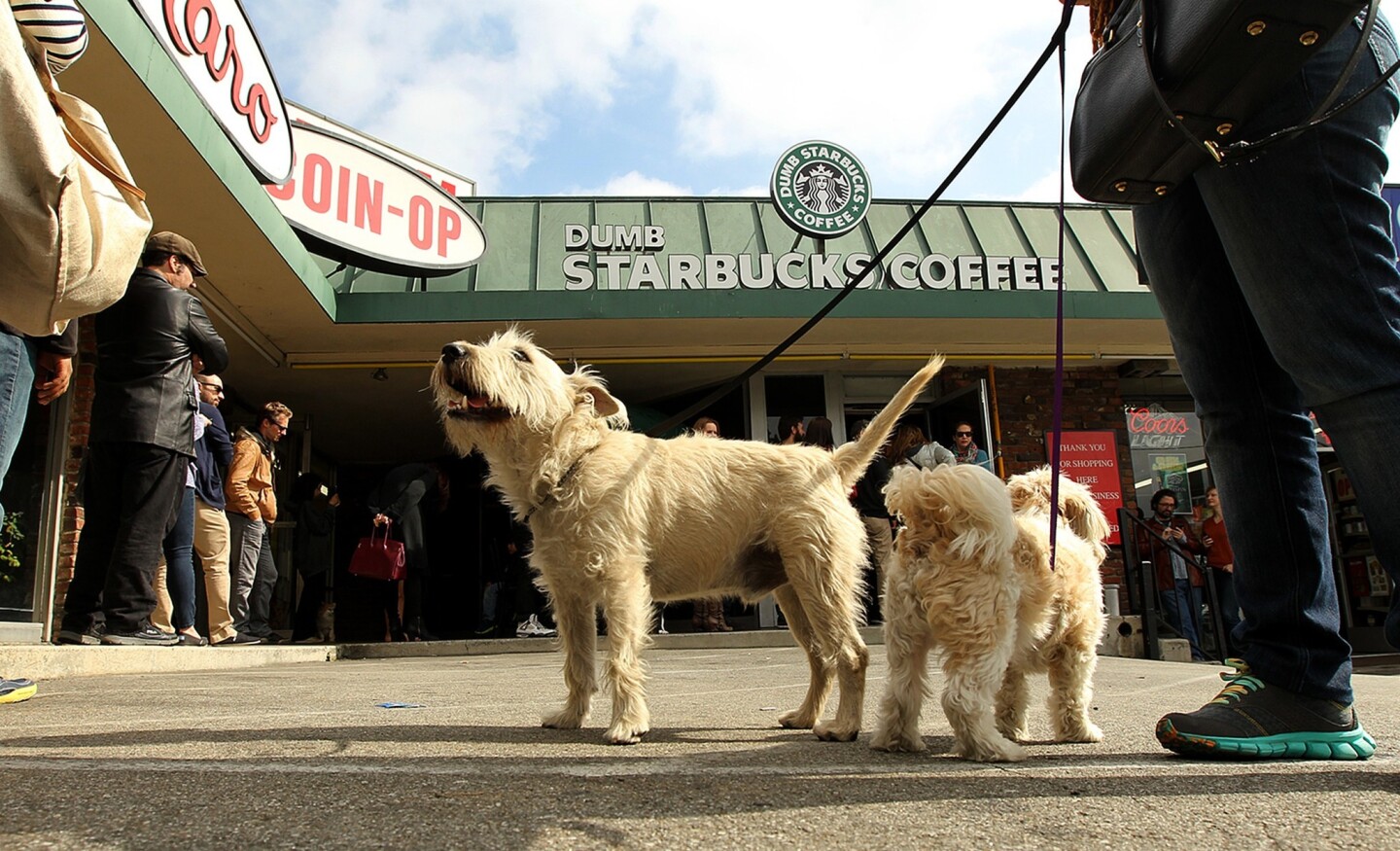 People wait in line, some for hours, for free coffee at Dumb Starbucks in a Los Feliz strip mall.
(Christina House / For The Times)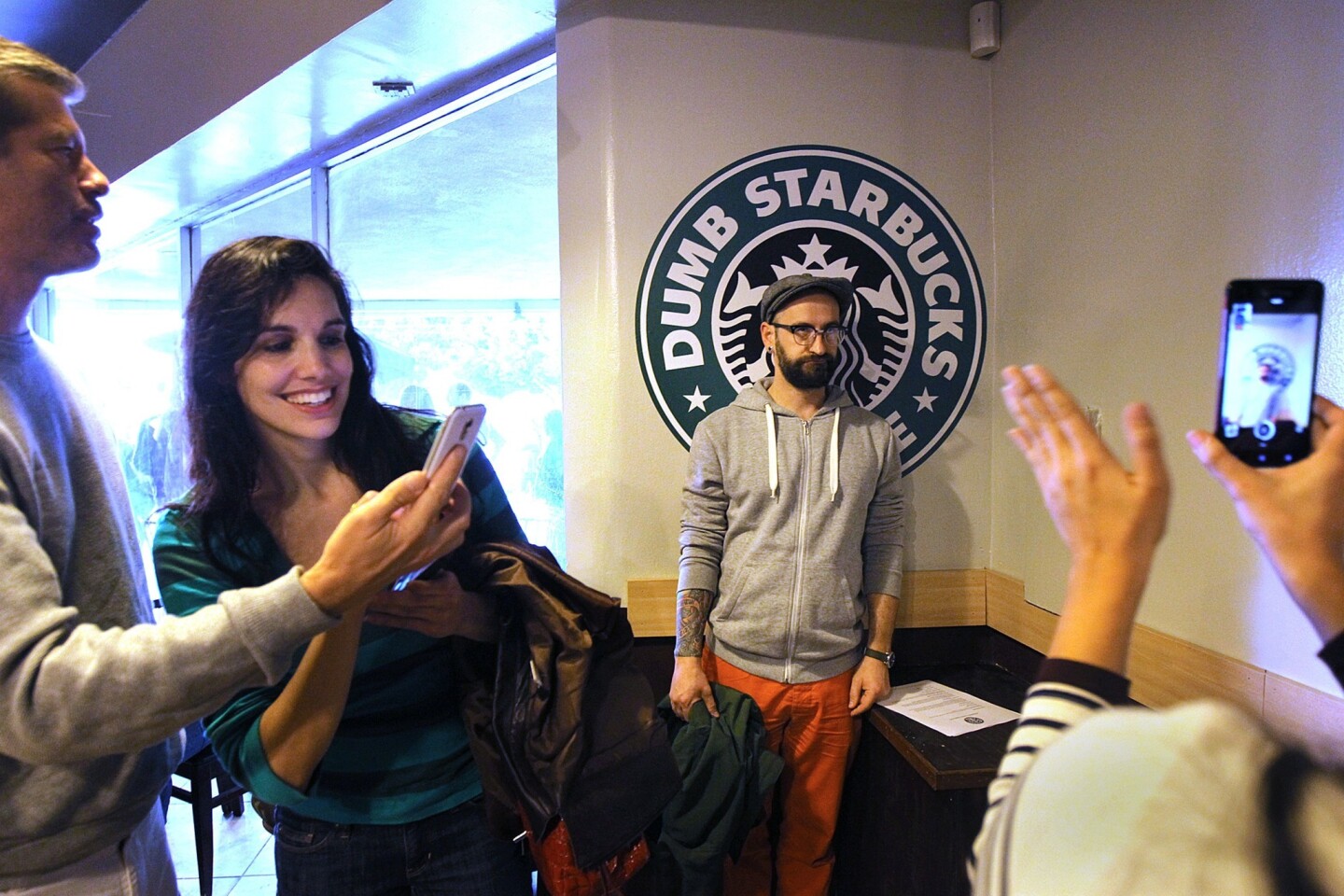 Jeffrey Eyster, left, and Kimmie Fadem check out their photo while Alexander Walter poses for a photo by Kaori Walter in front of the Dumb Starbucks logo.
(Christina House / For The Times)
A menu lists many items at Dumb Starbucks, but the two workers there Sunday were serving only iced coffees and lattes -- free of charge.
(Christina House / For The Times)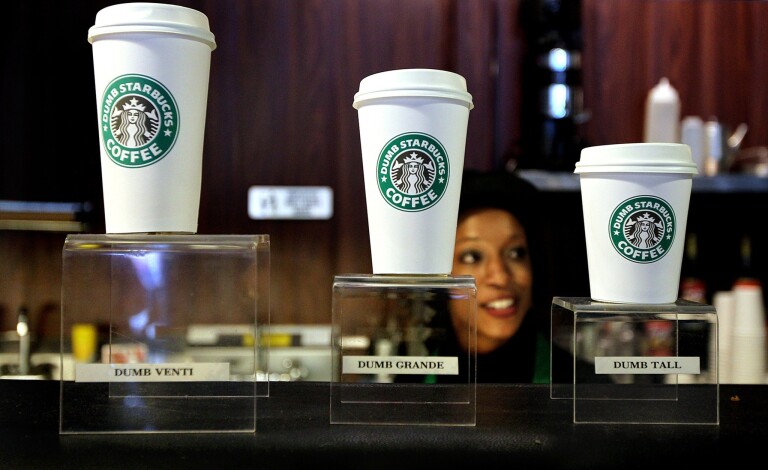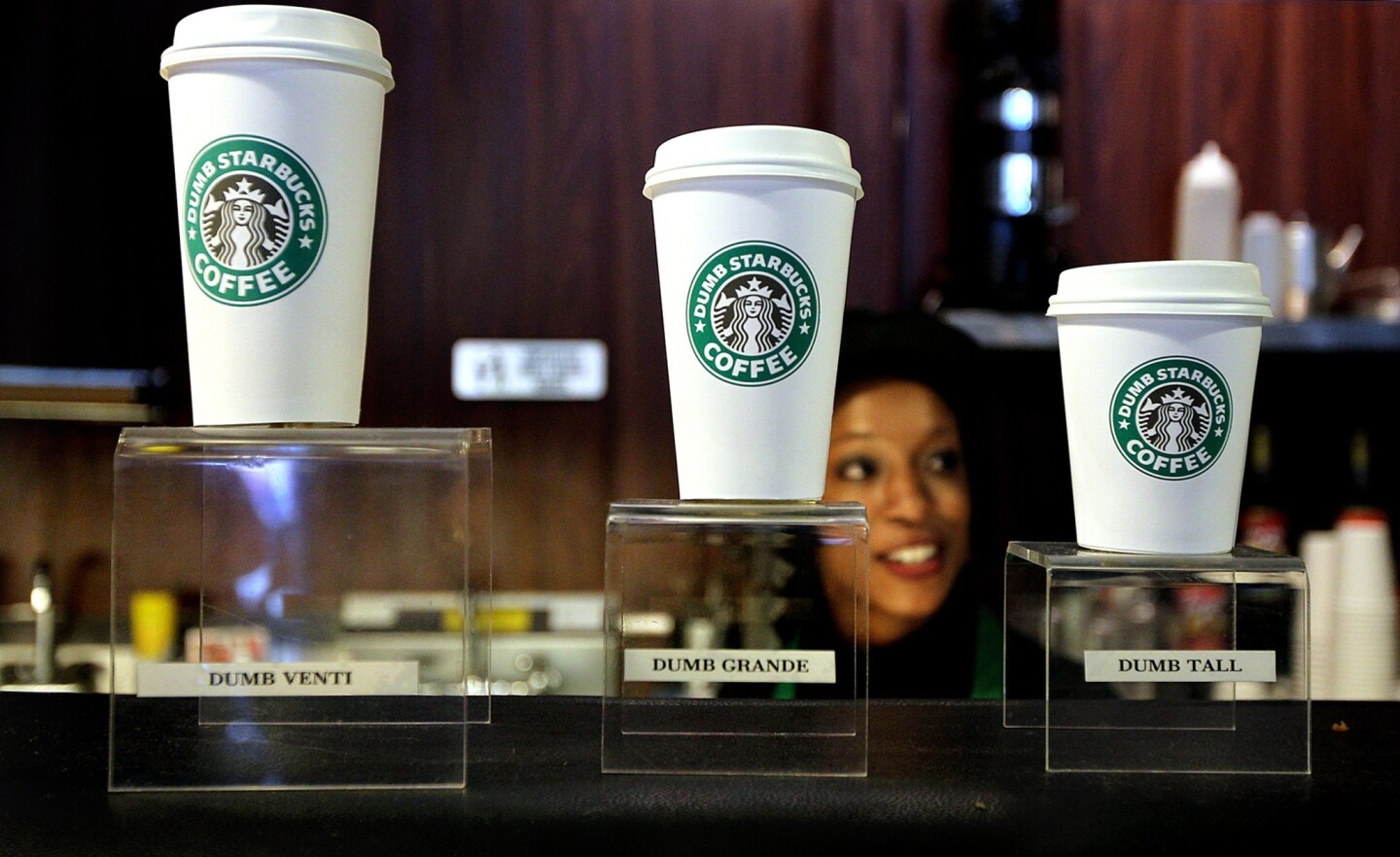 Cup sizes are displayed for patrons at Dumb Starbucks. Starbucks is aware of the parody and is "looking into it," a company spokeswoman says.
(Christina House / For The Times)
Music CDs are displayed at Dumb Starbucks. Its website says the mock store is an art gallery where the coffee is considered the art.
(Christina House / For The Times)
A knowing laugh went up in the crowd when comedian Nathan Fielder walked out of Dumb Starbucks in Los Feliz on Monday evening in a green apron adorned with the mock logo.
Dozens of people were still waiting in line for cups – beverages were no longer being served – as Fielder began a tongue-in-cheek news conference outside the store in a Hillhurst Avenue strip mall.
"Firstly, I'd like to thank our customers, neighbors and the community of Los Feliz for embracing my independent coffee shop with open arms," he said. "Obviously running a business is hard, especially a small business and we've encountered some major pushback."
Fielder, whose "Nathan for You" show airs on Comedy Central, told reporters and Dumb Starbucks patrons who filled the strip mall parking lot that he has always wanted to own a small business. Capitalizing on Starbucks' corporate name really helped this one take off.
"There have been lines around the block and very few small businesses get that from the start," he said.
Throughout the conference, Fielder turned the spotlight on media and onlookers, at one point heckling a reporter who tried to remove her microphone before he was finished.
"You can't just run up and take a mic. You can come at the end and you can claim it. I'm not done yet," he said.
As for the legality of the shop, the comedian said he doesn't need permission to use the Starbucks logo because he's operating under parody law. Though he said the corporation hasn't contacted him personally, they have made statements through the media.
"I am going to say if they keep the pressure up they do risk losing me as a customer," he said.
The real Starbucks said earlier Monday that it was looking into the parody coffee shop, which quietly opened Friday.
"We are evaluating next steps and while we appreciate the humor, they cannot use our name, which is a protected trademark," said Zack Hutson, a spokesman for the company.
But the Los Angeles County Department of Public Health got there first, shutting Dumb Starbucks down Monday evening for operating without a health permit, according to the department.
As people filed in and out of the shop, Todd David Schwartz hawked hats, mugs and stickers made by a local novelty shop.
"It's like stealing from the drug dealers," he said.
The moment Alix Liberman, 25, heard about the store, she knew she wanted to take her mother, a Starbucks aficionado, regardless of who or what was behind it.
"It's a once in a lifetime thing," she said. "I figured it was some kind of stunt."
The pair managed to avoid a several-hour wait and grab coffee cups during the press conference Monday afternoon, and Penny Liberman, 64, picked up a Dumb Starbucks hat created by an opportunistic entrepreneur.
"It's clever," she said. "Even if it is an advertisement for Comedy Central."
As word of the shop spread on social media throughout the weekend, curious customers came to snap photos in front of the sign or pictures of the line of people wrapped around the small strip mall. Those who tried to cut to avoid a several-hour wait were promptly shamed out of line.
Rumors about the store's origin — a marketing ploy, an art installation or perhaps the work of a comedian — percolated through the crowd.
Ilya Khramtsou, 24, said: "It feels like they're sticking it to the company. Everybody drinks Starbucks coffee like zombies."
Those who waited in line Sunday said they came for the novelty, assuming it would be shut down before the weekend was over.
"It's a very L.A. thing," said Connor Sweeney, 24. "We'll see how long it lasts."
The biggest question among those who had seen the shop was who was behind the faux Starbucks and why.
Some believed the whole thing was a TV prank, and some even singled out the Comedy Central reality series "Nathan for You."
The brainchild of Nathan Fielder, "Nathan for You" is best known for its gags that use small businesses to trick customers. In one of his best-known bits, the show got a gas station owner to offer extremely low prices, as long as customers delivered a rebate form to the top of a mountain. The series was renewed for a second season last year.
"I do have a television show, it is a reality show," Fielder told the crowd.
Did Comedy Central know about this? Someone asked.
"Oh, they do now," Fielder said.
---
The perils of parenting through a pandemic
What's going on with school? What do kids need? Get 8 to 3, a newsletter dedicated to the questions that keep California families up at night.
You may occasionally receive promotional content from the Los Angeles Times.