City should sponsor state quake ballot measure, L.A. officials say
The six-story concrete Barrington Building -- home to prominent dentists and psychiatrists to the stars -- suffered severe damage to its columns in the 1994 Northridge quake. That damage can be seen in the X-shaped cracks, precursors to a collapse.
(Jonathan Alcorn / For The Times)
San Fernando Veterans Administration Hospital patients wait for evacuation to other facilities as the ruins of collapsed buildings are searched for victims after a magnitude 6.6 earthquake hit near Sylmar on Feb. 9, 1971. Two hospitals and two major freeway interchanges were destroyed.
(Bruce Cox / Los Angeles Times)
Two concrete buildings at the San Fernando Veterans Administration Hospital crumbled in the 1971 Sylmar earthquake, killing 49 people.
(Bruce Cox / Los Angeles Times)
An aerial view of the San Fernando Veterans Administration Hospital after the 1971 Sylmar earthquake.
(Larry Sharkey / Los Angeles Times)
The dangers of brittle concrete buildings were underscored by the collapse of the Bullock's department store at Northridge Fashion Center in the 1994 Northridge earthquake. The store was built in 1971, before more robust building codes were enacted.
(Steve Dykes / Los Angeles Times)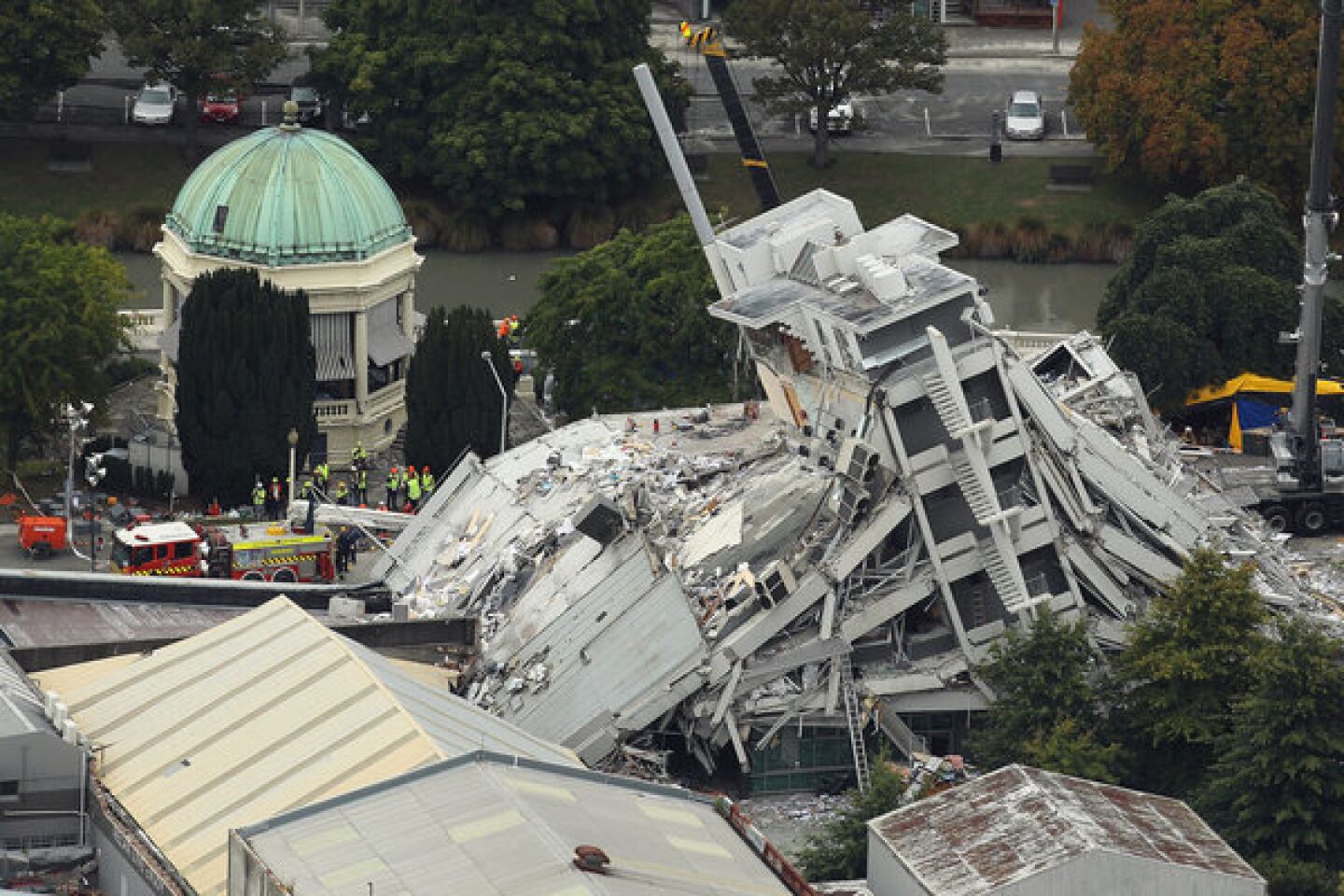 The Pyne Gould Corp. building collapsed when the magnitude 6.3 earthquake struck Christchurch, New Zealand. It was built in the 1960s, before the adoption of modern seismic standards for concrete buildings.
(Hannah Johnston / Getty Images)
Two L.A. City Council members are calling for their colleagues to back a statewide ballot measure that provides funding to cities for "earthquake safety improvements," including helping property owners strengthen potentially dangerous buildings that could collapse in a major temblor.
The resolution, proposed Friday by Tom LaBonge and seconded by Mitch Englander, asks the City Council and Mayor Eric Garcetti to support or sponsor state legislation that would help fund local seismic safety efforts.
DOCUMENT: Read the proposal by LaBonge
No such statewide measure exists, but LaBonge and Englander recently asked the city to report back on how the city could provide loans or help finance the retrofit of wooden apartment buildings or "soft" ground floors and older concrete buildings.
Los Angeles officials have known about the dangers of these buildings for years, but concerns about costs killed earlier efforts in L.A. to identify and force property owners to retrofit their buildings. Many owners say they shouldn't have to pay for expensive fixes on their own. The costs of an engineering assessment of a single building could be tens of thousands of dollars or more.
Englander has said it's unreasonable to create an "unfunded mandate" without looking into financial assistance for property owners.
LaBonge, who also submitted motions to look into cataloging the city's old concrete buildings and wooden soft-story apartment buildings, has said a statewide bond program may be the way to help property owners finance the costly retrofits. "It's a statewide issue," he said. "Earthquakes have no borders ... we got to be prepared for the future."
DOCUMENT: Read the motion by LaBonge and Englander
The proposals follow a Times report on concrete buildings that were built before 1976. By the most conservative estimate, as many as 50 of the more than 1,000 old concrete buildings in the city would collapse in a major earthquake, exposing thousands to injury or death.
Concrete buildings may look strong, but many older concrete buildings are vulnerable to the sideways movement of a major earthquake because they don't have enough steel reinforcement to hold columns in place. Experts say sorting out which present the greatest danger of injury and death to occupants is a daunting problem that would require building-by-building assessments by structural engineers.
Wooden "soft"-story structures often are built over carports and held up with slender columns, leaving the upper floors at risk of crashing into ground-floor apartments during shaking. The 1994 Northridge earthquake damaged or destroyed about 200 of these structures, and 16 people died in the Northridge Meadows apartment complex.
LaBonge and Englander have also proposed a monthly earthquake drill and an update on the city's earthquake preparedness efforts.
In a separate proposal last month, City Councilman Bernard C. Parks asked that the city create a reliable list of older concrete buildings that need retrofitting and recommend fixes.
DOCUMENT: Read Councilman Parks' motion
The motions will be discussed by a City Council planning committee this month, and the resolution will be considered by the Rules, Elections and Intergovernmental Relations committee.
ALSO:
L.A. councilmen ask city to explore ways to assist quake retrofits
Mayor Garcetti suggests czar for earthquake preparedness
San Francisco offers lessons to L.A. on quake retrofitting
Twitter: @RosannaXia | @DavidZahniser
Times staff writer Rong-Gong Lin II contributed to this report
earthquake@latimes.com
The stories shaping California
Get up to speed with our Essential California newsletter, sent six days a week.
You may occasionally receive promotional content from the Los Angeles Times.