Crowds flood Griffith Observatory for a glimpse of solar eclipse. So was there a 'surge of energy'?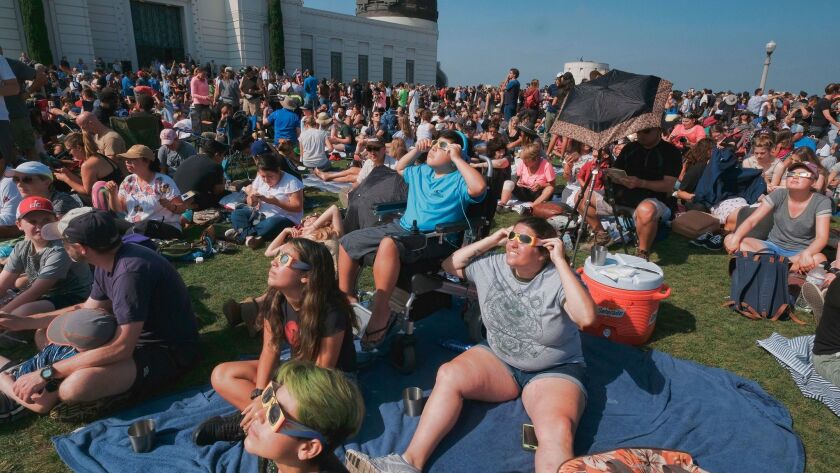 As the moon slid over a bright orange sun Monday morning, Southern Californians flocked to Griffith Observatory to catch a glimpse of the solar eclipse.
Hundreds of people swarmed the grassy lawn outside the observatory, occasionally peering up at the sky.
Other sky watchers shared protective eyewear as they snapped photographs with their cellphones. Some meandered through the crowds, hoping to sneak a peak of the eclipse from one of the dozens of telescopes propped up at the observatory.
"I think it's a beautiful, great experience," sky gazer Brennis Branch said. "I am getting up in age and I'm not going to have another chance. I'm glad my son brought me."
Branch, 65, had to roust her son to drive her to the observatory for the show.
Even though she had called him the night before to remind him of the trip, she said, he was still dragging his feet when it came time to leave from their home in West Hills.
It took them more than an hour, but they got up to the observatory just before 9 a.m.
"We probably wouldn't have made it if it wasn't for her," said Branch's son, Leighton Croombs, 43.
When mother and son finally arrived, the two picked a spot on the western side of the observatory lawn, by a telescope and a short walk from where the densest groups of people in the middle.
Branch was among at least 4,000 people who flocked to the observatory to look at the eclipse.
Bonnie Winings, observatory spokeswoman, said the crowd was about the size of the horde that gathered to watch space shuttle Endeavour fly over Griffith Park in 2012.
Emotions ran high and crowds cheered as the eclipse peaked.
"People were just in awe like 'Wow it's really happening,'" she said.
Angeline Santiago and Mark Javier waited more than an hour in line to view the eclipse through the focused lens of a telescope.
The Daly City pair have been in Southern California since Wednesday visiting family and searched online to see where the best place to see the solar event would be.
The results said: Griffith Observatory.
So at 7 a.m., the couple threw on some clothes and called an Uber. By the time they got to the observatory, the eclipse was only minutes away and the line to buy special sunglasses was impractically long.
In a lapse of patience, Javier admitted that he did what everyone told him not to do, and he looked at the sun.
He covered his face with his hand and cracked his fingers open just so.
"I did look with half my eye a little bit, unfortunately," Javier said with a slightly mischievous smile. "I couldn't really see it. It might damage my eye a little bit, but you only live once."
With no proper eyewear, the pair got in line for the telescope and waited.
"It's supposed to be a surge of energy or something," Santiago said with a hint of skepticism. The couple made it up to the telescope just as the eclipse peaked, minutes before 10:30 a.m.
When asked if it was everything they had hoped it would be and if they felt a surge of energy, the couple took a long pause and looked at each other.
"Ummm… I think we need to hang around here for a little bit longer to feel it," Javier said with a laugh.
Before the eclipse, crowds had waited at the corner of Vermont Avenue and Sunset Boulevard to board a shuttle bus that would take them to the observatory.
In a scene that was typical for L.A., a group of Scientologists handed out personality tests to people in line waiting for the shuttle.
A.J. Chong stood nearby and waited for the bus.
A self-proclaimed "esoteric nutjob," Chong said he only heard about the eclipse Monday morning from his girlfriend.
"You're lazy, you don't like to go out, but you want to respect the potential entity," the 41-year-old said. "It could be out there. You want to show them respect."
Chong said he and his girlfriend were in their downtown L.A. apartment when she saw a mention of it on social media and told her boyfriend. He said he doesn't follow the news, watch TV or connect to the Internet.
"She said I should check it out. She was going to the beach to do yoga," Chong said.
Other Angelenos took to social media to share photographs of the crescent sun.
At the California Science Center, families gathered with eclipse-viewing glasses. Others had made their own viewing devices.
Elsewhere in California, the eclipse was shrouded by a thick layer of clouds, hampering some from viewing the darkened sun.
Twitter: VeronicaRochaLA
---
UPDATES:
1:10 p.m.: This article was updated with comments from Angeline Santiago, Mark Javier, Bonnie Winings and Brennis Branch
This article was originally published at 11:05 a.m.
---
The stories shaping California
Get up to speed with our Essential California newsletter, sent six days a week.
You may occasionally receive promotional content from the Los Angeles Times.