One of L.A.'s tiniest city departments is hit with multiple sexual harassment complaints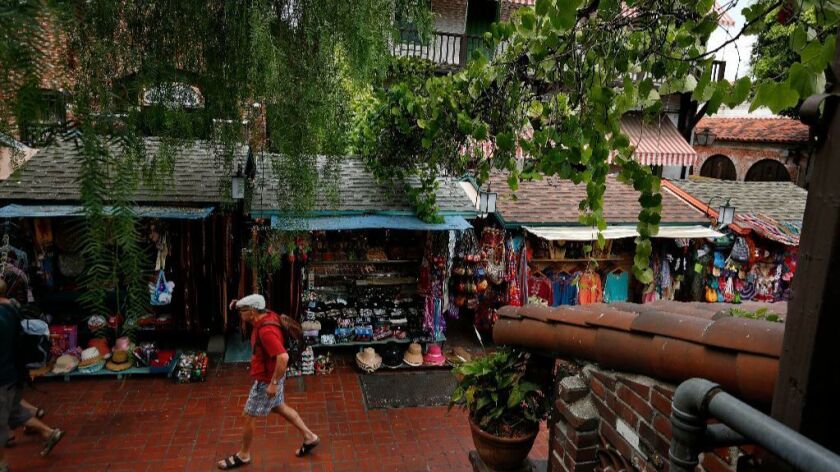 One of Los Angeles' smallest city departments is being roiled by allegations of sexual harassment and retaliation.
Staffers at El Pueblo de Los Angeles Historical Monument Authority have filed six sexual harassment complaints since December, records show.
The department, which oversees Olvera Street and several nearby museums downtown, has about 10 full-time employees and more than a dozen part-time staffers.
By comparison, City Atty. Mike Feuer's office has nearly 1,000 employees and has seen six sexual harassment complaints filed in the last four years, a spokesman for the office said.
The man accused in five of the six complaints filed at El Pueblo said he believes he is being targeted in an effort to drive him off the commission that oversees the department.
Scott Crawford, 68, was appointed by Mayor Eric Garcetti in late 2016 to the El Pueblo Board of Commissioners. In an interview, Crawford said he was told by a human resources representative that four women and one man filed complaints against him. Crawford declined to name them.
Crawford said he was told the claims include allegations that he told female employees, "You look good" and "Hello, gorgeous."
"If 'Hello, gorgeous' is sexual harassment, there's something really wrong with people's thinking," said Crawford, who in defending his comments offered that he is gay. "I compliment everyone. I've been doing it my whole life."
Crawford's account of the complaints could not immediately be corroborated. City officials declined to discuss details of the case, saying it is a personnel matter under investigation.
The discord at El Pueblo comes at a high-profile moment for the department. The El Pueblo Board of Commissioners on Thursday will hear Garcetti's proposal to house the area's homeless people in trailers at a nearby parking lot. It is one of the mayor's most ambitious plans for sheltering the city's growing homeless street population.
Garcetti spokesman Alex Comisar confirmed there is a personnel investigation involving Crawford, but did not comment on the commissioner's retaliation claims.
Crawford, a historical preservation activist and actor, said he believes the harassment claims against him stem from a disagreement he had last year with an El Pueblo staffer whom he declined to name.
Crawford said he suspects that following the incident, that employee helped orchestrate the claims against him.
At a December commission meeting, before the claims were filed, Crawford publicly aired his frustration with the unnamed employee. Speaking to his fellow commissioners and El Pueblo executives, Crawford recounted the clash with the staffer, describing how he'd been "bullied."
Crawford said at the meeting that he met with the staffer to discuss an idea he had for boosting attendance at El Pueblo museums. In his role as a commissioner, Crawford works with the department's Chinese American and the Italian American museums.
But the employee berated him at their meeting, Crawford told the other commissioners, because he had approached museum staff directly to discuss his idea, rather than talk first with the El Pueblo department employee.
The exchange upset him, Crawford said, declaring at the meeting, "I'm not going to take bullying, I'm not going to take harassment."
Crawford said one of the complaints is that he declared himself a "stud" for successfully opening a bottle of correction fluid.
A staffer also complained of feeling "confused" upon receiving Crawford's holiday present of an In-N-Out Burger gift certificate, he added.
Crawford told The Times he gave out numerous gift certificates to staffers and commissioners connected to El Pueblo.
El Pueblo general manager Chris Espinosa declined to comment on the harassment charges, saying it was personnel issue. Lisa Sarno, the department's assistant general manager, also declined to comment.
Marianna Gatto, director of the Italian American Museum, said Crawford has never made an inappropriate comment to her. She said her experience working with him has been "overwhelmingly positive."
"He's suggested some ideas that are innovative and out of the box," Gatto said. "And that sometimes doesn't sit well with institutions that are set in certain ways."
The number of complaints at El Pueblo were made public in a recently released Personnel Department report, which did not include details about the accusations.
Following a wave of sexual harassment allegations in the worlds of government, entertainment and media, Garcetti ordered that the Personnel Department track all harassment complaints.
El Pueblo had the most claims filed in any city department in the last two months, according to the report.
Personnel Department spokesman Bruce Whidden said city departments are being encouraged to report all incidents of sexual harassment, including those where the behavior isn't overtly sexual but rather "precipitated by gender."
Twitter: @dakotacdsmith
---
For reporting and exclusive analysis from bureau chief John Myers, get our California Politics newsletter.
You may occasionally receive promotional content from the Los Angeles Times.