Silicon Valley executive dies trying to rescue daughter from electrified pool, authorities say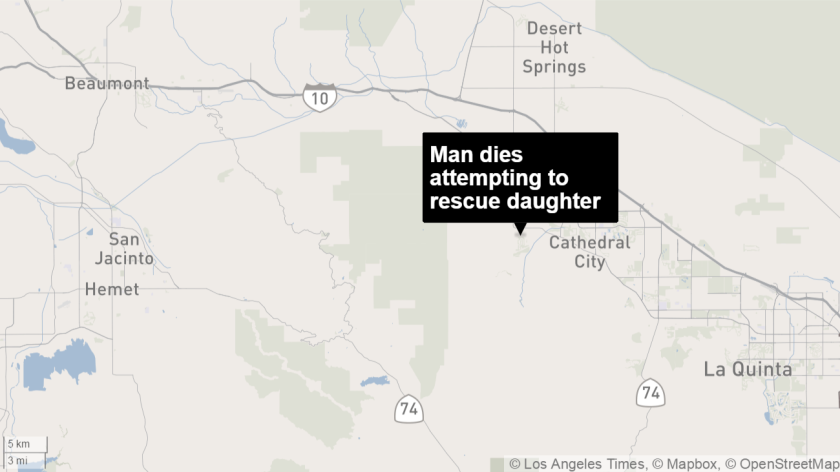 A faulty light fixture that electrified a family's Palm Springs swimming pool probably caused the death of a father who dived into the water to save his unconscious daughter, authorities said Wednesday.
James Tramel, a 43-year-old executive at RevJet marketing in Silicon Valley, jumped into the pool on Easter Sunday when he saw that his 9-year-old daughter had sunk to the bottom and was not moving, according to Palm Springs police Sgt. William Hutchinson.
"I think most people, your first instinct is to dive in and rescue your child. I think a lot of people unfortunately would have taken that route," Hutchinson said. "He may not have known … what was going on."
According to a preliminary investigation into Sunday's incident, a light fixture in the pool was missing screws and may have had some kind of power surge, electrifying the water, Hutchinson said.
Those nearest to the fixture — Tramel's 9- and 10-year-old daughters and Tramel himself — suffered the most serious effects from the malfunction. Others who were using the pool, Tramel's wife, a 6-year-old boy and two other girls, ages 6 and 8, were treated at the scene.
Tramel lost consciousness as soon as he entered the water and died later at a hospital, authorities said. His younger daughter remains in critical condition, while the 10-year-old girl remains in stable condition, Hutchinson said.
"It's just all over tragic," Hutchinson said. "It was just a sad experience for everybody."
Hutchinson said that that if a person suspects that a pool has become electrified, they should shut off the electrical circuit breaker to the pool's lighting and pump systems.
A GoFundMe page has been established in Tramel's memory by RevJet Chief Executive Mitchell Weisman to help fund Tramel's children's education or nonprofits of the family's choice.
Tramel was vice president of sales for the West Coast of RevJet, according to his LinkedIn page.
Authorities say the accident occurred at the family's second home. Their principal residence is in Burlingame, south of San Francisco.
The incident remains under investigation.
"Obviously at this point, we think it's completely accidental," Hutchinson said.
In addition to shattering Tramel's family, the freak accident left emergency workers shaken.
"I have a pool. I got to tell you, it scared the heck out of me," said Hutchinson, who is also a father. "Thinking about that pool, I went home and scheduled a contractor."
MORE: Get our best stories in your Facebook feed >>
For breaking California news, follow @JosephSerna.
ALSO
Former Los Angeles City Councilman Bill Rosendahl dies at 70
LAFD engine driver suffers medical emergency and crashes, striking cars and power poles
Former USC President Steven B. Sample, credited with transforming the university, dies at 75
---
The stories shaping California
Get up to speed with our Essential California newsletter, sent six days a week.
You may occasionally receive promotional content from the Los Angeles Times.