For fly fishermen at inaugural L.A. River derby, it's carpe diem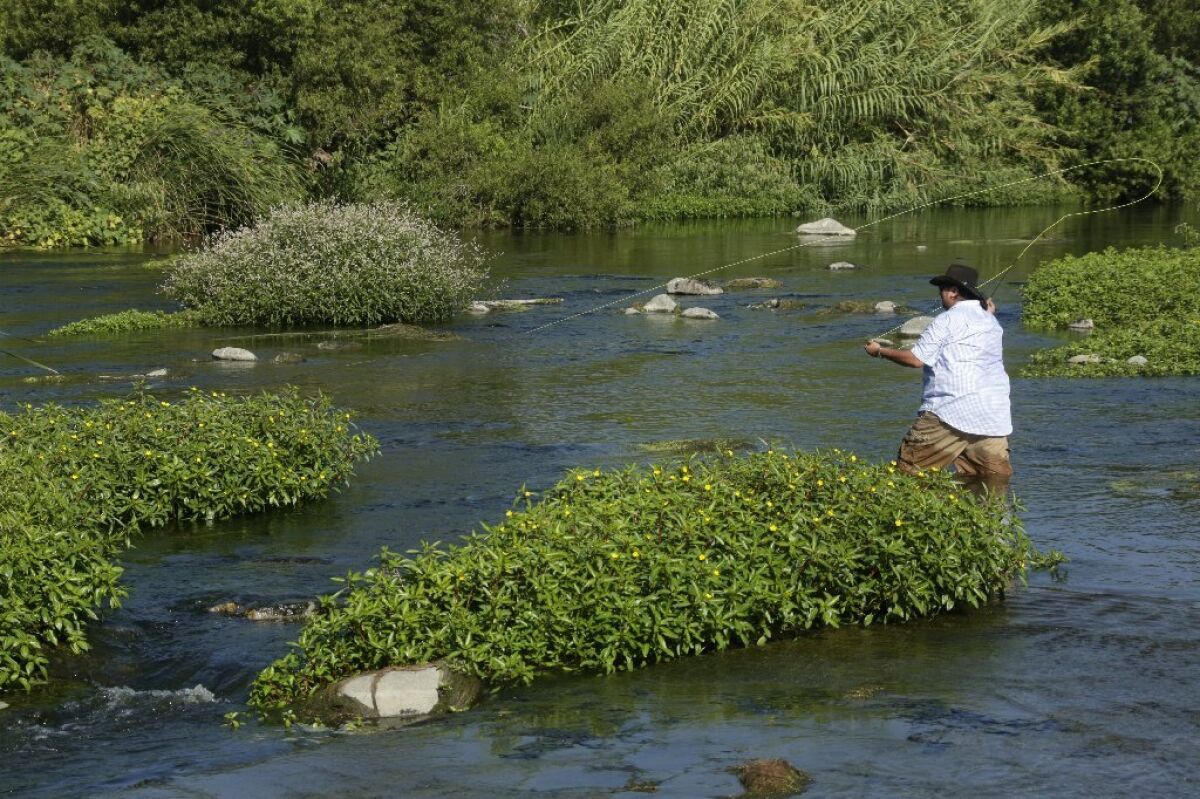 The sport of fly fishing conjures up images of wild mountain streams, iridescent trout and lush valleys in the shadows of jagged peaks.
But on Saturday, the way-out-in-the-metropolis setting of North Atwater Park played host to experienced and beginner anglers in the first annual Friends of the Los Angeles River "Off tha' Hook" fishing derby.
Major landmarks included the 5 Freeway, sky-high electrical power-line towers and concrete slopes on both sides of the 70-foot wide-river of treated urban runoff. Best bets: carp, largemouth bass in the 4-inch range and nonnative Amazon sailfin catfish.
As ducks lounged in the murky ripples, Michael Schweit, president of the nonprofit Federation of Fly Fishers, breathed reverently and said, "You've got to love it – sport fishing along a Los Angeles freeway."
The registration fee was $35, kids were free and a fishing license was not required. A few rules: only barbless hooks could be used, and anglers were free to use any bait they chose – unless it was alive.
Some baited their hooks with chunks of artificial flour tortilla.
The 1-hour contest launched at 9 a.m. with 25 adult anglers vying for three trophies: biggest fish caught, most fish caught and most exotic catch of the day.
Within minutes, several seasoned fly fishing enthusiasts were locked in combat with baby bass.
Environmental scientist Rosi Dagit was on hand to weigh, measure and catalog every fish prior to releasing it back into the water flowing along a soft-bottom portion of the river. "We're creating a fishing experience," she said, "that is also about science."
The fishing derby was only the latest example of how the river is being steadily transformed into one of Southern California's largest aquatic playgrounds, a greenbelt of parks, trees, bike paths and fishing holes.
It is also home to 212 species of birds, including yellow warblers, hooded orioles and the federally endangered least Bell's vireo.
Kayakers have been plying the river since 2008, when it was christened a navigable waterway, subject in its entirety, from Chatsworth to Long Beach, to the protections of the federal Clean Water Act. Three years later, fishing with a state license became legal.
In May, the U.S. Army Corps of Engineers recommended approval of an ambitious, $1-billion proposal to restore habitat, widen the river, create wetlands and provide access points and bike trails along an 11-mile stretch north of downtown through Elysian Park.
The city sees those 11 miles, which included the 1/2-mile stretch reserved for the fishing derby, as the starting point for a project that will eventually revitalize all 51 miles of the river from the San Fernando Valley to Long Beach.
In the meantime, Jim Burns, who runs the blog lariverflyfishing, mused that a passerby might have looked out at the channel Saturday morning and thought they'd been time-warped back to 1948, when the last steelhead seen in the Los Angeles River was caught off a Glendale bridge.
With fishing back in style on the river, he suggested replacing the sarcastic adage "a sewer runs through it," with the more apt and optimistic "fishing for carp and waiting for steelhead."
The trophy for biggest fish went to Matus Sobolic, 29, of Altadena, who landed a carp that was 23 inches in length and weighed 6 pounds, 3 ounces.
The trophy for most fish caught was won by Andy Wilcox, 37, of Eagle Rock, who landed two largemouth bass less than eight inches in length.
"I guess that's all it takes to win a fishing tournament in downtown Los Angeles," Wilcox joshed. "On the other hand, it's pretty cool. I haven't won a trophy since I was 8 years old."
Louis.Sahagun@latimes.com
Twitter: @LouisSahagun
The stories shaping California
Get up to speed with our Essential California newsletter, sent six days a week.
You may occasionally receive promotional content from the Los Angeles Times.